Indie Edge January 2011: Chris Staros
Dec 22, 2010
This month its an annual tribute to comics' independent spirit; and it's the publishers, writers, artists, and designers, and the wonderful and unique comics and graphic novels which they produce that embody the Indie Edge.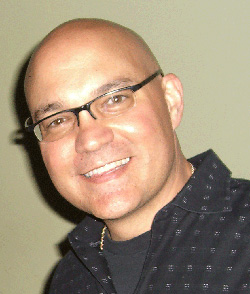 One of independent comics' most prolific and outspoken publishers is Chris Staros of Top Shelf Productions.
Since 1997, Chris and the folks at Top Shelf have been setting the bar for the rest of the industry with their award-winning library of all-ages and mature readers titles.
Top Shelf truly has served as an example for others, and continues to innovate to this day.
In honor of our Indie Edge month, we were lucky enough to get Chris to take a few moments out of his busy schedule to answer a few questions for us, and give you readers an insight into the independent spirit and what Top Shelf has to offer.
PREVIEWSworld: How did you become interested in comics and graphic novels?
Chris Staros: While I never read comics as a kid, as an adult I stumbled upon Alan Moore's V for Vendetta () and had the same epiphany that I had when I heard my first BLACK SABBATH album when I much younger: "I could do that!" Thus, my second great obsession after music was born: comics!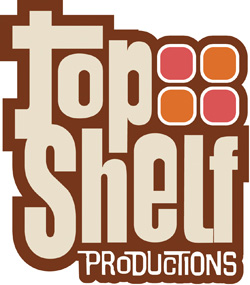 P: What are the origins of Top Shelf?
CS: My business partner, Brett Warnock, and I both got our start in '94. He started with mini-comics and an anthology called Top Shelf, and I got my start writing and publishing a fanzine called The Staros Report.
We met on the circuit shortly thereafter, realized we had the same goals, and decided to partner up in the newly formed Top Shelf Productions, Inc. in 1997.
P: To you, what is the definition of "Indie Edge"?
CS: It's all about being a trendsetter; striving to find talent and original projects that will keep you on the front of the wave.
P: Top Shelf has been home to some huge indie successes. What are some of the keys to that success, and what role does promotion play in bringing an indie graphic novel to a larger audience?
CS: For us, it's always been about putting art before commerce. If we had had a real "CFO" all these years, they'd have probably killed every single project before we ever published it. But our philosophy is to publish things that we believe in, and then go work our asses off to find an audience for them. And that has led to a lot of ground-breaking projects like Alan Moore & Melinda Gebbie's Lost Girls, Craig Thompson's Blankets (STAR19060), Jeff Lemire's Essex County (FEB098163), Nate Powell's Swallow Me Whole (JUL084290), Matt Kindt's Super Spy (JUN073913), and Robert Venditti and Brett Weldele's The Surrogates (FEB098169); as well as all-ages titles through our Top Shelf Kids Club line like Andy Runton's Owly (Vol. 1: JUL043246), James Kochalka's Johnny Boo (Vol. 1: OCT078665) and Dragon Puncher (FEB108450), and Christian Slade's Korgi (Vol. 1: FEB073807).
P: Are there any creators that you'd like to work with?
CS: Each year we try to find that perfect balance between publishing works from our established talent with our neverending desire to break new talent. And in 2011 there are several new creators that we're really excited to be working with. Within our mature line, there's Jess Fink, and her erotic masterpiece, Chester 5000; Eric Skillman's crime noir debut, Liar's Kiss; Kagan McLeod's epic martial-arts masterpiece, Infinite Kung Fu; Jennifer Hayden's personal and touching, Underwire; and Ludovic Debeurme's French masterpiece, Lucille (coming to an English-speaking audience for the first time). And via our Top Shelf Kids Club line, we're also excited about our new all-ages series such as Chris Eliopoulos' Okie Dokie Donuts, Ray Friesen's Pirate Penguin vs. Ninja Chicken, and Jess Smart Smiley's Upside Down: A Vampire Tale — all really fun and engaging debuts.
P: How do you typically connect with a new creator or project?  Do you actively seek new material, or do creators tend to come to you?
CS: Top Shelf sets up at over 20 conventions a year, so we have a great opportunity to not only see people's work, but to get to know them as well. We probably get over 1,000 submissions a year via conventions, our P.O. Box, and the web, so projects come to us in many different ways. We love to look at new projects and our submission guidelines can be found online at www.topshelfcomix.com/submissions.
P: How is Top Shelf unique from other comic book and graphic novel publishers?
CS: There are a lot of great indie publishers out there, and each has its own "house style." In the simplest terms, Top Shelf's house style is the intersection of Brett Warnock's and my personal tastes in comics. And we both love graphic novels that have a unique and engaging cartoony art style, with stories full of subtext and heart. Stories that grab you and don't let go; whether they're for mature readers or all-ages.
P: Describe the Top Shelf catalog with three adjectives.
CS: "Subtextual", "Heartfelt", and "Unique".
P: Can you recommend some titles for our readers to get acquainted with Top Shelf?
Any of the mature or all-ages titles mentioned above would be a good place to start, but often people dive in via one of three ways: our Alan Moore titles (like From Hell, Lost Girls, or League III); our literary touchstones like Blankets, Essex County, or Swallow Me Whole; or our all-ages titles like Owly, Korgi, or Johnny Boo. Comics fans can check out our mature-reader perennials and key Top Shelf Kids Club all-ages titles at www.topshelfcomix.com/perennials and www.topshelfcomics.com/kidsclub, respectively… and then tell their local retailer to order them!
P: Are there any upcoming projects at Top Shelf that you'd care to share with our readers?
CS: In addition to the above mentioned titles, we have some really cool projects coming in 2011 from our established creators: The League of Extraordinary Gentleman Volume III: Century #2 by Alan Moore & Kevin O'Neill (co-published with Knockabout), Incredible Change-Bots Two by Jeffrey Brown (see Page 314!), Any Empire by Nate Powell, The Homeland Directive (FEB108348) by Robert Venditti & Mike Huddleston, Gingerbread Girl by Colleen Coover & Paul Tobin, Hutch Owen Vol. 3: Let's Get Furious! by Tom Hart, and AX Vol. 2: A Collection of Alternative Manga  edited by Sean Michael Wilson. These will all be key additions to our line.
P: What would you like to imagine Top Shelf's legacy will be, long-term?  Is that something you think about?
CS: Even though time isn't really that kind to any of us, I would hope that years from now, people will remember Top Shelf as being a publishing house that did its part to help redeem comics as a literary art form, and who brought a handful of projects to the world that really made an impact on people's lives. Viva comics!