An Audience With The Oracle: Grant Morrison On The Record
Sep 22, 2010
This month, director Patrick Meaney will finally unveil his filmed interview with comics icon, Grant Morrison. Titled Talking with Gods, it is the longest interview with the award-winning creator of The Invisibles, Aztec: The Ultimate Man and Flex Mentallo, as well as dozens of mainstream DC Comics series, including the upcoming Batman, Inc.
With the official release of Talking with Gods coming at the end of this month, PREVIEWSworld sat down with director Patrick Meaney for the story behind the project.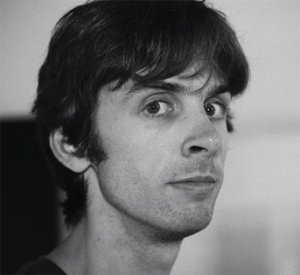 PREVIEWSworld: Tell us about your background as a filmmaker.
Patrick Meaney: I've worked on a wide variety of film projects, starting out with my own short films, then branching out into a wide variety of work-for-hire gigs, including a half-hour infomercial, music videos and, most recently, several comedy shorts for Comedy Central's Atom TV.
But, my real passion project, other than the Grant doc, is The Third Age (www.thethirdagebegins.com), a dramatic sci-fi influenced web series that was heavily influenced by Grant's work.
P: What got you into documentary filmmaking?
Patrick: It wasn't so much that I wanted to work on a documentary specifically, as just being really attracted to Grant's story and interested in telling it. This seemed like a logical extension of using the sort of chops I'd developed doing commercial stuff in a more artistic, culturally relevant venture.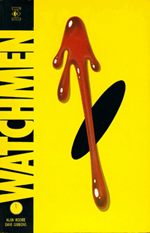 P: Who influences you as a filmmaker?
Patrick: My biggest influence in terms of film style is Wong Kar-Wai, a Hong Kong filmmaker who makes the most beautiful, engulfing films I've ever seen. Terence Malick is another big one, they both make films that don't show you things, they make you feel things, and even in the doc world, that's something I wanted to do. David Lynch is also a big influence, and a lot of comics people too, like Jack Kirby, Alan Moore and Grant himself.
P: Are you a comic reader?  If so, how long have you been a comic reader?
Patrick: I am a really big comics reader. I started about ten years ago, when I was in high school. I had read stuff sporadically beforehand, but after reading Watchmen, I was totally hooked and have been into comics ever since.
P: What titles do you currently read?
Patrick: Grant's stuff is my favorite, so I read everything he does. I also read pretty much all Geoff Johns' works; also most of what Matt Fraction is working on. I also read most of the big Vertigo series, though usually I'll catch up on those in trade format.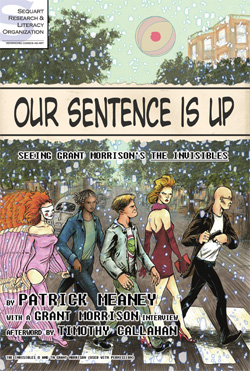 P: What was the impetus for creating a documentary behind Grant Morrison?
Patrick: The direct antecedent was a book I wrote about The Invisibles, called "Our Sentence is Up".
After completing the book, I was planning to interview with Grant and film it, and the idea of why not pitch him on doing a documentary came into my head.
So, I sent over a proposal and he went for it.
Grant is a great subject for a doc because his life is as interesting as his comics, and knowing about his own experiences makes his comics much more resonant and emotional.
I'd always heard a lot of stories about the crossover between his fiction and his life, so making a documentary seemed like a great way to explore that.
P: How were you introduced to Grant Morrison's work?
Patrick: I first heard about Grant when I read that The Matrix was 'stolen' from a comic book called The Invisibles. I figured I should check out the comic, and fell in love with it. After that, I went back and read almost all his past work, and just got more and more immersed in his worlds.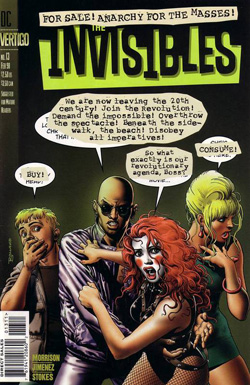 P: What do you feel is the definitive Grant Morrison title?
Patrick: The Invisibles has elements of pretty much every comic Grant has ever written.
It's the culmination of everything he did before, and has the seeds of everything that's come since. It fuses together pretty much everything he's interested in and conveys his personal philosophy and vision of what the world should be.
So, that's pretty definitive.
But, if you're into the whole brevity thing, you could also argue for Flex Mentallo, which is his most autobiographical work, and also a treatise on the importance and power of fiction, specifically superhero fiction.
If you ever wondered why Grant does what he does, that book answers it.
P: Which is your favorite body of Grant Morrison's work?
Patrick: For me, it's The Invisibles, which just hit me on an emotional and intellectual level like nothing else I've ever read. The book really changed my life and brought me to where I am today. Other than that, I also love Seven Soldiers, particularly Zatanna, and his run on X-Men.
P: Who tells the best Grant Morrison stories?
Patrick: We've talked to a lot of people, about 45, over the course of filming the documentary, and heard great stuff from a lot of people. Frank Quitely knows Grant really well, and had a lot of insight into his creative process and life, so he's pretty hard to beat. Mark Waid only had a couple of stories, but they were amazing ones.
P: Which is the craziest one you heard in the course of creating this documentary?
Patrick: Nobody else's stories could beat the ones that Grant himself told. He told us a story about traveling the kingdom of Scorpion Gods that was pretty amazing. Just getting to talk with him about the specifics of his magical practice is really interesting. You read an interview where someone says "And then I saw a demon," and you might wonder, what exactly does that mean? How did you see it? So, getting to ask those follow-ups gives a much deeper picture of the experience, and I think makes it more grounded and relatable. And, I think what you'll find in talking to Grant about that stuff is that he's very grounded and scientific in his approach, and open to challenges or discussions about what he's seen.
P: How has the response been so far?
Patrick: The film is just being wrapped up now, so not many people have seen it. We did a screening of the rough cut for Grant himself, which was nerve-wracking, but went great. He really seemed to enjoy it. And, when we screened excerpts at San Diego Comic Con, it went over great with the crowd. So hopefully the final film will be equally as well received.
P:  How is the film being distributed?
Patrick: The film is being distributed by Halo 8, an independent distribution company who had a real interest in the film and Grant.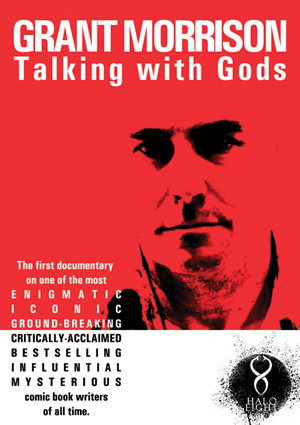 P: Where can interested viewers see Talking With Gods onscreen?
Patrick: The world premiere will be at New York Comic Con in October. After that, there will be a small theatrical tour of screenings in major cities, then a DVD/On Demand release on October 26th.
P:  What projects are you working on for the future?
Patrick: The next big project is a documentary about Warren Ellis.
We've shot many hours of Ellis interview footage already, and I'm about to start going through and editing it down.
That documentary will have a more irreverent, experimental approach than the Grant one, and the goal is to convey the experience of reading Ellis's comics in documentary film form, and there is a lot of really fun ideas in the works for that one.
The goal is to have this one released a year from now.
Other than that, there's a second season of The Third Age beginning later this year, and some more comics docs projects on the backburner, but still in the works.
P: Why should a comic reader pick up a copy of Grant Morrison: Talking With Gods?
Patrick: Grant Morrison is one of the biggest, most influential and in my opinion, best, comics writers of all time. This film is the longest sustained interview he's ever done, even if you've read every interview he's ever done, you'll hear and see many things you've never seen before in the film, both from Grant and from nearly all his key collaborators. After seeing the film, I think you'll see all his works through a different lens, and get something new and different from them.
And, even if you haven' read any comics, Grant's a fascinating guy with a strange and exciting life, and a riveting speaker. I've never talked to someone like Grant before, and I think this film will give you the most honest look at Grant that he's ever presented to the public before. 
* * * * * * * * * * * * *
Grant Morrison: Talking with Gods DVD is offered on page 429 in the October 2010 issue of the PREVIEWS catalog.