Interview: Christopher Hastings On Why Hell Sonja Is Going to Rock
Jan 11, 2022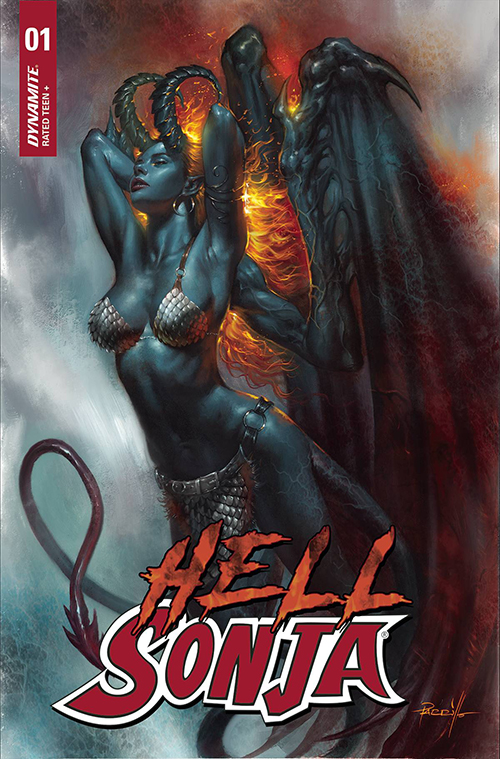 Interview by Nicki Faust
She's the Queen of Damnation. She lords over the fiery pit of eternal hunger and suffering. But now, she's had enough of this evil s**t!
Spinning out of the pages of the fan-favorite Sonjaversal, Hell Sonja (NOV210472) brings Red Sonja's evil alternate into the forefront.
In the following interview, writer Christopher Hastings (Deadpool) explains how this hell-spawned Sonja came about, and exactly why she is eager to reap the souls of the multiverse.
Welcome to HELL...SONJA.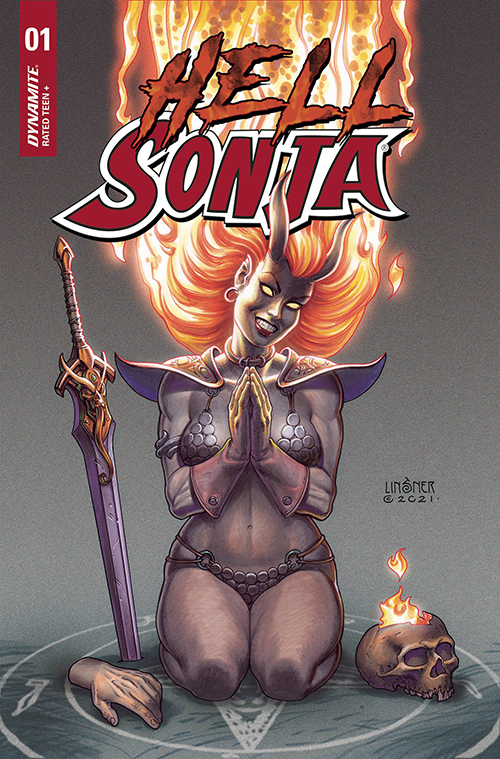 Hell yeah! Sonjaversal was a wild series and featured several exciting alternate versions of the She-Devil With a Sword. What made Hell Sonja the leading candidate to first get her own series?
Of all the Red Sonja alternates in Sonjaversal, Hell Sonja simply grabbed the most attention and excitement from our readers. After the great battle of countless Sonjas in Hell, we turned our focus to what her machinations might be after the death of the Godhead that granted the Sonjas their boons and oaths. That lead to the second arc of Sonjaversal, where we saw Hell Sonja using the Sonjas of other dimensions as soul collectors to restore a crumbling Hell.
We take that premise even further with the HELL SONJA series, seeing the demon queen take leadership of a multiversal bounty hunting operation. She drops Sonja teams into new universes to collect the worst villains across space and time to feed to Hell's churning maw.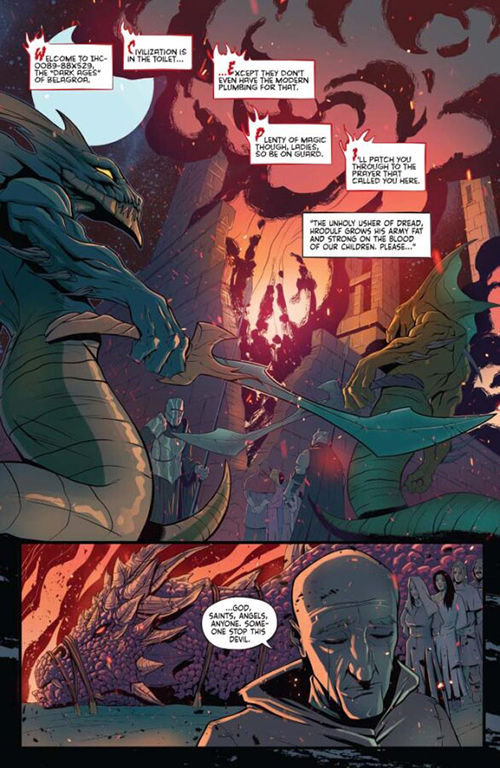 However, we hear a couple of other Sonjas return? Can you break down the cast for us?
For sure! Besides Hell Sonja, there are four others on the book's main team.
RED SONJA: The classic barbarian of Hyrkania.
BLUE SONJA: The furious mercenary of 1980s USA.
MOON SONJA: The wise android avatar of an intelligent star system from the future.
GOLD SONJA: A scam artist and getaway driver/pilot who refuses to tell what universe she's on the run from.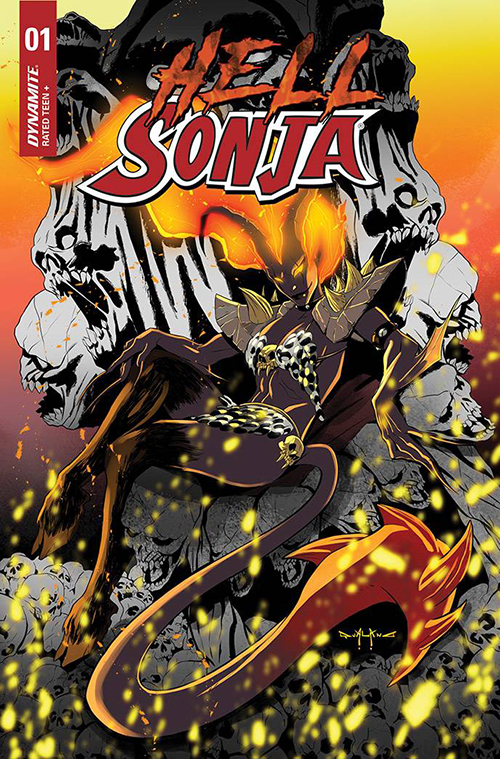 Despite its connection to Sonjaversal, fans will be able to jump right into this series without that, right?
Of course! Everything you need to know about HELL SONJA is right there in the pages of HELL SONJA. If a new reader finds themself enjoying it, and wants to dive deeper into the lore, SONJAVERSAL is right there, but it's by no means mandatory.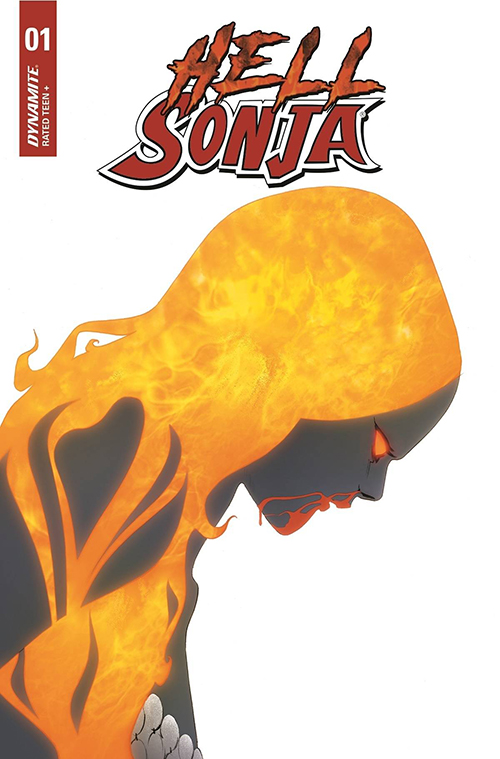 As is hinted at in the title, this series is going to be touching on the mythologies of heaven and hell. How fun is it digging into that territory?
HELL SONJA is meant to be episodic, with a new world and villain in each issue, but over the course of the series, there is a slowly simmering backstory of the strange mechanics, myths, and connections of a multiverse of afterlives. Hell Sonja was not the first person to rule Hell, and by taking its throne, she tempts older, greater powers that walk the cosmos.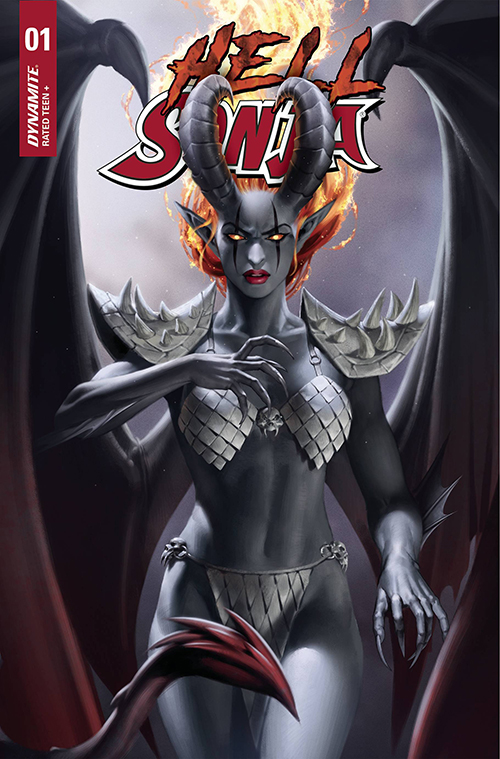 The squad is returning from Sonjaversal, including artist Pasquale Qualano. How is that chemistry and creative continuity going to lend itself to this series?
Spending the past year developing a collaboration with Pasquale has been deeply satisfying. With Hell Sonja, I'm just trying to give him more room on the page to show off what he does best and provide prompts for crazy new locations and insane genre-mashed bad guys from across new universes of sci-fi and fantasy.
Beyond the returning roster, can fans expect to meet even more exciting multiversal Sonjas and other enticing characters?
A ghost ship spreads insanity across the remains of a long-flooded Earth. A cyber-druid tries to hack his way into Heaven. The Sonjas chase down a medieval warlord who wields the corpse of a wizard like a spell gun. I don't want to give away any more, but I hope I've convinced readers that this book will be metal as HELL.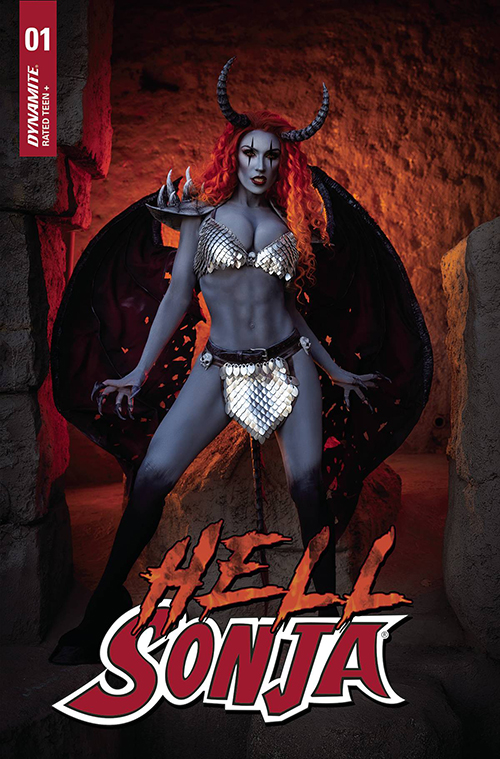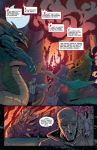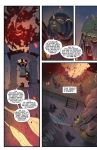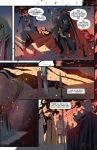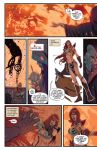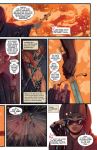 Click to View

Hell Sonja #1 (NOV210472) hits comic shops on January 12th from Dynamite Comics. Reserve your copy today with PREVIEWSworld Pullbox!
Keep an eye on PREVIEWSworld.com's Twitter, Facebook, YouTube, or Instagram for more.
Nicki Faust's heart is as cold as concrete in the Chicago winter. When not writing for PREVIEWSworld, Nicki is busy playing Limbo on Twitch, writing about the great robot uprising on Medium, and completing the untitled follow-up to the 2012 best-seller, Sue Storm: A Nude Photobook.