Get Ready to Take off with the 'The Worst Dudes' in a New Sci-Fi Adventure
Mar 11, 2021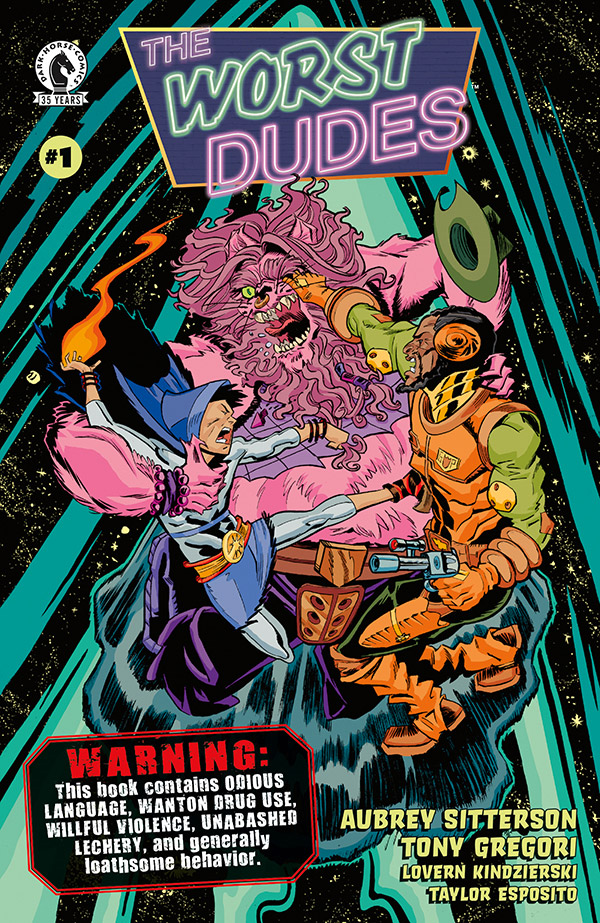 Noted reprobates Aubrey Sitterson (No One Left to Fight, The Comic Book Story of Professional Wrestling) and Tony Gregori (Deuce of Hearts, Karma Police) along with colorist Lovern Kindzierski (Norse Mythology, Lobo) and letterer extraordinaire Taylor Esposito (No One Left to Fight, The Black Ghost) bring this hilarious, aggressively weird, and willfully vulgar detective story to life in The Worst Dudes!
In a new series which can be loosely described as Lobo meets The Big Lebowski, a dirty cop, a drugged-up back-up dancer, and an angsty adolescent god—the absolute worst dudes in the galaxy—are on a raunch-filled hunt for a missing pop star. And from there it gets very strange. Maybe inadvisably so.
"Wait...we're actually publishing this? Did I sign off on this?" said Dave Marshall, Editor-in-Chief of Dark Horse Comics.
"After the colossal success of No One Left to Fight, I knew we needed to follow it up with something entirely different," said Sitterson. "That's why Tony and I cooked up a book so vile, so raunchy, so utterly odious, that it'll make your other comics turn yellow."
Says Gregori, "I'm beyond thrilled to be working with the legendary Dark Horse Comics on The Worst Dudes, and I can't believe they're letting me draw giant [censored] pink [censored], and alien landscapes overflowing with [censored]!"
The Worst Dudes #1 (of five) will land in your local comic shop on June 2, 2021. The Worst Dudes is for MATURE READERS ONLY.