LGBTQ+ Comics - Why We Can No Longer Afford to be Scared
Jun 08, 2021
by Sara Smith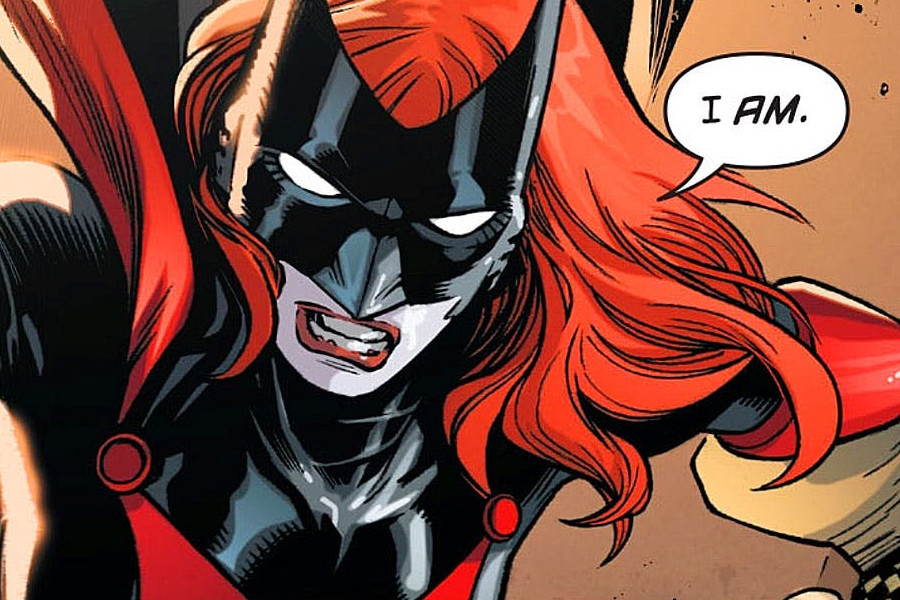 Drama by Raina Telgmeier, This One Summer by Mariko Tamaki, illustrated by Jillian Tamaki - both were part of the ALA's Top 10 Most Challenged Books in 2018 (Office for Intellectual Freedom, 2020). Both graphic novels include LGBTQ+ characters. With two of the top 10 being LGBTQ+ comics, it is more than likely that many libraries are wary of including these titles in their collection, especially school libraries in conservative areas like mine.
California is often labeled as a liberal state, but not where I live. I teach in a rural, one-high school town: six years as an English teacher and six in the library. Some of my community is supportive of our LGBTQ+ teens, but I have had more than a handful of students come to me, afraid to come out to their parents. I have seen students shame other students for the way they are. I have also seen the community on my campus shift in the twelve years I've been there. I have started to see more acceptance, more conversation, more openness from the teens on my campus, and part of that must come from adults willing to invest in the LGBTQ+ community and help these teens through their struggles.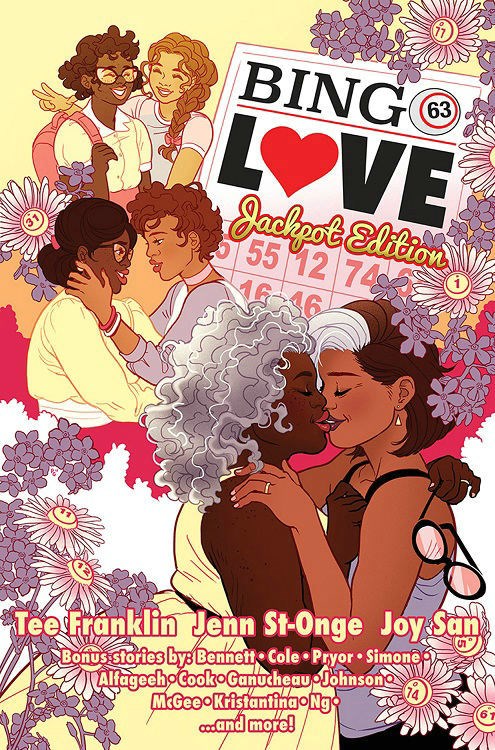 Often, books with LGBTQ+ content come under fire from parents who don't agree that school-aged children should have access or exposure to these titles; and it is easy to self-censor by not purchasing these books for our libraries. However, censoring, whether intentional or not, goes against some of the core tenets of librarianship. It does a disservice to an increasingly important section of your library collection and to your vulnerable students. In a recent study of the National Violent Death Reporting System, researchers found that "almost one quarter (24%) of 12- to 14-year-olds who died by suicide were LGBT" (Ream, 2019). In a world where many of these students don't have a safe haven, their school libraries can become that place for them by offering a safe space, guidance, connection to services, or a few books on the shelves, including graphic novels that have characters who reflect them and their struggles. The need for LGBTQ+ representation in our collections is more important than ever.
Libraries are all about building communities where readers can be part of the whole. We do this most effectively by maintaining a collection where all our readers are fairly represented. That includes purchasing titles that positively reflect the core values of the LGBTQ+ community, titles where LGBTQ+ characters are present in normal every-day situations, and not titles that sensationalize the relationships or lifestyle choices. "Many LGBT teens and young adults are looking for a community and libraries have the ability to do create [sic] those communities. One way to help accomplish this, [Steenz] said was for libraries to "ensure their collections include books to which their patrons relate" (Kaplan, 2019).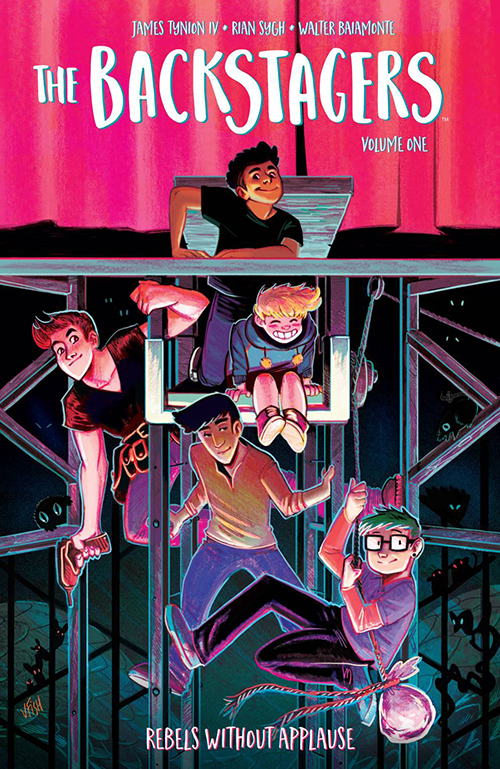 It is important to include stories that show LGBTQ+ characters participating in the plot, where their sexuality is not the focus. One example is The Backstagers by James Tynion, illustrated by Rian Sygh and Walter Baiamonte, where romantic attraction and shy blushing happens at the all-boy school; and where there are several gay characters, but the focus is more on solving the mysteries that abound in their theater. Another example is Lumberjanes, created by Shannon Watters, Grace Ellis, Brooklyn A. Allen, and Noelle Stevenson, where one of the main characters is a trans girl who helps guide another into accepting themselves. Titles such as these remove the stigma that all conversations regarding the LGBTQ+ community must include plot points about sexual attraction. The characters' reactions come from an open-minded community where finding out your friend is gay or trans is not something worthy of judgment and ostracization, rather just a fact about a friend. "Graphic novels for younger readers can focus on the idea of love between gay characters rather than sex, for instance. Being gay is about identity, not just sexuality, and establishing identity is something children are on intimate and intense terms with" (Jesse Karp, quoted in Alverson, 2017). Our teenage years are some of the most formative in helping us understand and develop who we are as people. Having LGBTQ+ graphic novels with storylines that normalize their existence in society is a great way for students to help form their own identities.
Many may not know where to start in finding comics that support the LGBTQ+ community. There are several places to receive suggestions. The first is the GLAAD Media Awards. They have an entire awards category devoted to "Outstanding Comic Books." Another resource is queercomicsdatabase.com, a review site run by two library people who collect LGBTQ+ titles and catalog them with age-appropriateness, possible triggers, reviews from other websites, and more. Another way to create a supportive community in your library is to buy from authors who identify as LGBTQ+. Titles written by authors in this genre are not always about LGBTQ+ characters, but they can be. The #OwnVoices movement has been instrumental in helping people write the stories of their communities, including the LGBTQ+ community.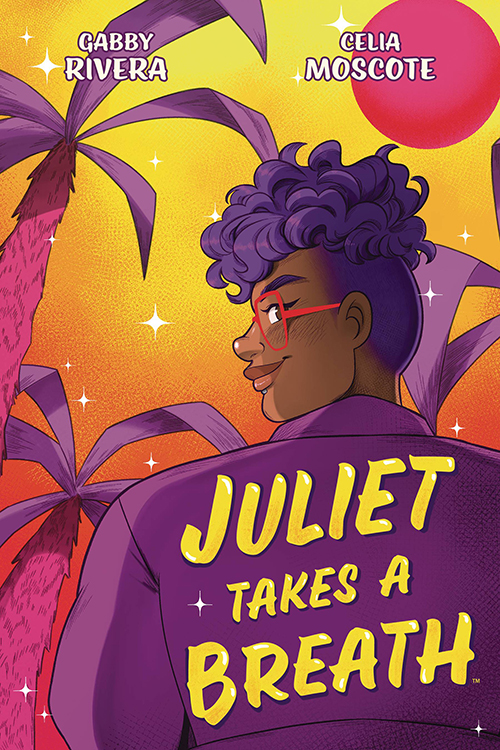 It is not enough to just purchase these titles and stick them on the shelves. Another important part about building an accepting community for all readers is through library programming. Often, students in the LGBTQ+ community won't seek out titles or come ask what you have available. In a 2017 study of the National School Climate survey published by GLSEN, researchers found that "less than half (41.0%) [of the students] reported that they could find books or information on LGBTQ related topics, such as LGBTQ history, in their school library (34.9% of students reported they could find "a few," 6.1% reported they could find "many," 27.9% indicated that they could not find any, and 31.1% reported that they didn't know)" (Kosciw, et. al., 2019). We must work to improve visibility of these titles once we have them.
One way to increase visibility is by creating a poster for your wall or website showing off the covers, a reading list displayed in a collection or digitally, or, more subtly, bookmarks that patrons can snag and use to find books. Avoid spine labels or anything else that would outwardly show other students what another student is reading if you live in an area that does not support the LGBTQ+ community. After you have made your resources, see if your school has a GSA club (Gay-Straight Alliance) and pass out your materials to encourage checkout. Do a book tasting where you include a few LGBTQ+ titles amongst the others until the topic becomes a normal part of your library scene. Encourage teens in the LGBTQ+ community to share their ideas on how you can support them and/or promote the books you have in your library.
LGBTQ+ comics are not just for our students who belong to this community. The best connection I've made all year is handing Fatimah, an African-American Muslim student, Bingo Love by Tee Franklin, illustrated by Jenn St-Onge, in which an African-American woman and a Hispanic woman reconnect after decades of being forced to live hetero-normative lives. The pureness of their love for each other brought Fatimah to tears of happiness and appreciation. When asked why she is drawn to LGBTQ+ comics, Fatimah replied, "I feel like it's important to learn more about different types of cultures, and for LGBTQ, I feel like it is important for people to know more about it and learn about it and see who they are now in America. It is OK to be part of that community, it's OK to be who you are'' (Fatimah, personal communication, 17 March 2020). Even though Fatimah does not identify as part of the LGBTQ+ community, she appreciates their stories and includes them in the fabric of her America. She has been instrumental to the shift of culture in my library to one of acceptance of people from all walks of life.
Reading creates empathy. In my conservative, rural high school, I have seen in the last six years the transformation from shaming any same-sex couples holding hands to students being celebrated for their differences. All our students deserve to be accepted and loved, and we as librarians have the power to create a place where that is a reality.
Keep an eye on PREVIEWSworld.com's Twitter, Facebook, YouTube, or Instagram for more! And if you're interested in reading more LBTQIA+ comics then be sure check out the following...!
IMAGE COMICS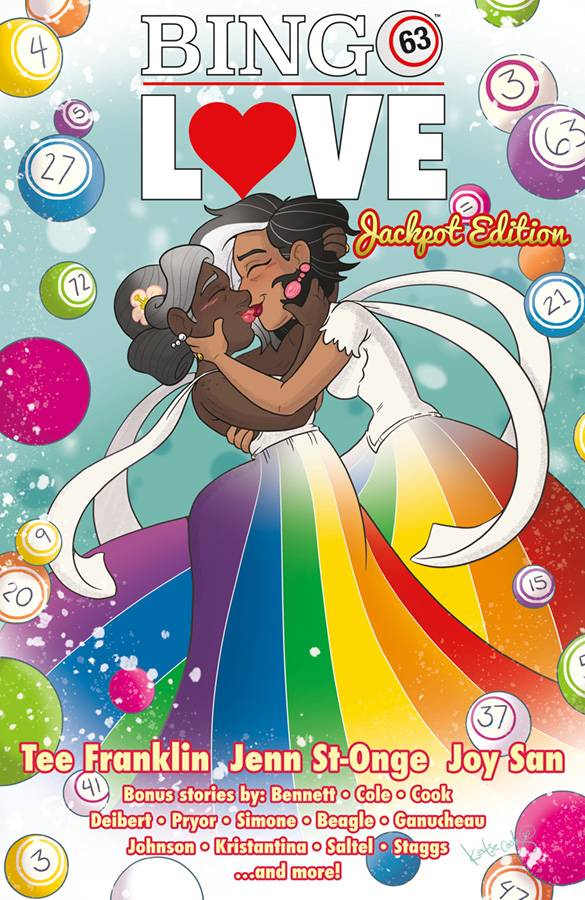 (W) Tee Franklin, Marguerite Bennett, Gail Simone, Shawn Pryor, Alyssa Cole, Amanda Deibert (A) Jenn St-Onge, Paulina Ganucheau, Beverly Johnson, Margaux Saltel, Shae Beagle, Cat Staggs (CA) Katie Cook
When Hazel Johnson and Mari McCray met at church bingo in 1963, it was love at first sight. Forced apart by their families and society, Hazel and Mari both married young men and had families. Decades later, now in their mid-'60s, Hazel and Mari reunite again at a church bingo hall. Realizing their love for each other is still alive, what these grandmothers do next takes absolute strength and courage.

This Jackpot Edition contains over SIXTY PAGES of bonus material, including the talents of MARGUERITE BENNETT (Batwoman) and newcomer BEVERLY JOHNSON, SHAWN PRYOR (Cash and Carrie) and PAULINA GANUCHEAU (Zodiac Starforce), award-winning historical romance author ALYSSA COLE's comics writing debut with SHAE BEAGLE (MOONSTRUCK), GAIL SIMONE (CROSSWIND) and MARGAUX SALTEL (Superfreaks), and AMANDA DEIBERT (Wonder Woman '77) and CAT STAGGS (CROSSWIND), with illustrations from MEGAN HUTCHINSON (ROCKSTARS) and ARIELA KRISTANTINA (InSeXts). Plus a sneak peek of BINGO LOVE, VOL. 2: DEAR DIARY, with an afterword from GABBY RIVERA (America).
In Shops: Nov 14, 2018
SRP: $19.99
PREVIEWS Page #62
BOOM! STUDIOS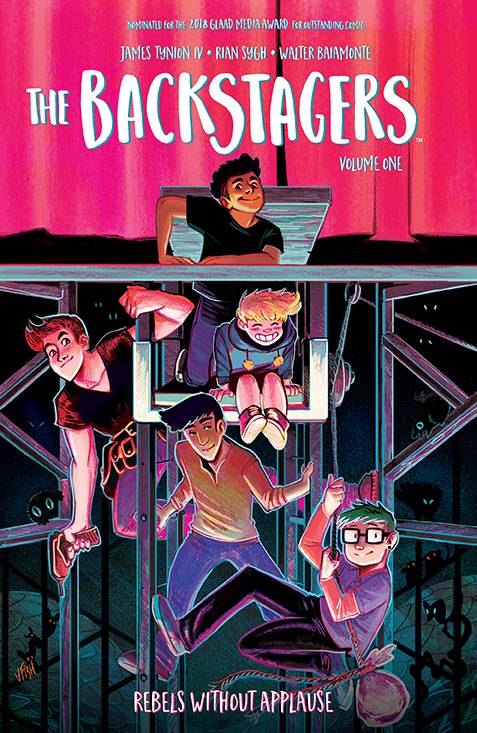 (W) James TynionIV (A) Rian Sygh (CA) Veronica Fish
James Tynion IV (Detective Comics, The Woods) teams up with artist Rian Sygh (Munchkin, Stolen Forest) for an incredibly earnest story that explores what it means to find a place to fit in when you're kinda an outcast. When Jory transfers to an all-boys private high school, he's taken in by the lowly stage crew known as the Backstagers. Hunter, Aziz, Sasha, and Beckett become his new best friends and introduce him to an entire magical world that lives beyond the curtain that the rest of the school doesn't know about, filled with strange creatures, changing hallways, and a decades-old legend of a backstage crew that went missing and was never found. Collects the first four issues.
In Shops: Jul 19, 2017
SRP: $14.99
PREVIEWS Page #311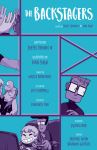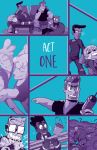 Click to View

BOOM! STUDIOS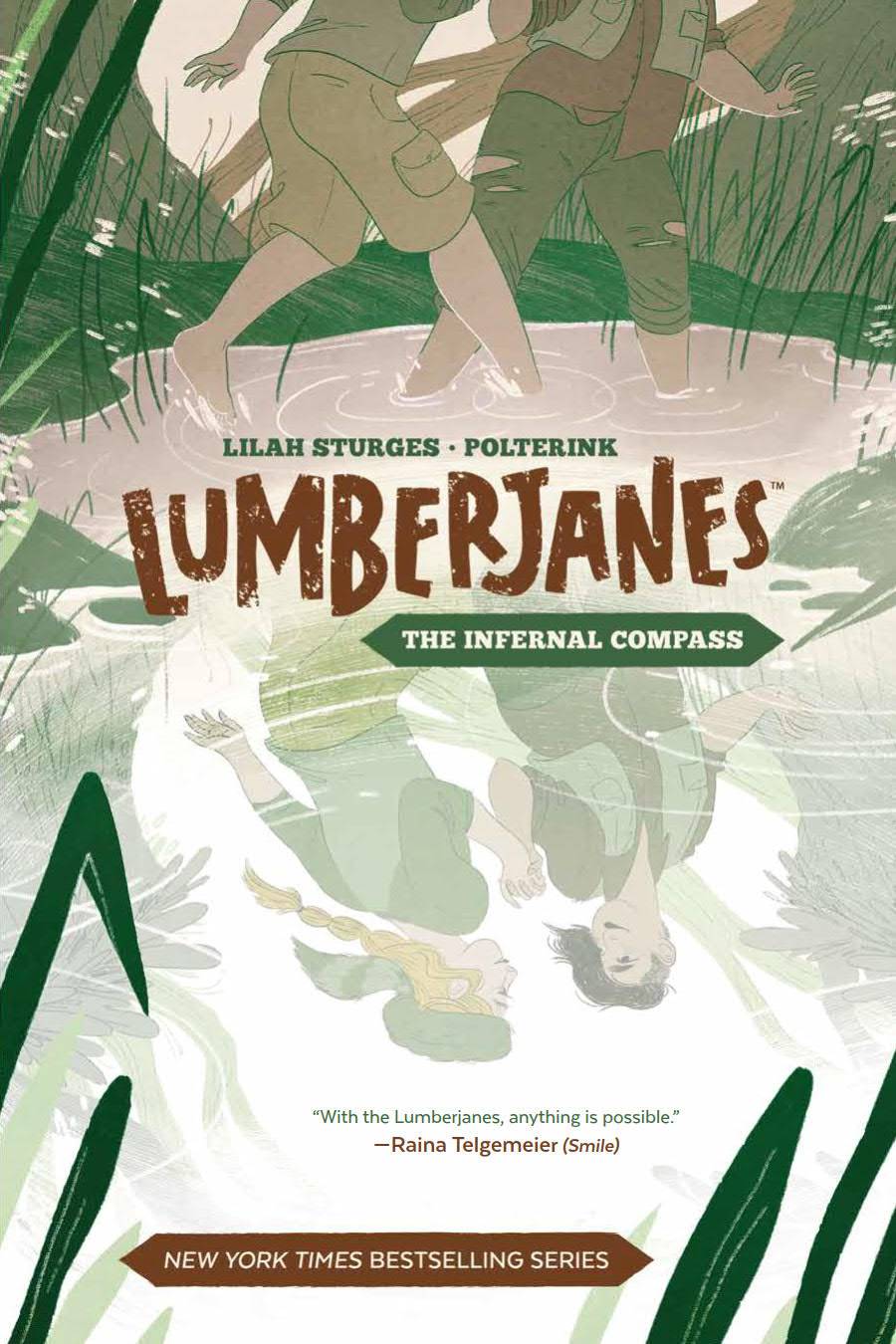 (W) Lilah Sturges (A) Polterink (CA) Alexa Sharpe
Eisner Award-nominated writer Lilah Sturges ( Fables, Thor: Season One ) teams with artist polterink ( Enough Space for Everyone Else ) for the first Lumberjanes graphic novel in a story about finding your way and navigating life, love, and a literal forest.
When the eJanes start to become separated during an orienteering outing thanks to a mysterious compass, Molly becomes more and more insecure about the effect of her relationship with Mal on the other girls.
Meanwhile, a lonely woman explorer is trying to steal the compass, with the help of some weirdly polite automaton butlers.
In Shops: Oct 17, 2018
SRP: $14.99
PREVIEWS Page #202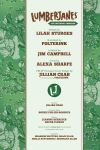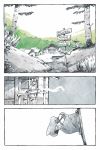 Click to View

---
References
Office of Intellectual Freedom. (2020, January 24). Top ten most challenged books lists. American Library Association. Retrieved from http://www.ala.org/advocacy/bbooks/frequentlychallengedbooks/top10
Alverson, B. (2018, May 17). Just another day in an LGBTQ Comic. School Library Journal. Retrieved from https://www.slj.com/?detailStory=just-another-day-in-an-lgbtq-comic
Kaplan, A. (2019, June 11). Getting queer comics Into libraries. The MNT. Retrieved from https://www.comicsmnt.com/?p=2570
Kosciw, J. G., Ph.D., Greytak, E. A., Ph.D., Zongrone, A.D., M.P.H., Clark, C. M., Ph.D., Truong, N. L., Ph.D. (2018). The 2017 National School Climate Survey. GLSEN. Retrieved from https://www.glsen.org/sites/default/files/2019-10/GLSEN-2017-National-School-Climate-Survey-NSCS-Full-Report.pdf
Ream, G. L. Ph.D. (2019 Jan 30). What's unique about lesbian, gay, bisexual, and transgender (LGBT) youth and young adult suicides? Findings from the national violent death reporting system. Journal of Adolescent Health. 64(5), 602-607, https://doi.org/10.1016/j.jadohealth.2018.10.303
---
About the Author | Sara Smith is a Teacher Librarian in a rural town in California's Central Valley. She taught English for six years before moving into the library, where she has been for six years. Her graphic novel section is currently 11% of her entire collection. She is an avid reader of graphic novels and reviews them at graphiclibrary.org.