BOOM! Studios Fast Tracks Once & Future #2 Second Printing
Sep 06, 2019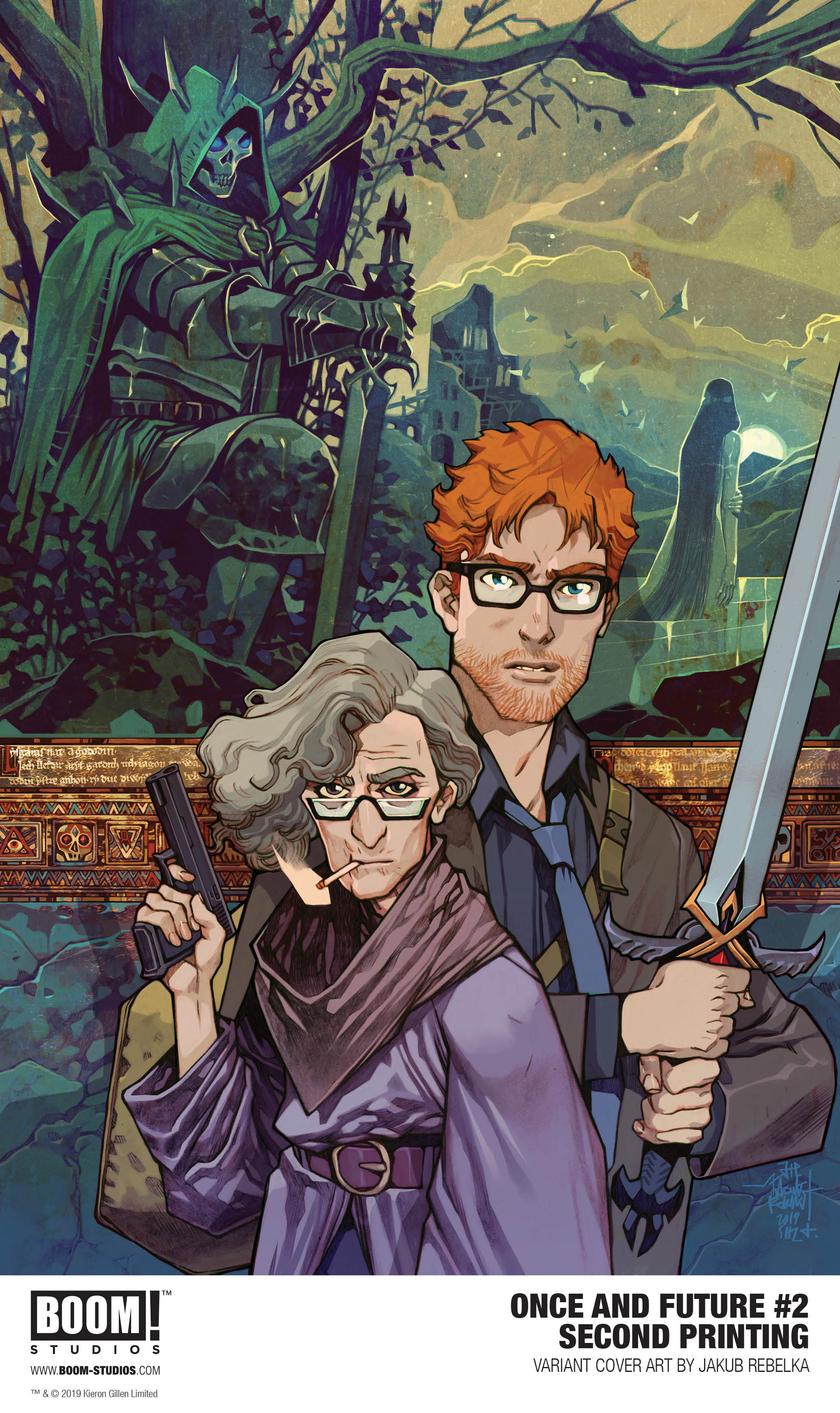 BOOM! Studios announced today that ONCE & FUTURE #2 the next chapter of the hottest original series launch of the year from New York Times bestselling writer Kieron Gillen (The Wicked + The Divine, Star Wars), Russ Manning Award-winning artist Dan Mora (Buffy The Vampire Slayer, Klaus), and acclaimed colorist Tamra Bonvillain (Doom Patrol), has sold out at the distributor level ahead of its September 18, 2019 release date.

Due to enthusiastic support from retailers and fans alike, BOOM! Studios has fast-tracked the ONCE & FUTURE #2 SECOND PRINTING VARIANT, featuring an all-new cover by acclaimed artist Jakub Rebelka (Buffy the Vampire Slayer, Judas), arriving in stores on September 25, 2019. As with previously fast-tracked printings, quantities are limited and allocations to retailers may occur.

The newest issue of the highly acclaimed and hotly anticipated new original series, ONCE & FUTURE #2 follows retired monster hunter Bridgette McGuire and her unsuspecting grandson Duncan as they prepare for battle against a rising evil that plans to take over their country to bring it back to its former glory.

There's no turning back now as Bridgette drags Duncan deeper and deeper into the heart of British mythology and folklore to search for a way to stop a rising group of Nationalists from bringing an ancient and terrible power to life. Duncan's just battled an absolutely impossible creature from legend and been shot—by his Gran, no less!—so he feels he's due a few explanations, starting with how his nice, perfectly normal Gran knows so much about monsters and how to deal with them?! And what else has his family been hiding from him?

"Hot off the historic series launch, ONCE & FUTURE #2 continues to receive unprecedented support from retailers and fans alike and has sold out ahead of release despite a 20% free overship to our retail partners. So we're fast-tracking a second printing to make sure you don't miss a single second of Kieron, Dan, and Tamra's incredible new series." said Filip Sablik, President, Sales and Marketing, BOOM! Studios.

Print copies of ONCE & FUTURE #2 featuring cover art by artist Dan Mora will officially be available for sale on September 18, 2019 at local comic book shops. The first, second, and third printings of ONCE & FUTURE #1 are also now available at your local comic shop.

For continuing news on ONCE & FUTURE and more from BOOM!, stay tuned to www.boom-studios.com and follow @boomstudios on Twitter.