Beast Kingdom Enters Endgame With New PREVIEWS Exclusive Egg Attack, Mini Egg Attack Figures
Apr 19, 2019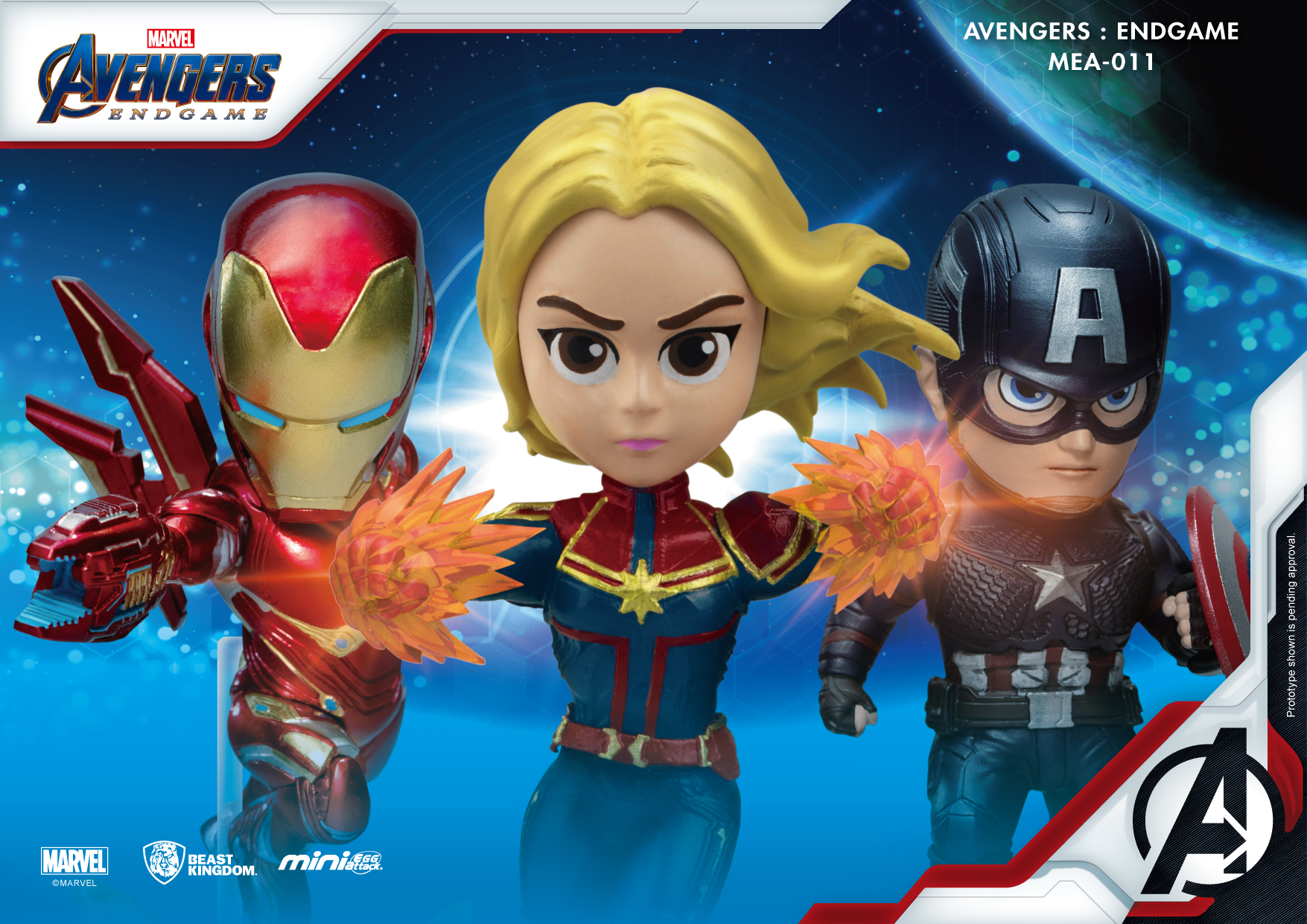 The Endgame is (almost) here!
Just a week before Avengers: Endgame hits theaters, Beast Kingdom is rewarding fans with a new line of PREVIEWS Exclusive Mini Egg Attack figures featuring Captain Marvel, Captain America and Iron Man and two new PREVIEWS Exclusive Egg Attack Action figures featuring Ronin and Black Widow!
All of these figures are available to pre-order at comic shops and is expected to arrive November 27, 2019.
Take a look below at the solicitation information for the figures.
AVENGERS ENDGAME MEA-011 CAPTAIN MARVEL PX FIG (MAR198383)
AVENGERS ENDGAME MEA-011 CAPTAIN AMERICA PX FIG (MAR198382)
AVENGERS ENDGAME MEA-011 IRON MAN MK50 PX FIG (MAR198384)
This is it! Enter the final battle between good and evil! Bringing fan favorites from the most anticipated superhero movie of the year to life, Beast Kingdom is proud to present the latest in the range of Mini Egg Attack: MEA-011 Avengers: Endgame Statue series! Based on their character designs from Avengers: Endgame, these detailed, hand-painted statues measure about 4" tall. Collectors can decorate their desks with these dynamically-posed Avengers characters that feature special effects to make them truly pop! Don't miss your chance to add all these magnificent MEA figures to your collection today. Collect Captain Marvel, Captain America, and Ironman Mark 50.
AVENGERS ENDGAME EAA-081 RONIN PX AF (MAR198380)
From Beast Kingdom. Born through immense pain and suffering, Ronin the mysterious, hooded assassin, carries his katana just like a samurai to avenge the fallen! What better way to relieve Ronin's adventures than with Beast Kingdom's latest addition to the Egg Attack Action family: EAA-081 Ronin! With his Samurai Sword and the included Sheath, the EAA-081 also features movable eyes and 28 points of articulation for dramatic and movie-accurate posing! His real fabric one-piece suit and black hooded jacket retain Beast Kingdom's signature focus on detail, so collectors can enjoy details around the buckle and gold rims of the outfit, greatly enhancing the collectability of the figure! Ronin includes an exclusive action figure stand with Avengers: Endgame logo and character name. With Beast Kingdom's new Avengers: Endgame character roster also including Black Widow, it's the perfect opportunity to collect them all and succeed in taking down the evil Thanos!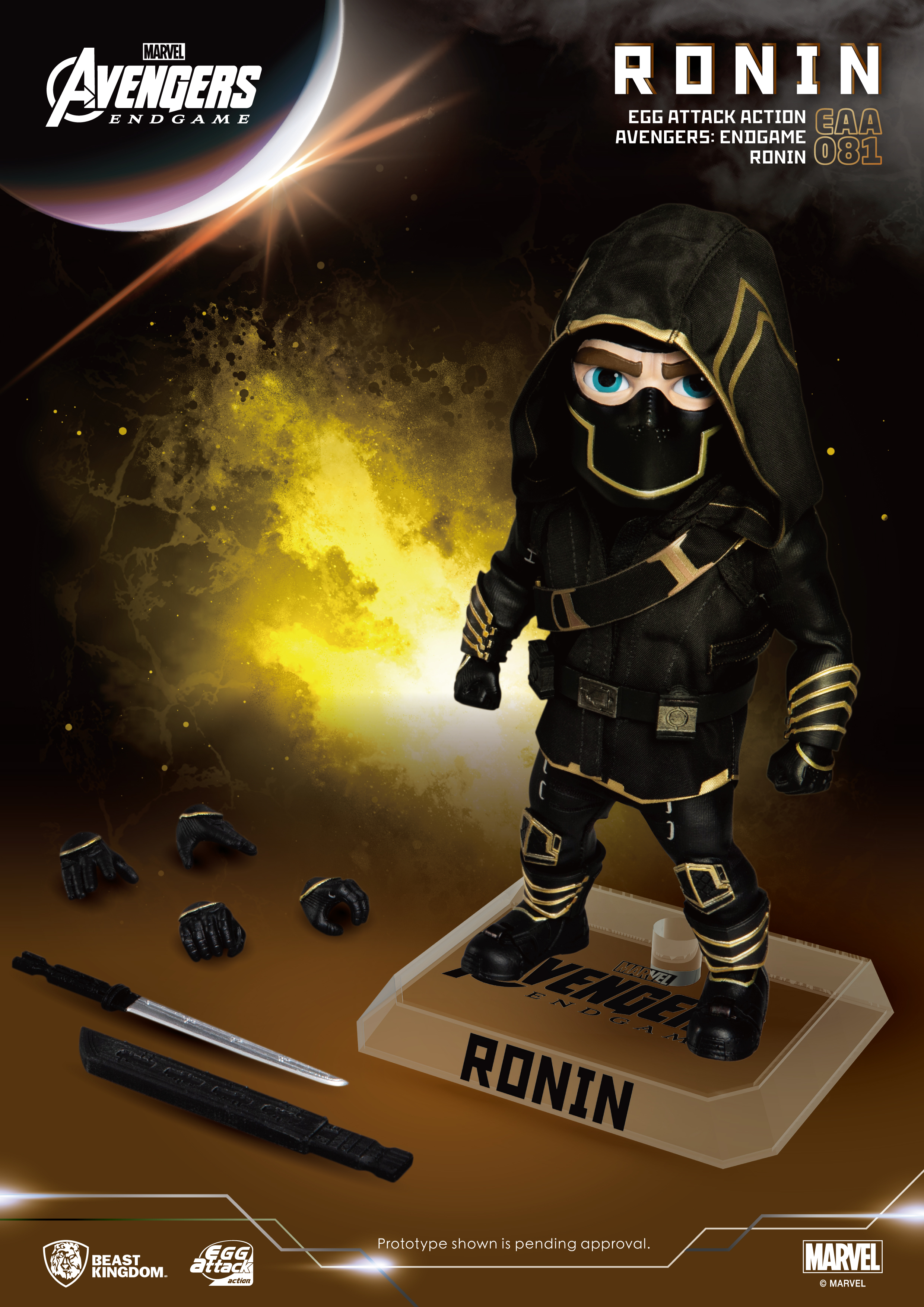 AVENGERS ENDGAME EAA-082 BLACK WIDOW PX AF (MAR198381)
Black Widow, a symbol of deadly beauty has been a staple of the MCU since her first appearance in Iron Man 2! Even though Natasha Romanoff is only human, her alluring yet precise fighting techniques has solidified her spot in the Avengers. With delicate head carving, and a focus on facial features, the latest Egg Attack Action figure continues the immense level of detail collectors have come to enjoy from Beast Kingdom! Two faces and a replaceable head allows the dark assassin to convey her different emotions, and with an assortment of weapons including her trusted batons and pistols, Black Widow is ready to join the fight of her life with her fellow Avengers. Black Window features 22 points of articulation and a real cloth uniform with no details spared! From the tiniest of zippers to the stitching, this EAA figure takes the action straight out of the movie and onto your desk!