Kieron Gillen & Dan Mora Debut "Once and Future" at BOOM! Studios
Feb 25, 2019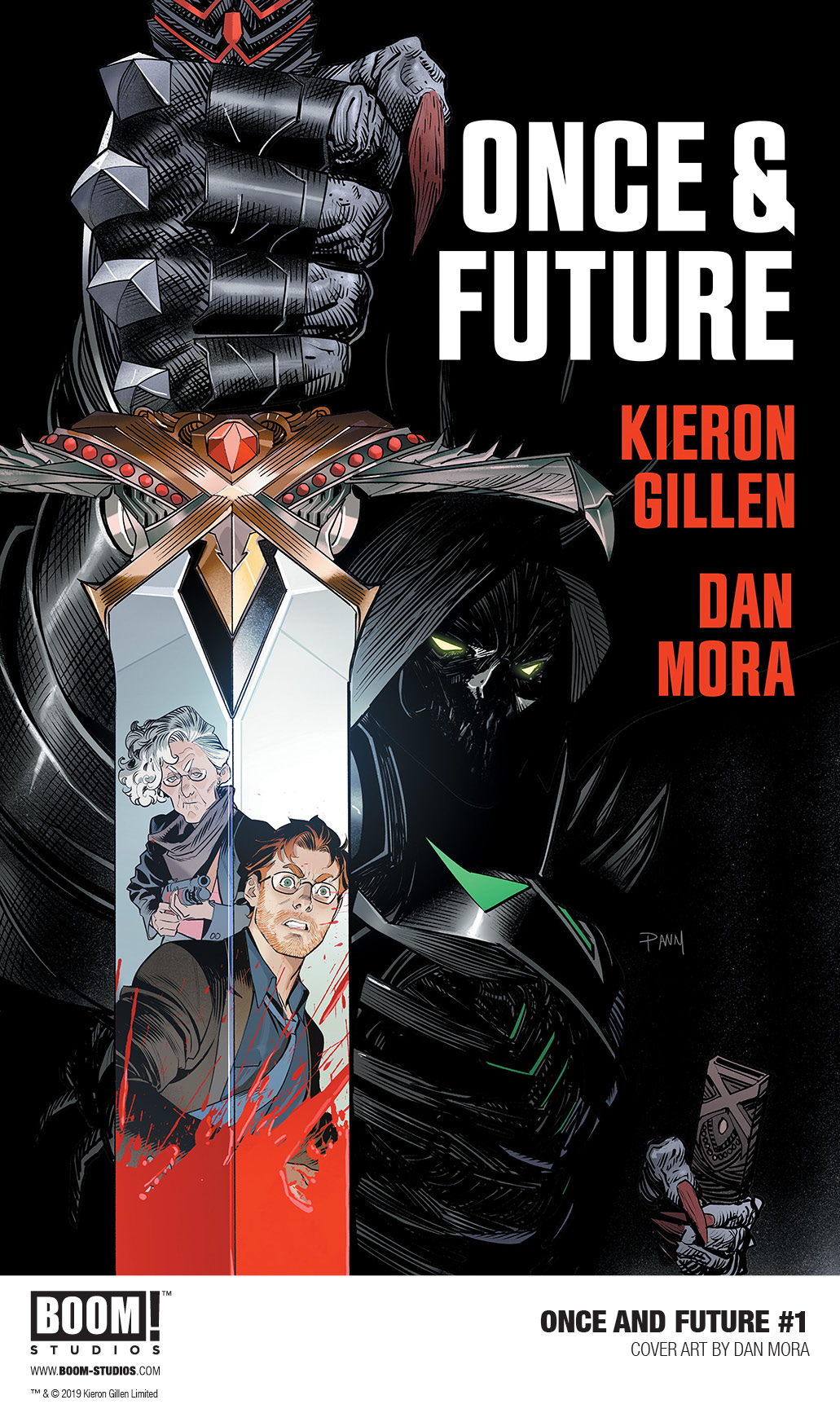 BOOM! Studios announced ONCE AND FUTURE #1, an extra-sized issue kicking off an all-new limited series from New York Times bestselling writer Kieron Gillen (The Wicked + The Divine, Star Wars) and Russ Manning Award-winning artist Dan Mora (Buffy The Vampire Slayer, Klaus) exploring the mysteries of the past, the complicated truths of our history and the power of family to save the day…especially if that family has secret bunkers of ancient weapons and decades of experience hunting the greatest monsters in Britain's history!

When a group of Nationalists use an ancient artifact to bring a villain from Arthurian myth back from the dead to gain power, ex-monster hunter Bridgette McGuire pulls her unsuspecting grandson Duncan, a museum curator, into a world of magic and mysticism to defeat a legendary threat. Now the two must navigate the complicated history of the McGuire family and combat the deadly secrets of England's past that threaten its very future.

Kieron Gillen is an award-winning writer based in London. He's the co-creator of hit books such as The Wicked + The Divine, Die and Phonogram for Image. His work for Marvel includes Young Avengers, Star Wars, Iron Man, Uncanny X-Men, Thor, Journey Into Mystery and Darth Vader, where he co-created Doctor Aphra.

"I've been chewing over how the classic explorer adventure serial could operate in the twenty-first century for a while. Doctor Aphra transplanting the genre to space was one conclusion. ONCE AND FUTURE is another, taking a genre whose core has barely changed since the 19th century, and updating it for the now," said writer Kieron Gillen. "Adventure, romance, supernatural horror and too much bloody research, as always. When BOOM! Studios told me one of the most talented action artists of his generation was interested in collaborating, I knew that we had all the ingredients we needed to create gold. Gold which, inevitably, our heroes will steal."

Dan Mora is the artist behind some of the biggest hits in comics today, from the recent re-imagining of Buffy The Vampire Slayer to the landmark Power Rangers: Shattered Grid comic book event at BOOM! Studios, along with a number of iconic covers for Marvel Entertainment and DC Comics. In 2016, Mora was honored with the Russ Manning Promising Newcomer Award for his work on the chart-topping Klaus series from BOOM! Studios.

"Working with BOOM! Studios has opened the door to new dream projects every year, but ONCE AND FUTURE is unlike anything I've ever worked on before," said artist Dan Mora. "Kieron's created a new world very much like our own, but plagued by supernatural and mythological creatures that are a joy to bring to life. And Bridgette, well, she's one of the most fun - and surprising - characters I've ever worked on and I can't wait for audiences to meet her!"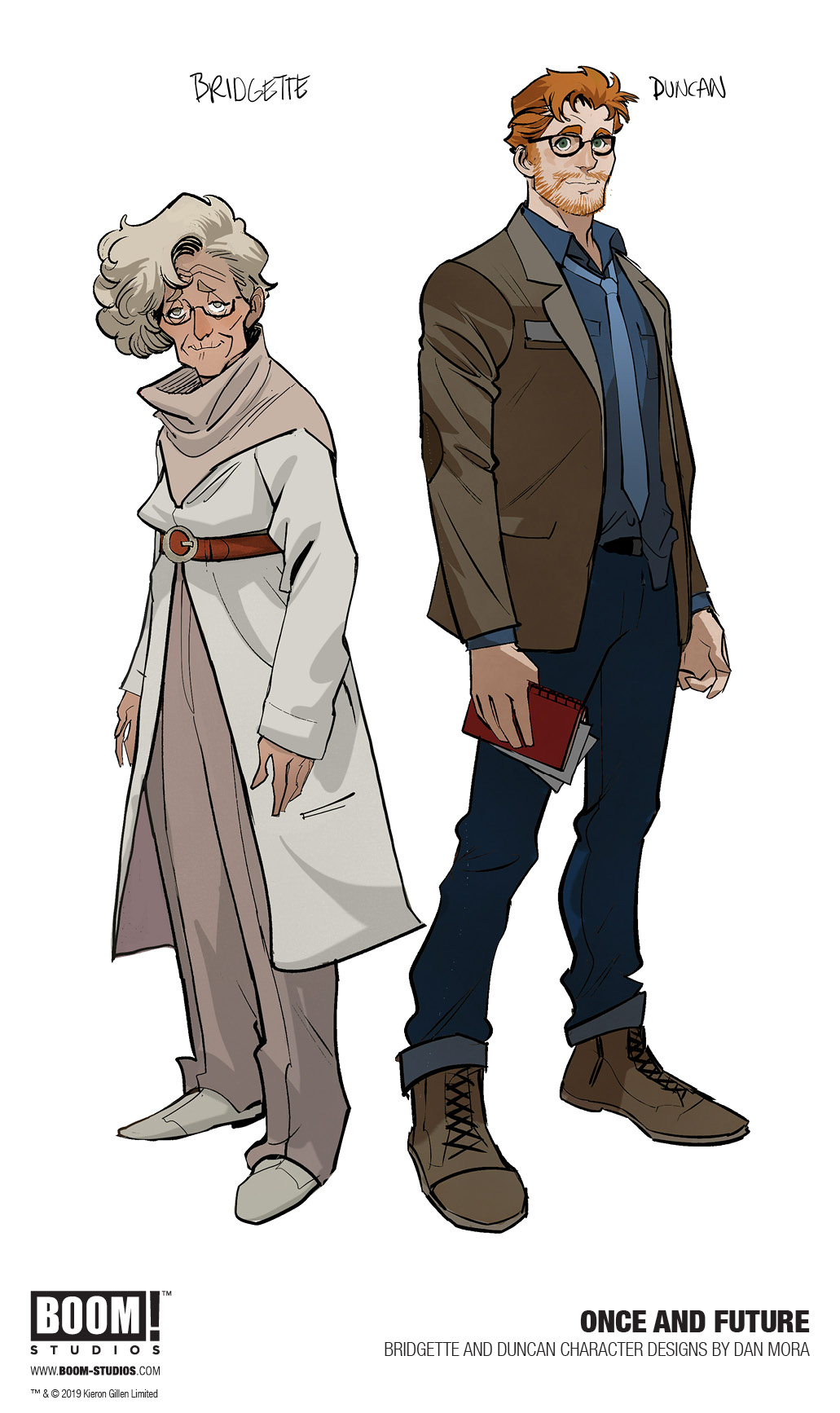 ONCE AND FUTURE is the newest release from BOOM! Studios' eponymous imprint, home to critically acclaimed original series, including Faithless by Brian Azzarello and Maria Llovet; Abbott from Saladin Ahmed and Sami Kivelä; Bury The Lede from Gaby Dunn and Claire Roe; Grass Kings from Matt Kindt and Tyler Jenkins; and Klaus from Grant Morrison and Dan Mora. The imprint also publishes popular licensed properties including Joss Whedon's Firefly from Greg Pak and Dan McDaid; Buffy The Vampire Slayer from Jordie Bellaire and Dan Mora; and Mighty Morphin Power Rangers from Ryan Parrott and Danielle Di Nicuolo.

"Kieron Gillen and Dan Mora are two of my favorite storytellers in comics, hands down. Not only was bringing them together a dream come true--speaking personally--but ONCE AND FUTURE has also blown away all of our expectations," said Matt Gagnon, Editor-in-Chief, BOOM! Studios. "Kieron & Dan are crafting a world of adventure that's both epic and intimate, timeless and immediately relevant. This is truly one of the biggest projects in our company's history."

Print copies of ONCE AND FUTURE #1, featuring a cover by Dan Mora, will be available for sale on August 2019 at local comic book shops (use comicshoplocator.com to find the nearest one).