Precipitous Noir Tale "High Crimes" Collected In Paperback This February
Dec 04, 2018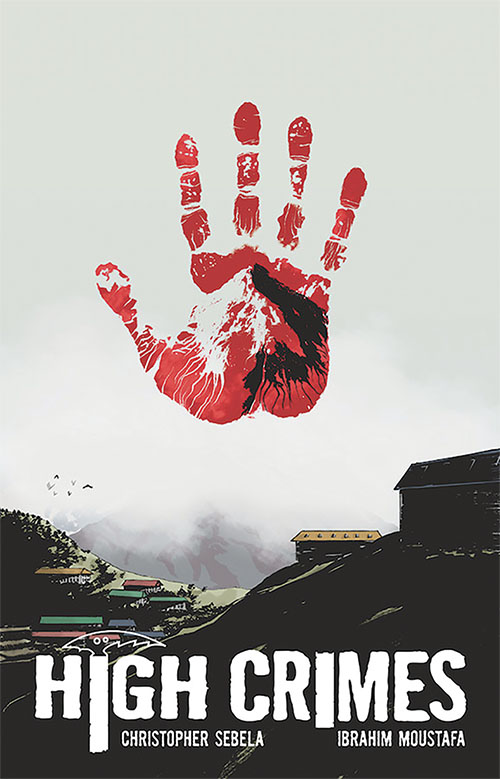 Writer Christopher Sebela (CROWDED, SHANGHAI RED, We(l)come Back) and artist Ibrahim Moustafa (Jaeger, Mother Panic, James Bond) will release a trade paperback collection of their two-time Eisner-nominated series HIGH CRIMES this February from Image Comics.
"Making HIGH CRIMES was one hell of a climb, and I'm absolutely thrilled that we're going to be able to share it with more readers via the Image banner," said Moustafa.
People die every year on Mount Everest. This year will be murder.
Zan Jensen works as a climbing guide for rich tourists in Kathmandu. And on the side, she and her partner Haskell moonlight as high-altitude graverobbers, extorting money from the families of the many dead bodies that litter the peaks of the Himalayas. But when they find a body with a jackpot of state secrets embedded in its skin at the summit of Mount Everest, they wind up in the crosshairs of a government agency bent on recovering the body—and eliminating any witnesses.
"HIGH CRIMES is responsible for my whole career," added Sebela. "Born from years of obsession with Everest and a last-ditch attempt to make the only book I cared about making, it came out so much better than I ever could have imagined, and I'm excited to share it with a whole new audience."
HIGH CRIMES (DEC180082) hits comic book stores on Wednesday, February 20th and and can be preorderd from the Image Comics section of the December PREVIEWS!