Collector's Corner: Interview with Jenna Esposito
Oct 08, 2018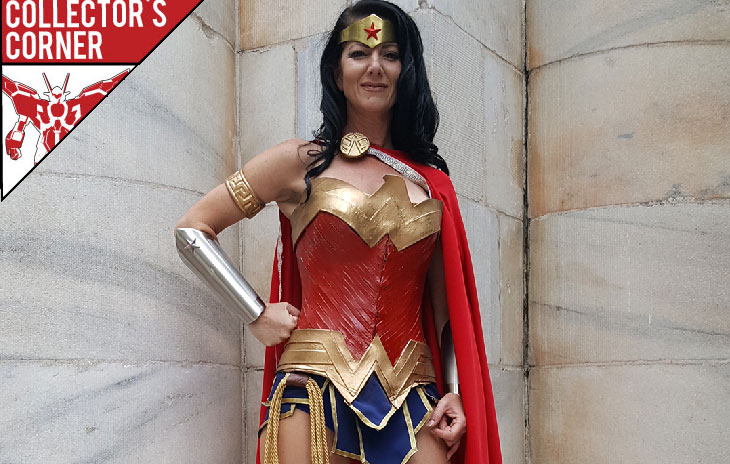 PREVIEWSworld ToyChest proudly introduces Collector's Corner! Here, we'll highlight anyone and everyone with a love of toys and collectibles. Whether it's a hardcore collector with no room on their display case or a veteran sculptor who makes a living in the industry, we'll talk to anyone who lives and breathes toys!
This week, we talk to Jenna Esposito!
Esposito is a cosplayer who collects female action figures, especially Wonder Woman!
---
TELL US ABOUT YOURSELF:
Jenna Esposito is a business woman, cosplayer, crafter, and Wonder Woman superfan based out of Jacksonville, FL. Recognized in the region as an award-winning cosplayer and one of Folio Weekly's Favorite Cosplayers in Jacksonville, she has enough credential to make Diana Prince gasp. Not only was she hired by the Jacksonville Sharks football team as Wonder Woman herself, she donates her time and efforts to charity causes via Costumers With a Cause.
Though boasting her enviable collection of 1977-to-now Wonder Woman merchandise , all female empowered action figures, closet of Wonder Woman outfits, and guest appearances, Jenna considers her greatest legacy and achievement her two teenage daughters. Determined to lead them down the path of nerdy glory, they often accompany her in awe-striking cosplays, reminiscent of Wonder Woman herself.
WHEN DID YOU START COLLECTING?
I think it started around the mid 90's when a guy I was dating took me to a comic-book store and I was drawn to the female superheroes. It really took over my life after my divorce in 2007. He didn't quite understand the nerdy part of me so it was kept suppressed until I was on my own.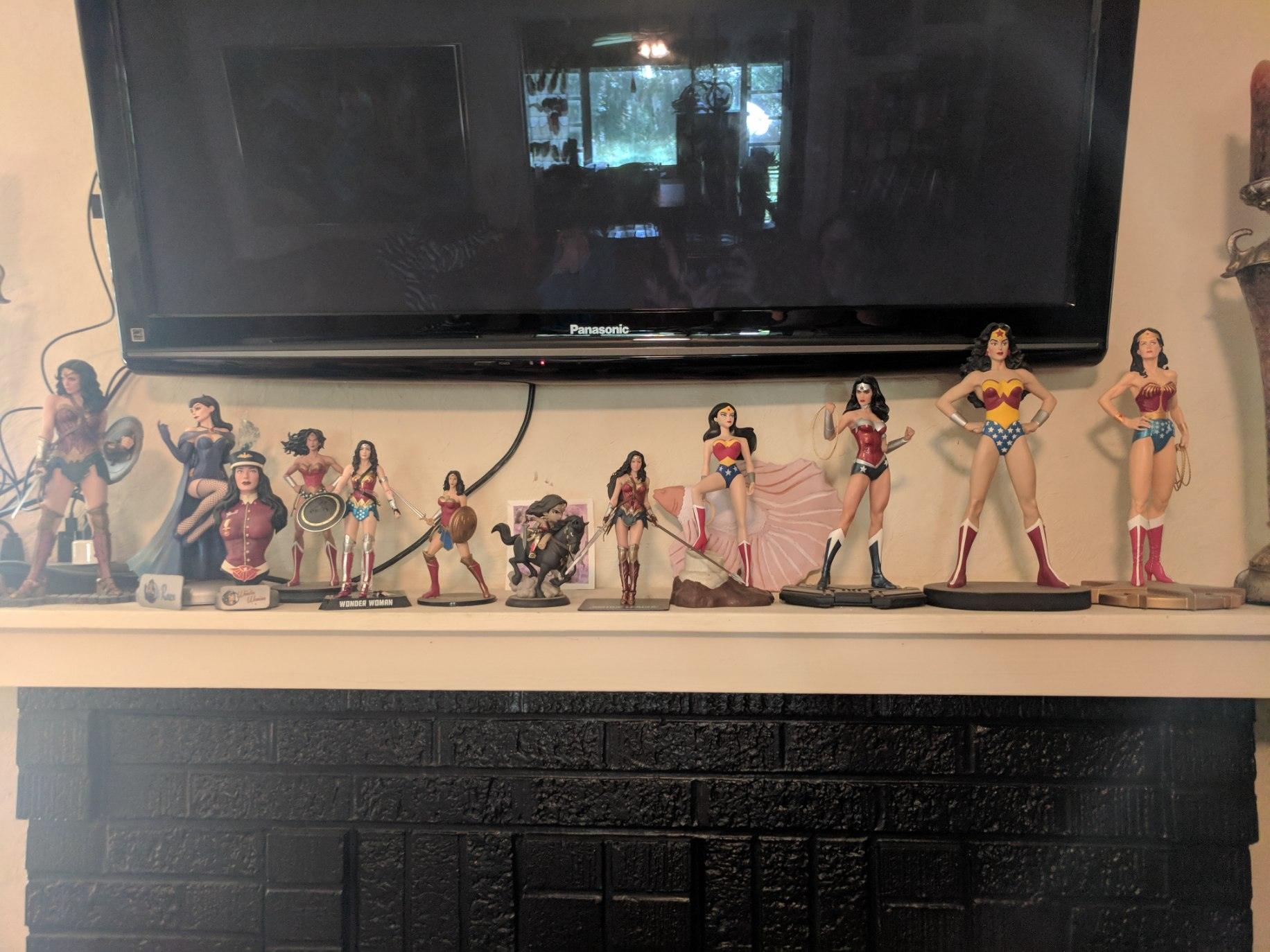 WHAT SPURRED YOUR INTEREST IN TOY COLLECTING?
It is really hard to pinpoint a specific time.
It's more like small instances here and there in my life giving me the great melting pot that makes me up.
My mother is an artist and she mainly draws women. I grew up with paintings on all the walls of women in extravagant gowns or maybe nothing at all. They we're always images of beauty, power and love. When I was a kid Wonder Woman was on television and that started my obsession with her. I wanted to know her, I wanted to be her, I wanted to wear what she was wearing and do what she was doing.
WHY COLLECT FEMALE ACTION FIGURES?
When I first saw an action figure that was female, it was like holding art in 3-D form. You could see and touch all of the details of the costumes, makeup and hairstyles. Until recently Wonder Woman items were few and far between so I grabbed anything that was female that looked pretty to me.
WHAT OTHER LINES DO YOU COLLECT?
I also have a bunch of Funko pops. All female of course!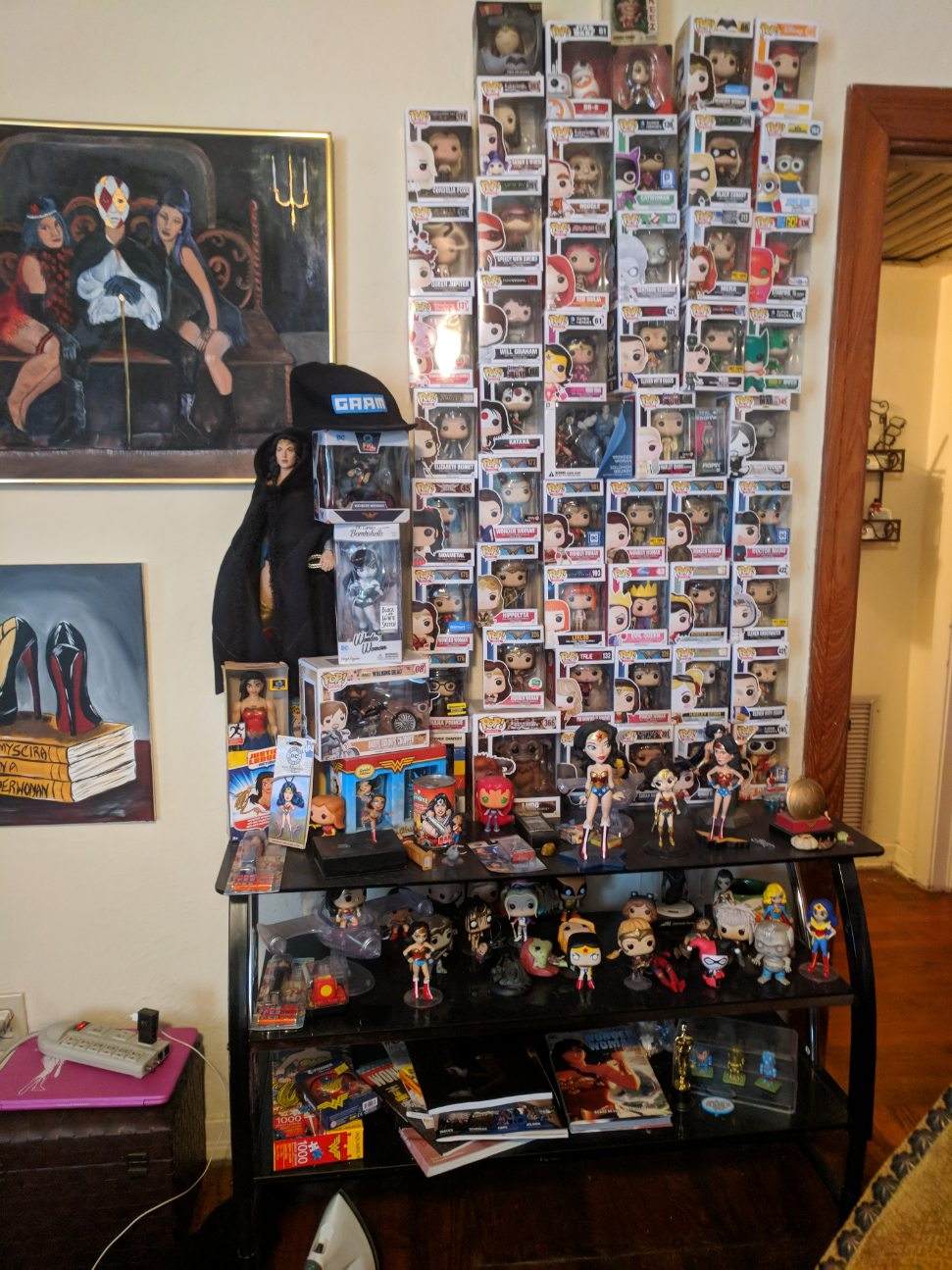 WHAT ARE YOUR FAVORITE PIECES?
A Wonder Woman vinyl album from 1977. It's a narration of the comic book it comes in. It is the one thing I still have that was actually mine when I was a child. Of the action figures, the Mcfarlane ones are my favorite. They are the most detailed and elaborate.
WHAT IS YOUR 'HOLY GRAIL' COLLECTIBLE?
The original 1970's Wonder Woman mego doll. I can close my eyes and remember playing with her. I wish I had never let her go.
WHAT ADVICE WOULD YOU GIVE TO TOY COLLECTORS?
The best thing I did was to make an album on my facebook devoted to my collection. There have been so many times I've been at a store and see something I love then I look in the album and realize I already have it. Also, if a friend wants to buy me a gift they know what not to get.
HOW CAN PEOPLE FIND YOU ONLINE?
JennaEspositoCosplay on facebook and instagram