PREVIEWSworld Weekly
May 08, 2019
Rocketing from a dying planet and sent hurtling to Earth, PREVIEWSworld Weekly is on every Wednesday at 4pm EST on Facebook and YouTube, and serves as a friendly weekly reminder of exactly what's new in the world of comics, toys, and more!
Tune in each week and make PREVIEWSworld Weekly your first destination on the way to your local comic shop.
Hosted by Troy-Jeffrey Allen and Thea Curley.
On the show this week:
What's @ Comic Shops
NEON FUTURE, WAR OF THE REALMS' LAND OF THE GIANT, SPIDER-GIRL, and more!
What's In The News
WILD C.A.T.s returns, SPAWN turns 300, SUPERMAN: YEAR ONE, and...
Previews ToyChest
BLADE gets the One:12 Collective treatment, the Bat-family takes over Wednesday, and...
What else can you expect?
We're giving away a bundle from Diamond's Las Vegas Retailer Summit (above), featuring one of a kind exclusives from DC Comics, BOOM! Studios, Vault, Humanoids, Dark Horse Comics, and more!
Our Hosts: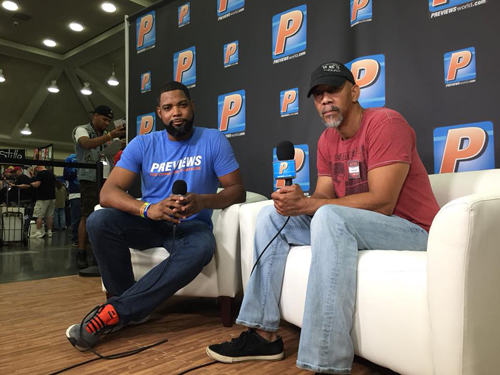 Troy-Jeffrey Allen
Troy-Jeffrey Allen is the consumer marketing editor for PREVIEWSworld.com and the DCD family of sites. His comics work includes BAMN, the Glyph Award-nominated Fight of the Century, the Ringo Award-nominated Magic Bullet, and the Harvey Award-nominated District Comics. In addition, Allen's work has been featured in the City Paper, The Baltimore Sun, and The Washington Post.
Thea Curley
Thea is a Baltimore-based cosplayer, seamstress, and generally crafty human. She appears in a multitude of PREVIEWSWorld and Game Trade Media videos, primarily as co-host for Previews World Weekly, and as the main face of the video game-based segment, Press Start. In her spare time she can be found in costume at varying conventions and nerd events, or out at a local kung fu studio where she's learning tai chi and Chinese lion dance. She's a big fan of video games (the Legend of Zelda is her favorite), and loves sci-fi and fantasy-based comics as well as books.