Collector's Corner: Interview with Wendy Whipple
Jun 11, 2018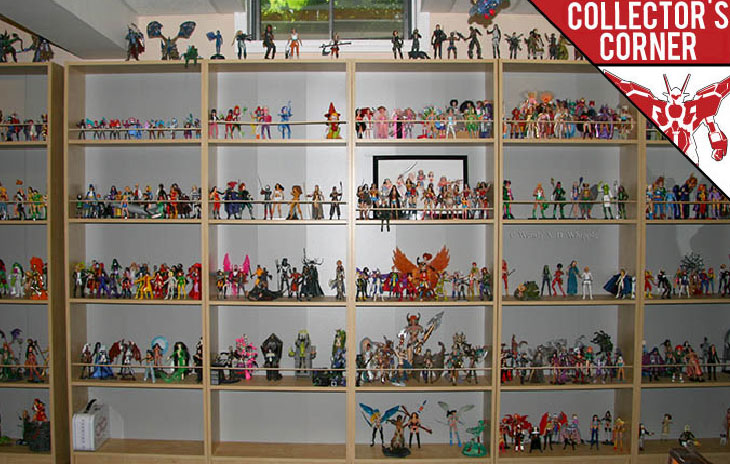 PREVIEWSworld ToyChest proudly introduces Collector's Corner! Here, we'll highlight anyone and everyone with a love of toys and collectibles. Whether it's a hardcore collector with no room on their display case or a veteran sculptor who makes a living in the industry, we'll talk to anyone who lives and breathes toys!
This week, we talk to Wendy Whipple, a collector of female action figures!
Wendy talks about her toy collection, her favorite pieces and her advice for fellow toy collectors!
---
WHEN DID YOU START COLLECTING?
I started collecting when I saw an article in Action Figure News & Toy Review (#32, June 1995), "Deadliest of the Species: Collecting Female Figures." It made me really pay attention to how scarce the female figures were in various lines, and seek them out.
WHAT SPURRED YOUR INTEREST IN TOY COLLECTING?
That article was right at the cusp of when there was a bit of a burst in female figs, Playmates was doing great with their representation in the Star Trek line, and with the bad girls comics trend, there were lots of indie manufacturers jumping in, too. The late 90s was a good (and bad) time to be a collector. Good, because there was opportunity to collect; bad, because the dealers were at the toy stores first thing in the morning, picking over the shelves, and marking everything up 400% (or more) at shows.
WHY DO YOU COLLECT ONLY FEMALE FIGURES?
The female characters in pretty much any medium get the short end of the stick, and when they are represented, they're often an overused trope or underdeveloped character used only to advance the plot of a male character. Girls need heroes, too; representation matters. It was exciting to see Leia on the big screen, and Wonder Woman on the small screen. Charlie's Angels and The Bionic Woman were a big deal to me growing up.
I collect only female characters because I hope that, in buying them, I help support the message that the female figures are wanted, so the manufacturers keep making them. Girls can't play with toys that aren't being made.
I don't collect variant figures for the most part, so most of my 674 lady figs are single character representations, with the two big exceptions being Leia and Wonder Woman. There are also 3 robots (2 of them dogs), and 18 male figs displayed (including Grovel). I'd be lying if I said it wasn't a rush to look at all those characters, all those women and girls, and think "Wouldn't it be awesome to set them up in the driveway in a phalanx, against the male figures?" Then I realize how much work it would be to move nearly 700 figures, convince them all to stand up long enough for a photoshoot without knocking over all the others in a truly epic game of figure dominoes, laugh, and go do something else.

WHAT ARE YOUR FAVORITE PIECES?
A good friend of mine made me a couple of custom figs, Harry Dresden and Karrin Murphy from the Dresden Files books by Jim Butcher. I have an Elsa Lanchester Bride of Frankenstein and The Creature from the Black Lagoon figures (Sideshow, 2000) that are just beautifully rendered (and I am a fiend for old monster movies). Singularity, from the A-Force box set (2016) -- it's a gorgeous figure, a perfect representation from the comic art, and I love her character so much. My favorite Wonder Woman is probably the Earth 2 Nicola Scott sculpt (2014).
WHAT IS YOUR 'HOLY GRAIL' COLLECTIBLE? (THE ONE THING YOU WANT IF MONEY WAS NO OBJECT)
It's not a "one thing" exactly: I want to finish my She-Ra line, preferably with all their accessories. It also bugs me that I don't have a Borg Queen. Yet. There are lots of gaps I need to fill, alas.
WHAT ADVICE WOULD YOU GIVE TO TOY COLLECTORS?
Number One: They are toys, they are meant to be played with, take them out of the packages. If you absolutely have to have one that's MIB, buy two, but really, is this going to be your retirement? Enjoy them! Number Two: If you see it on the shelf, and it's the last one, buy it. Don't decide to come back and get it tomorrow; it won't be there. Number Three: If it stops being fun, stop doing it. Collecting should be something that gives you joy. Number Four: There's no "right way" to collect. Don't let anyone tell you otherwise, not even me.
HOW CAN PEOPLE FIND YOU ONLINE?
I have a very neglected blog (because there are only so many hours in the day, and I have a household to maintain): https://plasticheroines.blogspot.com/
My Twitter handle is @cameragrrl.