Collector's Corner: Interview with DC Collectible's Jim Fletcher
Apr 30, 2018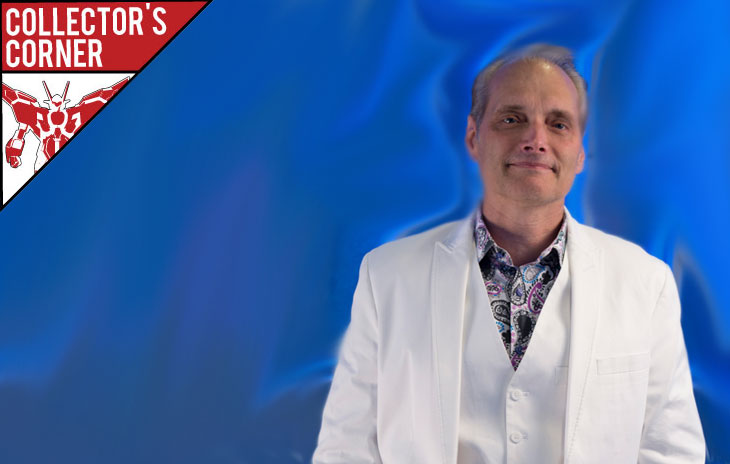 PREVIEWSworld ToyChest proudly introduces Collector's Corner! Here, we'll highlight anyone and everyone with a love of toys and collectibles. Whether it's a hardcore collector with no room on their display case or a veteran sculptor who makes a living in the industry, we'll talk to anyone who lives and breathes toys!
This week, we talked to Collectibles Executive Creative Director Jim Fletcher.
Learn what Jim has in store for DC Collectibles and what lines he is most excited for.
---
WHAT PRODUCTS ARE YOU MOST EXCITED ABOUT FOR MAY?
I'm really excited for the launch of Joëlle Jones' DC Cover Girls statue series. The line is one of our longest running and best-selling lines and Joëlle has been a great addition. We can't wait for her Supergirl design to join the already released Harley Quinn statue this month.
CAN YOU TALK ABOUT THE DESIGN PROCESS FOR THE COVER GIRL STATUES?
The steps are more or less the same for all of our statues.
We ask for 2-3 rough concepts and narrow it down to the final piece that we plan to sculpt. We give the illustrators a good amount of freedom when it comes to the pose and basic attitude of the character. One of the design team's jobs early on is to make sure the pose is compelling, while also being able to produce it overseas. This takes into consideration a lot of factors, including some basic costing and what type of materials that will have to be used in production. We then move ahead to sculpting, choosing a sculptor who's style we think will match the artwork the best. Jack Mathews has been our amazing sculptor of note on most of this line to date, including Joëlles' work. We bring the artists into the art direction process a few times along the way, so they can see where the piece is going. After it's painted, we send a photo of the final piece to the artist to make sure we all on the same page, since it has their name on it!
Cover Girls has been a great experience with each artist that works on the line as everyone from Adam Hughes, to Stanley Lau and now Joëlle Jones has their own defining vision of DC's iconic characters.
WHAT WAS IT LIKE WORKING WITH JOËLLE JONES?
This is our first collaboration with Joëlle and we're thrilled to work with her on this new project. Joëlle is an amazing artist and all of her concept designs have been fantastic. There is a ton of movement and grace in all her sketches that transform well in 3-D form, so it's really been a fun process.
WHICH PRODUCT WERE YOU MOST EXCITED TO UNVEIL AT TOY FAIR?
The Joker Bust by Rick Baker is jaw-dropping. It was great to see people's faces when they took it all in, especially up close, given all of the glorious, creepy details!
The Batman: The Animated Series Harley Quinn expressions pack was also a lot of fun to talk about, as it really allows collectors create their own storytelling moments. It also comes with a giant fish head…
WHAT HAS THE RESPONSE BEEN LIKE TO THE DOOMSDAY CLOCK ACTION FIGURES?
At NY Toy Fair, we received an overwhelmingly great response for the DOOMSDAY CLOCK action figures. It's hard to believe that after all these years we have never produced action figures based on the comic book versions of the WATCHMEN characters! DC Collectibles is always looking for ways to support DC's publishing initiatives, and we're thrilled to be able to bring to life Geoff Johns and Gary Frank's hit DOOMSDAY CLOCK series with these action figure packs.
WHAT ARE SOME UPCOMING LINES YOU ARE MOST EXCITED ABOUT?
The DC Core PVC statue series, DC Artists Alley designer vinyl line, DC Essentials action figures and DC Gallery are all initiatives that I can't wait to get out there! The DC Gallery line, especially, has a lot of surprises on the way that I can't talk about …yet!
WHAT WAS IT LIKE TO WORK WITH HIGH-PROFILE ARTISTS LIKE GERARD WAY AND RICK BAKER?
DC Collectibles' passion for finding new, interesting artists has led us down some interesting paths! Reaching out to creators, not just from comics, but from different industries, has allowed us to bring their own twist to our iconic characters. From our own creations like DC Bombshells or Gotham City Garage, DC Collectibles continues to develop and embrace interesting takes on our characters. Gerard and Rick were both amazing collaborators and continue to be very supportive of their projects with us. I hope we can continue to work with them!