Women in Comics Month: Interview with Syndee Barwick
Mar 01, 2018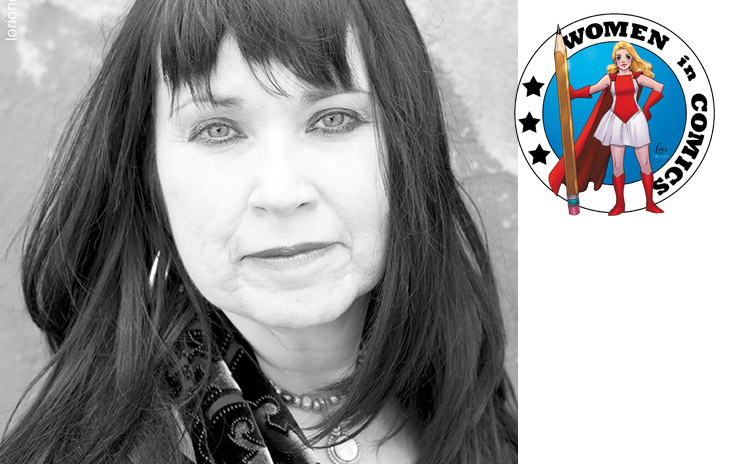 In honor of Women in Comics Month this March, PREVIEWSworld talks with Syndee Barwick, Director of Marketing and Product Development at Lion Forge Comics!
*************
PREVIEWSworld: Who is your current comics employer?
Syndee Barwick: Lion Forge
PREVIEWSworld: What is your primary job title? In a quick phrase or two, could you define your job's key responsibility?
Syndee Barwick: Director – Marketing & Product Development. I oversee the Marketing for Lion Forge titles and imprints, devising strategies for our books in the direct market, book trade, library, and education. I'm also responsible for developing a new merchandise program for Lion Forge properties.
PREVIEWSworld: Could you please explain how your work helps make comics a reality? (Connect the dots for us. Where are you in the flow of getting a book into reader hands?)
Syndee Barwick: I figure out how to best reach audiences and craft the marketing to fit the target market. This also means engaging the rest of my Marketing team, to ensure that everyone optimizes their strengths and talents. At Lion Forge, I'm also a part of the Acquisitions process (which includes different departments).
PREVIEWSworld: What's the part of your job you enjoy the most?
Syndee Barwick: I work with the most amazing people: Lion Forge staff and our amazing talent. I am also proud of my Marketing team – for me, the best: Steenz Stewart - Lion Forge's Social Media & Community Manager; Jeremy Atkins, Lion Forge's Senior Publicist; Devin Funches, Lion Forge's Sales & Marketing Manager; Madeline Roy our Sales & Marketing Coordinator, Katie Sainz (who just joined our team!), our Marketing Assistant, Tysha Long our fab Graphic Designer. I'm really, really lucky: I like everyone with whom I work. I'm not sure many people can say that. We all work towards common goals. I love my job and the people with whom I work!
PREVIEWSworld: What comic titles have you worked on?
Syndee Barwick: At Lion Forge? Lighter Than My Shadow by Katie Green (Amazon's #1 Graphic Novel for 2017), The Little Red Wolf (Amelie Flechais), Superb (David Walker & Sheena Howard), Summit (Amy Chu & Jan Duursema) – so many others coming up this year! This year, some of our big titles are: This Is A Taco (Andrew Cangelose/Josh Shipley ), The Lost Path, (Amelie Flechais), Sheets (Brenna Thummler), Upgrade Soul (Ezra Claytan Daniels), and No Ivy League (Hazel Newlevant ).
PREVIEWSworld: While there are loads of professionals in the comics industry, there are only so many folks who get to do what you do! How did you get started? How did you learn all the skills you needed for your position?
Syndee Barwick: I used to work in the music industry for nearly a decade, first handling promotions, then as an artist manager for a variety of musical talent. That taught me everything I needed to succeed in comics/publishing/merchandise: marketing, advertising, promotions, working with talent, working with venues, engaging fans.
One day I decided I wanted a "real" job, saw an opening at DC Comics, knew my background would be perfect (plus, I loved Sandman), applied … and then spent nearly 20 years at DC Comics as Marketing Director, then Director of Product Management for DC Direct.
PREVIEWSworld: Talk to us about the heroic people in your comics life. Who do you admire? Who inspires you? Why?
Syndee Barwick: So many people. I guess I have to pick!
Karen Berger. Karen was one of the first people who welcomed me at DC, and we worked together so very, very well for nearly 20 years. She shaped this amazing imprint in Vertigo, nurtured talent and grew greatness. I learned a lot from Karen: how to stay cool under pressure (admittedly, not as cool as Karen!), focus on what you want, and grow your talent – both the people who work for you and the writers/artists. It was one of the highlights of my professional life.
I also admire the founder of Lion Forge – Dave Steward II. Dave took his dream of founding a comics publishing company, a media company, and a super hero universe (Catalyst Prime) and shaped it into reality. He's a brilliant, creative, generous, and charismatic leader. I know I love having him as a boss – and I know that the rest of our Lion Forge team feels the same.
Rich Johnson, Lion Forge's VP of Sales, Marketing, and Business Development (and my direct boss with whom I worked at DC, and then introduced me to Lion Forge!). Rich is the person who created the graphic novel market in book trade. He's smart, funny, and is a tenacious champion for comics, talent, growing the market, getting comics and graphic novels into the hands of everyone!
Finally, one of my very best buddies, Marjorie Liu. Marjorie and I met at a Book Expo more than a decade ago when she had just started writing for Marvel. I introduced myself because I loved her prose novels. We hit it off! From there, she's accomplished so very much! Monstress is my favorite book (of course!), and I'm so very proud of her. She is my inspiration – and she is the little sister I never had. Hi M!
PREVIEWSworld: Please tell us about the coolest experience you've ever had thanks to your job.
Syndee Barwick: Not even a question: Meeting and working with Neil Gaiman. I worked at DC for a few months, and Neil was the very first comics writer I met (at those distributor meetings Diamond used to host). It was in Atlanta, at Six Flags, and Neil was every bit the rock star writer I'd imagined – but also the nicest guy. Remember that whole background in the music business? It was very much like that. Then, over the years, I had the pleasure to work with Neil marketing Sandman and other projects, and worked with him when DC Direct (prior to me branding it "DC Direct") developed Sandman and Dreaming products. Neil is a writer who "got it" early on: he "got" how important marketing was, how important the book trade was, how important libraries were, how important product was. And working with Karen and Neil together? Seriously, the best!
PREVIEWSworld: Every industry professional has something they absolutely love about comics. Whether it's a particular title or format, audience or tradition, or something else, we're all hooked. What's special about comics for you? Would you be willing to share a treasured memory about it?
Syndee Barwick: They are movies on a page. They're also like downloading the movies in someone's head onto the page to share with everyone.
PREVIEWSworld: If you had one comics-related wish—no limits—what would it be?
Syndee Barwick: Getting comics into the hands of everyone! Even if they don't think they like comics!
PREVIEWSworld: Do you have an online presence we can link to and share with our readers?
Syndee Barwick: I like to stay in the background – I'd rather work really hard to elevate our talent and titles. I do write, have been published, but that's under a different name … :)