Gladiatorial Debut Issue Of VS Rushed Back To Print
Feb 12, 2018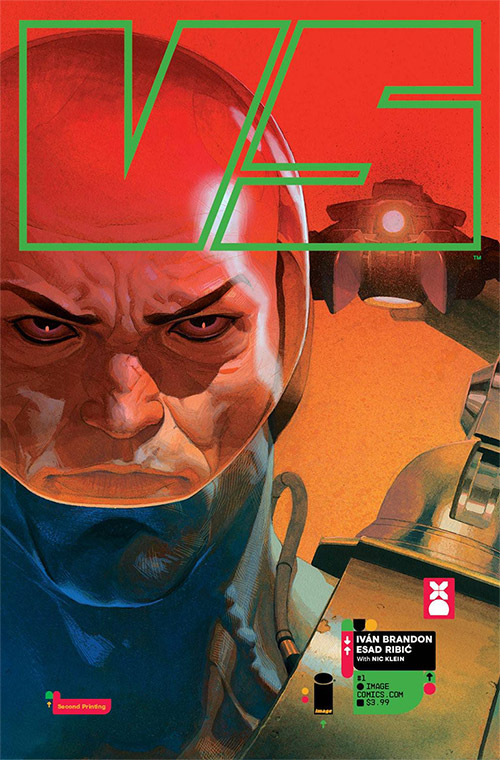 The no-holds-barred sci-fi satire of VS, the new series from Iván Brandon and Esad Ribić, offers a canny vision of the future of warfare, and fans can't get enough. As a result, VS #1 is being fast-tracked for a second printing in order to keep up with overwhelming customer demand.
When war is the ultimate spectator sport, the limelight is not only fleeting, but also a very dangerous place to be. VS delivers spectacular action and darkly humorous satire as it explores humanity's desire for fame—and penchant for self-destruction.
VS #1, 2nd printing (DEC178859) will hit comic book shops Wednesday, March 7th. The final order cutoff deadline for comics retailers is Monday, February 12th.
Select praise for VS:
"VS is great, a Robocop-esque satire where actual warfare becomes a game." —The Oregonian

"A comic that cranks its core conceits, violence and black humor, right up to 11 and ensures no reader will be able to ignore its twisted beginning." —ComicBook.com
"VS is what happens when your fandom of Heavy Metal and The Hunger Games is merged perfectly into something new while realizing what made both great." —Monkeys Fighting Robots

"If you are a fan of 2000 AD, Heavy Metal, or particularly Alien Legion, this book will feel like going home." —Comicosity
"A smart mix of Ribić's gorgeous art and outright pulp that's a lot of fun." —Uproxx
"Each page of this comic looks like the cover of a classic science fiction pulp, grabbing you outright by way of its bold artwork." —Nerdist