Top 25 Toys: January 2018
Feb 11, 2018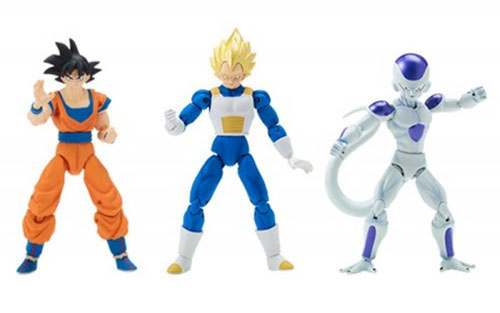 Bandai America's Dragonball Super Dragon Stars Action Figures were the best-selling toy product of January and one of the Bandai's three products among the month's top ten.
Mezco's One:12 Collective: Marvel: X-Force Deadpool Action Figure, a Diamond exclusive, ranked #2 for the month.
Diamond Select Toys had three products among the top ten: the Marvel Select: Thor Ragnarok: Gladiator Hulk Action Figure, based on Marvel Studios' blockbuster film, ranked #5, the Marvel Select: Guardians of the Galaxy Vol. 2: Drax and Baby Groot Figure ranked #7, and the Marvel Select: Guardians of the Galaxy Vol. 2: Star-Lord and Rocket Raccoon Figure ranked #10.
Funko's POP! Dragonball Super: Gotenks Vinyl Figure, also a Diamond exclusive, ranked #6 for the month.
TOP 25 TOYS
Based on Total Retail Dollar Sales of Products Invoiced in January 2018
DOLLAR
RANK
QTY
RANK
ITEM
CODE
DESCRIPTION
VENDOR
1
13
DEC168933
DRAGONBALL SUPER DRAGON STARS AF ASST B
BAN
2
7
FEB178707
ONE-12 COLLECTIVE MARVEL X-FORCE DEADPOOL PX AF
MEZ
3
98
AUG178473
OVERWATCH D.VA 20IN STATUE
BLI
4
9
MAY178022
BORUTO - NARUTO NEXT GEN NARUTO FIG
BAN
5
3
JUL172803
MARVEL SELECT THOR RAGNAROK GLADIATOR HULK AF
DST
6
1
AUG178958
POP DRAGON BALL SUPER GOTENKS PX VINYL FIGURE
FUN
7
4
JAN172662
MARVEL SELECT GOTG 2 DRAX & BABY GROOT AF
DST
8
16
JAN178995
DBZ MS PIECE MANGA DIMENSIONS VEGITO FIG
BAN
9
24
MAY178050
OVERWATCH TRACER FIGMA AF
GOO
10
6
JAN172663
MARVEL SELECT GOTG 2 STAR-LORD & ROCKET AF
DST
11
29
JUL170498
DC BOMBSHELLS STARFIRE STATUE
DC
12
10
JUL178584
POP RIDES MARVEL CLASSIC GHOST RIDER W/BIKE PX VIN FIG GLOW
FUN
13
42
JUL170499
DC DESIGNER SER SUPERMAN BY NEAL ADAMS STATUE
DC
14
58
AUG178507
OVERWATCH REAPER 12IN STATUE
BLI
15
17
JUN172633
MARVEL GALLERY DAREDEVIL COMIC PVC FIG
DST
16
15
JAN178993
DARK SOULS DXF V2 ARTORIAS THE ABYSSWALKER FIG
BAN
17
8
AUG179002
POP HEROES BOOSTER GOLD & BLUE BEETLE PX VIN FIG METALLIC 2P
FUN
18
18
AUG172642
MARVEL GALLERY THOR RAGNAROK HULK PVC FIG
DST
19
2
AUG178575
POP HEROES LOBO PX VINYL FIGURE BLOODY
FUN
20
91
JUL171818
VAMPIRELLA 1/6 SCALE EXECUTIVE REPLICAS FIGURE
DYN
21
28
OCT170803
SAGA THE WILL & LYING CAT AF 2-PACK
IMA
22
5
AUG178574
POP HEROES LOBO PX VINYL FIGURE
FUN
23
33
JUL170500
BATMAN BLACK & WHITE STATUE BY JOHN ROMITA JR
DC
24
44
JUL178509
VOLTRON CLASSIC LION FIG ASST
PLA
25
75
JUN172632
MARVEL PREMIER COLL CAPTAIN AMERICA STATUE
DST
This information may not be reproduced in any format without the express permission of Diamond Comic Distributors.
How does Diamond calculate the charts? It all starts at the comic book shop.
Data for Diamond's sales charts — which includes the monthly market shares and all top product charts — are compiled by Diamond Comic Distributors from sales made to thousands of comic book specialty shops located in North America and around the world. Additional sales made to online merchants and other specialty stores may be included as well.
Unit and dollar market shares are calculated based upon orders for comic books, graphic novels, and magazines invoiced and shipped to Diamond customers during any given month, which comprises pre-orders, advance reorders, and reorders, minus any copies that are distributed free of cost.