PREVIEWS Prevue: Max Allan Collins' 'Quarry's War' from Titan Comics
Nov 24, 2017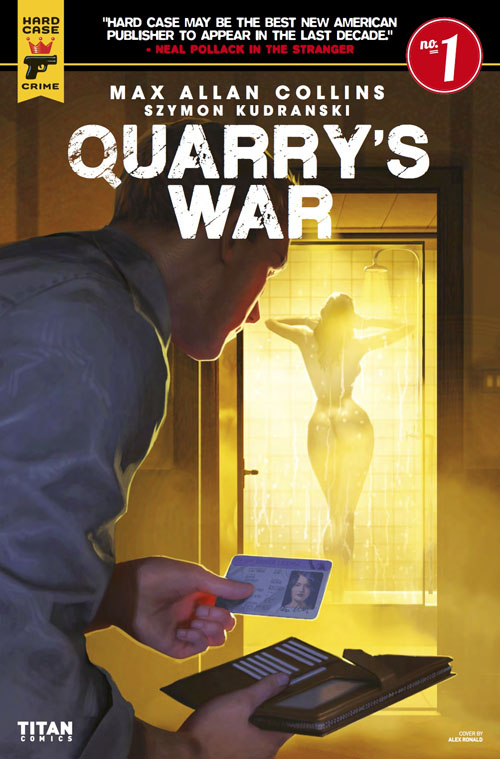 November 29 sees acclaimed comic writer/novelist Max Allan Collins' smash hit QUARRY series make the leap to comics for the first time ever in an all-new series titled Quarry's War (SEP171905).

Titan Comics and Hard Case Crime's new Quarry series marks the first time that the Quarry franchise explores the comic book medium. The comic follows the lead character from the critically acclaimed Cinemax TV show, which The Washington Post said had "a heart-breaking sense of soul."
Penned by Collins, whose other work includes Batman, Dick Tracy, Ms. Tree, and the groundbreaking graphic novel Road to Perdition, which inspired the Academy Award-winning film starring Tom Hanks and Paul Newman, Quarry's War Issue #1 is illustrated by artist Szymon Kudranski (Batman: Streets of Gotham, Spider-Man, Spawn).
In Quarry's War, former U.S. Marine sniper Quarry has recently returned from the horrors of the Vietnam War, and has found a new vocation as a professional assassin. But when his latest contract turns out to be an old acquaintance from his military days, the fresh-faced hit-man finds himself battling against his own conscience as secrets from the past begin to reveal themselves.
"I'm very excited to bring my Quarry character into the world of comics -- it's the first time I've transferred one of my mystery series from prose to graphic novels, though I've made the opposite trip with Road to Perdition," said Quarry writer Max Allan Collins. "I am particularly pleased to be able to explore Quarry's Vietnam experiences -- often referred to in the novels, but never directly depicted, and so well handled on the Cinemax TV series -- in this visual medium. Szymon has really delivered on my concept of telling two storylines -- homefront and war zone -- in alternating pages, which I think makes Quarry's first graphic novel appearance something special."
Quarry's War arrives in comic shops 11/29/2017.