Sneak Peek Inside The December PREVIEWS Toychest
Nov 28, 2017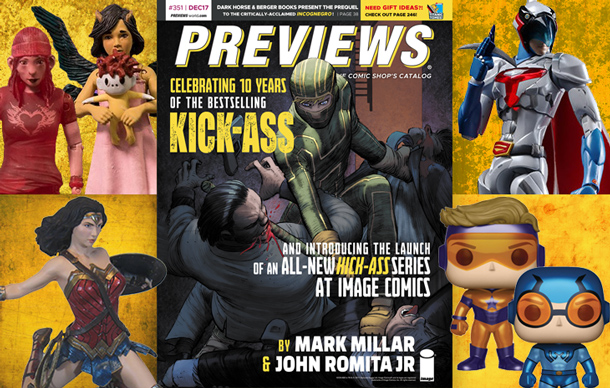 The December edition of Diamond Comic Distributors' monthly PREVIEWS catalog arrives in comic shops, hobby stores, and other specialty outlets on Wednesday, November 29th, and features comic books, graphic novels, toys, and other pop culture merchandise scheduled to go on sale beginning February 2018.
Let's take a look now inside the December PREVIEWS ToyChest, where you'll find plenty of great upcoming items.
Below is just a small sample of what you'll see in the catalog!
---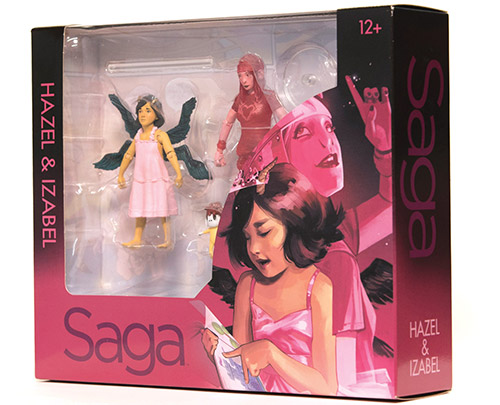 SAGA HAZEL & IZABEL AF 2-PACK
Item Code: DEC170779
SRP: $40.00
Skybound continues their line of merchandise based on Brian K. Vaughan and Fiona Staples' award-winning Image Comics series Saga with the Saga: Hazel & Izabel Action Figure 2-Pack! Hazel, the young girl caught in a galaxy-spanning war, and Izabel, her babysitter, are sculpted as 6" scale figures, and each comes with accessories and display stands. Build your collection of Saga figures with this new 2-pack next spring!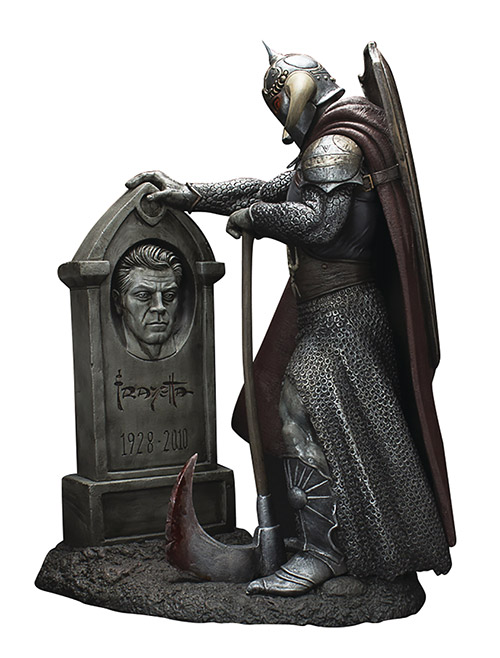 FRAZETTA TRIBUTE DEATH DEALER STATUE
Item Code: DEC172345
SRP: $270.00
Frank Frazetta shaped 20th-century fantasy artwork. His work graced the covers of hundreds of books and magazines, and his original work created some of the most memorable fantasy characters of the century. Quarantine Studios' Frazetta Tribute Death Dealer Statue depicts one of those characters, the Death Dealer, paying tribute to the late artist as a stunning 16" tall polystone statue that captures the spirit of the artist's work!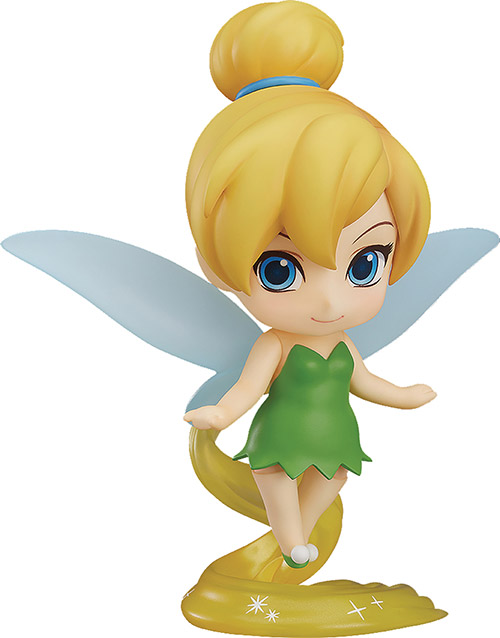 DISNEY PETER PAN TINKER BELL NENDOROID AF
Item Code: DEC172645
SRP: $59.99
Tinker Bell, the fairy star of Disney's Peter Pan and its many spin-offs, including Pixie Hollow, joins Good Smile's Nendoroid collection with a brand new figure! The sprightly fairy comes with additional face parts so you can customize her expression, as well as replacement leg parts so you can depict her sitting or in flight. Plus, she comes with articulated wings! Standing nearly 4" tall with a display base, the Tinker Bell Nendoroid will bring some magic into your life!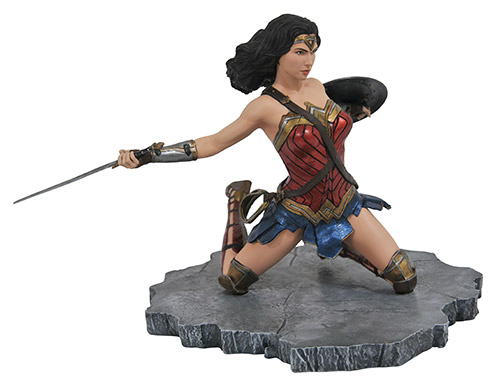 JLA MOVIE GALLERY WONDER WOMAN PVC STATUE
Item Code: DEC172251
SRP: $45.00
Warner Bros.'s Justice League film is one of the biggest films of the winter, and Diamond Select Toys continues their line of merchandise based on the film with the new DC Gallery: Justice League Movie: Wonder Woman PVC Diorama! Wonder Woman glides into battle, her shield in one hand, her sword in the other for a stunning piece that stands 7" tall! Continue your Justice League collection this spring!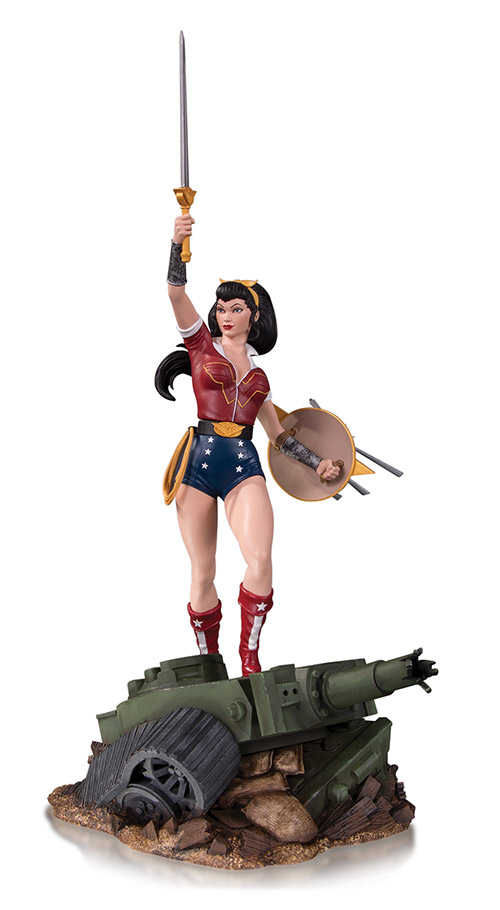 DC COMICS BOMBSHELLS WONDER WOMAN DELUXE STATUE
Item Code: DEC170425
SRP: $200.00
Ant Lucia's DC Bombshells art reimagined the world of DC Comics, placing it during World War II and adopting a pin-up and pulp art style. The DC Bombshells: Wonder Woman Deluxe Statue, designed by Lucia and sculpted by Chris Dahlberg, depicts Wonder Woman, her sword raised, standing atop the wreckage of a German Panzer, a stunning piece that stands nearly 18" tall!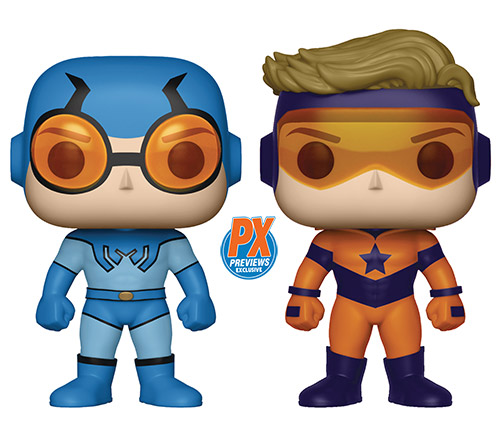 POP HEROES BOOSTER GOLD & BLUE BEETLE PX VIN FIG 2PK
Item Code: DEC172416
SRP: $22.99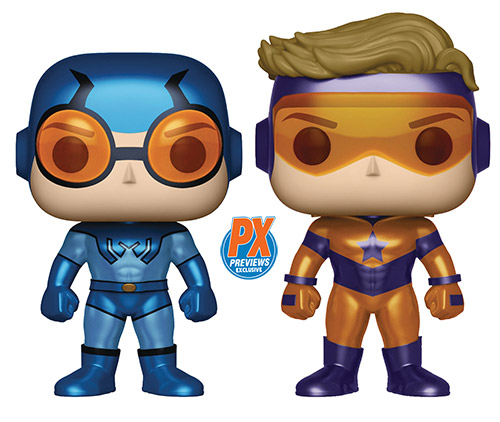 POP HEROES BOOSTER GOLD & BLUE BEETLE PX VIN FIG METALLIC 2PK
Item Code: DEC172417
SRP: $22.99
Return to the days of the Justice League's Bwah-ha-ha era as two key characters -- Booster Gold and Blue Beetle -- join Funko's POP! Vinyl Figure with two PREVIEWS Exclusive 2-Packs! The comedic hero duo are available in either the standard POP! format or in a metallic paint scheme. Available exclusively through PREVIEWS and your local comic shop, the POP! DC Heroes: Booster Gold & Blue Beetle Vinyl Figure 2-Packs brings 2 of DC's fan-favorite characters to your collection!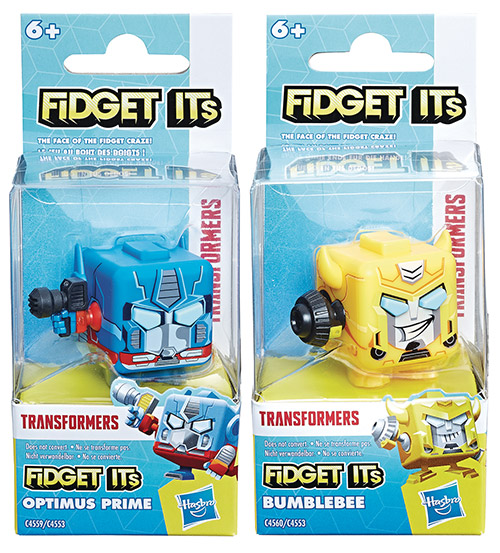 FIDGET ITS TRANSFORMERS CHARACTER CUBE
Item Code: DEC172868
SRP: $9.99 Each
Hasbro takes the fidget spinner to the next level with the new Transformers Fidget Its Cubes! Part figure, part fidget toy, the Fidget Its character cubes feature unique play styles in a non-transforming, deformed character cube! Transformers fans will find figures of either Optimus Prime or Megatron, and they can utilize these cubes to work off nervous energy with the Fidget Its: Transformers Character Cubes!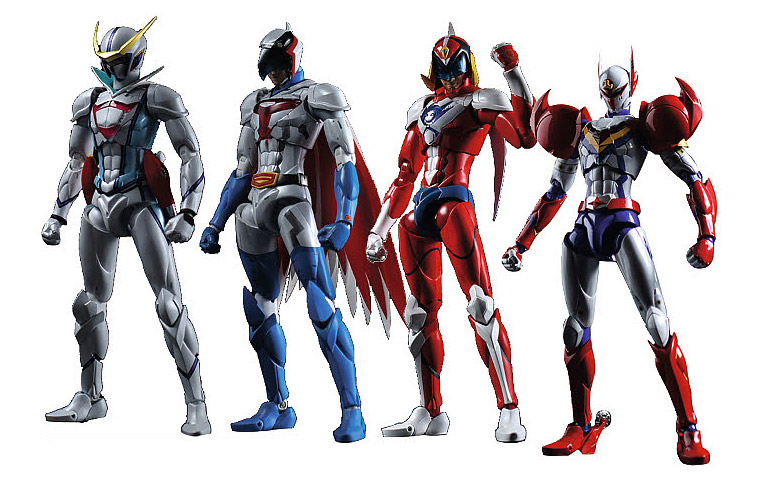 INFINI-T FORCE CASSHERN FIGHTING GEAR VER AF
Item Code: DEC172678
SRP: $75.00
INFINI-T FORCE GATCHAMAN FIGHTING GEAR VER AF
Item Code: DEC172679
SRP: $75.00
INFINI-T FORCE POLIMAR FIGHTING GEAR VER AF
Item Code: DEC172680
SRP: $75.00
INFINI-T FORCE TEKKAMAN FIGHTING GEAR VER AF
Item Code: DEC172681
SRP: $75.00
With the world under threat, four classic anime heroes -- Casshern, Gatchman, Polimar, and Tekkaman -- join forces to battle the forces in evil in the new anime Infini-T Force! Sentinel's Infini-T Force: Fighting Gear Action Figures recreate the classic characters in the battle armor from the new series as 7" tall figures that come with additional parts as well as an LED illuminated chest pieces.