Top 25 Toys: September 2017
Oct 09, 2017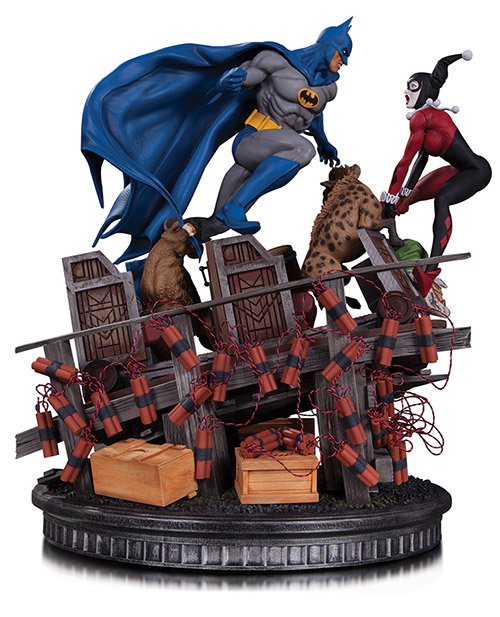 Batman and Harley Quinn tangle above the rooftops of Gotham City in DC Collectibles' Batman Vs. Harley Quinn Battle Statue, designed by Alejandro Pereira and the best-selling toy product of September.
In total, DC Collectibles had six products in the top ten including the DC Bombshells: Harley Quinn Deluxe Statue at #2, the Batman Animated: GCPD Rogues Gallery Figure 5-Pack Boxed Set at #5, the DC Designer Series: Wonder Woman by Frank Cho Statue at #6, the DC Icons: Robin & Superboy Action Figure 2-Pack at #8, and the DC Icons: Supergirl Action Figure at #10.
Diamond Select Toys had two products among the top ten: the Marvel Gallery: Black Panther PVC Figure at #3 and the Marvel Gallery: Netflix: The Punisher PVC Figure at #7.
Bandai America's Dragonball Z Master Stars Piece: Manga Dimensions: Trunks Figure ranked #4.
Finally, Hasbro's Thor Legends 6-Inch Action Figures ranked #9.
TOP 25 TOYS
Based on Total Retail Dollar Sales of Products Invoiced in September 2017
DOLLAR
RANK
QTY
RANK
ITEM
CODE
DESCRIPTION
VENDOR
1
27
MAR170452
BATMAN VS HARLEY QUINN BATTLE STATUE
DC
2
12
MAR170453
DC BOMBSHELLS HARLEY QUINN DELUXE STATUE
DC
3
1
APR172656
MARVEL GALLERY BLACK PANTHER PVC FIG
DST
4
5
NOV168294
DBZ MS PIECE MANGA DIMENSIONS TRUNKS FIG
BAN
5
23
FEB170344
BATMAN ANIMATED GCPD ROGUES GALLERY AF 5 PACK
DC
6
19
MAR170457
DC DESIGNER SER WONDER WOMAN BY FRANK CHO STATUE
DC
7
4
MAR172720
MARVEL GALLERY NETFLIX PUNISHER PVC FIG
DST
8
7
MAR170456
DC ICONS ROBIN & SUPERBOY AF 2 PACK
DC
9
78
JUN178405
THOR LEGENDS 6IN AF ASST 201701
HAS
10
2
MAR170455
DC ICONS SUPERGIRL AF
DC
11
80
FEB178692
MMPR LEGACY TITANUS BLACK EDITION FIG
BAN
12
6
APR172653
MARVEL GALLERY NETFLIX DAREDEVIL PVC FIG
DST
13
3
MAR170454
DC ICONS NIGHTWING AF
DC
14
22
MAY170381
DC DESIGNER SER BATMAN BY ANDY KUBERT MINI STATUE
DC
15
53
APR170462
JUSTICE LEAGUE MOVIE AQUAMAN STATUE
DC
16
57
APR170461
JUSTICE LEAGUE MOVIE THE FLASH STATUE
DC
17
58
APR170460
JUSTICE LEAGUE MOVIE WONDER WOMAN STATUE
DC
18
42
APR160436
BATMAN ANIMATED SERIES BATWING
DC
19
33
AUG168875
SUICIDE SQUAD HARLEY QUINN MAF EX DRESS VER
MED
20
184
APR170472
BATMAN ANIMATED HARLEYS HOLIDAY STATUE
DC
21
143
APR172634
NBX SELECT AF SERIES 3 ASST
DST
22
144
APR172649
PULP FICTION SELECT AF SERIES 1 ASST
DST
23
157
DEC168690
FINAL FANTASY XV PLAY ARTS KAI CINDY AURUM (O/A)
SQU
24
152
JAN172950
SW E7 REY & FINN ARTFX+ STATUE 2PK
KOT
25
150
FEB178703
KINGDOM HEARTS 0.2 BIRTH BY SLEEP AQUA PLAY ARTS KAI AF
SQU
This information may not be reproduced in any format without the express permission of Diamond Comic Distributors.
How does Diamond calculate the charts? It all starts at the comic book shop.
Data for Diamond's sales charts — which includes the monthly market shares and all top product charts — are compiled by Diamond Comic Distributors from sales made to thousands of comic book specialty shops located in North America and around the world. Additional sales made to online merchants and other specialty stores may be included as well.
Unit and dollar market shares are calculated based upon orders for comic books, graphic novels, and magazines invoiced and shipped to Diamond customers during any given month, which comprises pre-orders, advance reorders, and reorders, minus any copies that are distributed free of cost.