Women in Comics Month: Interview with Kelly Thompson
Mar 08, 2017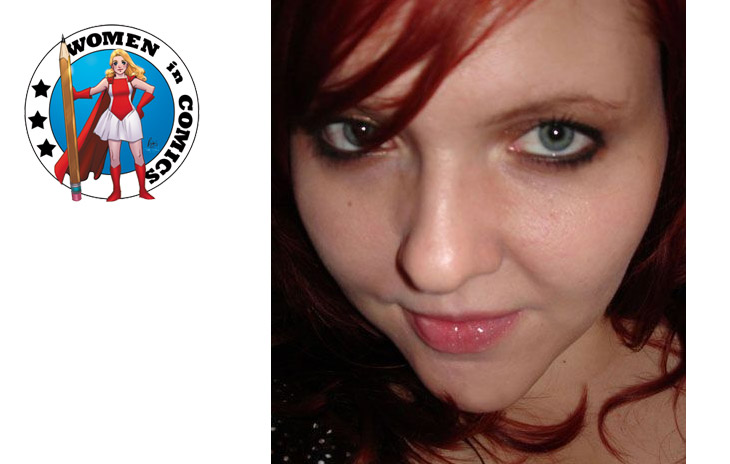 In honor of Women in Comics Month this March, PREVIEWSworld talks with writer Kelly Thompson!

************

PREVIEWSworld: Tell us a little bit about yourself! What are you currently working on?
Kelly Thompson: I currently write Hawkeye for Marvel comics; Jem and The Holograms and the new series The Misfits for IDW. I also have a creator owned mini-series from Boom with artist Brianne Drouhard called Mega Princess that's got one more issue coming out before it wraps up.
PREVIEWSworld: How long have you been working with sequential art? What titles, companies, and creators have you worked with over your time in comics?
Kelly Thompson: I've been working in sequential art in some form since I was about 15. First just alone in my room writing and drawing and then eventually I went to the Savannah College of Art & Design to study sequential art. In 2009 I started writing about comics on Comic Book Resources. In 2012 I published a novel about superheroes called The Girl Who Would Be King. And in 2015 I published my first comic – Jem and The Holograms with IDW Publishing. My first graphic novel – Heart In A Box – with Meredith McClaren from Dark Horse also came out in 2015. Other titles include...Hawkeye, A-Force, Captain Marvel & The Carol Corps and Star Wars for Marvel; The Misfits, Jem and The Holograms, and Ghostbusters for IDW; Power Rangers: Pink, and my creator owned all-ages book with artist Brianne Drouhard, Mega Princess, for Boom.
PREVIEWSworld: Did you have a mentor or hero in the industry that inspired you to pursue a career in comics?
Kelly Thompson: I think I always wanted to work in comics just because I loved comics. But I certainly have creators that inspire me, probably the two biggest are Greg Rucka and Kelly Sue DeConnick, who both have incredible careers but who I also happen to personally admire a great deal.
PREVIEWSworld: In your opinion, how has the comic book industry evolved in terms of gender?
Kelly Thompson: Like many things, I feel like we're in a two-steps forward three steps back kind of situation…just when I feel like we're making a lot of progress something seems to happen that sets us back. But using 2009 as a good reference point, since that's a time when I was writing about women in comics regularly, we have so much more in terms of books with female characters as the leads, as well as more diversity when it comes to how they're represented. When it comes to female creators being represented, we're still struggling I think. We could be doing a lot better there.
PREVIEWSworld: What challenges do you see surrounding women in comics and how could people of all genders go about addressing them?
Kelly Thompson: Well the end goal here of course is that we don't see gender at all. That we'd get to start talking about comics creators (and characters) without having to quantify them as being male or female, but just being creators (or heroes) but with representation still being what it is, I think we've got a long way to go in drawing attention to these issues and characters before we can just take it for granted and not have to give it some special consideration. I think the best things readers can do is open their minds and try new things – you never know what you're going to like until you give it a try. And different creators and different characters can provide you a whole new world and perspective if you give it a chance.
PREVIEWSworld: Where do you see yourself in the industry in the next ten years and what projects would you like to work on that you haven't yet?
Kelly Thompson: I've been very lucky so far, and I hope I can continue to be lucky, working with great editors and great characters with a variety of cool publishers. I'd definitely like to do some more creator owned work – a nice mix of that and licensed work would be ideal. I am not so secretly aching to get my hands on the X-Men. And like just about every comics writer everywhere I wouldn't mind getting a piece of Batman someday.
PREVIEWSworld: If you could give advice to any aspiring editors, executives, writers, or artists, what would you tell them?
Kelly Thompson: Well, it's trite as hell, but keep trying. If you're trying to break in, the only way to fail is to give up before you succeed. It takes a long time and a lot of patience and failures, but any success story you find is surrounded by failures. You can learn much more from your failures than your successes if you keep an open mind, so consider all of those failures for what they are – your best way to learn how to succeed. Like I said, trite…but trite for a reason!
PREVIEWSworld: And lastly, are there any up-and-coming women creators who you would recommend readers check out?
Kelly Thompson: Up and coming is such a strange phrase in comics because it often means people who have been working in the industry quite hard and for quite a long time, so I always feel hesitant to use it…but I think Jenn St-Onge, the current artist on The Misfits is going to be a comics mega star, if she wants it. Jen Bartel has made a huge (and well-deserved) name for herself as a cover artist and illustrator and she gets so much better every day at sequentials/interiors…if that's something she wants to do she's a contender for sure. Savanna Ganucheau, is another artist I've had the chance to work with on a few shorts that is a huge talent I expect to see a ton of great work from in the future.