Women in Comics Month: Interview with Monica Gallagher
Mar 01, 2017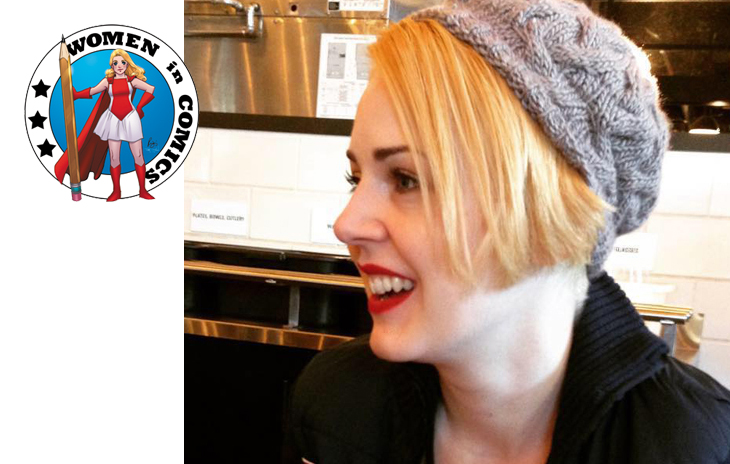 In honor of Women in Comics Month this March, PREVIEWSworld talks with writer, artist Monica Gallagher!
*******************

PREVIEWSworld: Tell us a little about yourself! What are you currently working on?
Monica Gallagher: Lots of things! That's one of the great things about comics - there are so many avenues you can participate in via the creation of them as well as relationships with different editors, publishers, and fellow creators. Right now I'm writing a series for Charmz (illustrated by the great Kata Kane), continuing my weekly webcomic series Bonnie N. Collide, and working on a few as-yet-unannounced webcomic and print comic projects with a few different publishers.
PREVIEWSworld: How long have you been working with sequential art? What titles, companies, and creators have you worked with over your time in comics?
Monica Gallagher: I started self-publishing when I was in high school (and by that I mean, drawing comics and showing them to my friends), putting webcomics online in college, and exhibiting at conventions post-college in 2002. I have three titles with Oni Press (JAM! Tales from the World of Roller Derby, Glitter Kiss (with Adrianne Ambrose), Part-Time Princesses), a short story Sharks vs. Mermaids (with Mike DiMotta) for Vertigo's Strange Sports Anthology, and have done covers for Valiant's Archer + Armstrong and Faith.
PREVIEWSworld: Did you have a mentor or hero in the industry that inspired you to pursue a career in comics?
Monica Gallagher: Tim Fish has been a longtime friend and mentor in the comics world, and I was 100% inspired to get into comics by the works of Wendy Pini, Rumiko Takahashi, and Terry Moore.
PREVIEWSworld: In your opinion, how has the comic book industry evolved in terms of gender?
Monica Gallagher: It's gotten more diverse and more tolerant of diversity, even just within the 15 years I've been doing comics, although it still has a ways to go. I used to go to conventions where people would view female creators as a curiosity and a novelty, not as a part of the industry - which luckily has started to change. We're still far from being equal (most conventions tend to still tend to have far more male guests than female), but slowly getting there.
PREVIEWSworld: What challenges do you see surrounding women in comics and how could people of all genders go about addressing them?
Monica Gallagher: Representation of women, people of color, and LGBTQ within the pages of comics is important, but moreso representation in the creators themselves. We need to be better about being welcoming and encouraging diversity in every avenue of comics creation. The people already in the industry empowered with making decisions can help out by being allies and amplifying the voices of those marginalized creators who are often ignored.
PREVIEWSworld: Where do you see yourself in the industry in the next ten years and what projects would you like to work on that you haven't yet?
Monica Gallagher: One of the best things about comics is there are always so many places you can go! Recently I've started challenging myself to serve only as a writer on a few projects (rather than writer/illustrator) and it's been such a wonderful, different experience from what I've been used to. I'd love to write for different genres and do one-off's for mainstream characters as well as continue to pitch my own stories.
PREVIEWSworld: If you could give advice to any aspiring editors, executives, writers, or artists, what would you tell them?
Monica Gallagher: Keep working at it, keep putting your work out there, keep talking to people, and keep going to conventions. You really have to put in the time (and the face time) in this industry, and community is hugely important (even though it seems like we're all introverted shut-ins). Most of the wonderful opportunities I've gotten have been through other people - there are a lot of amazingly kind people in the comics biz and most all of them are all after the same goal - getting more people into comics.
PREVIEWSworld: And lastly, are there any up-and-coming women creators who you would recommend readers check out?
Monica Gallagher: Melody Often, Jade Feng Lee, Jessi Jordan, Liz Enright, Emmett Helen, and Jamaica Dyer.