Women in Comics Month: Interview with Mariah McCourt
Mar 01, 2017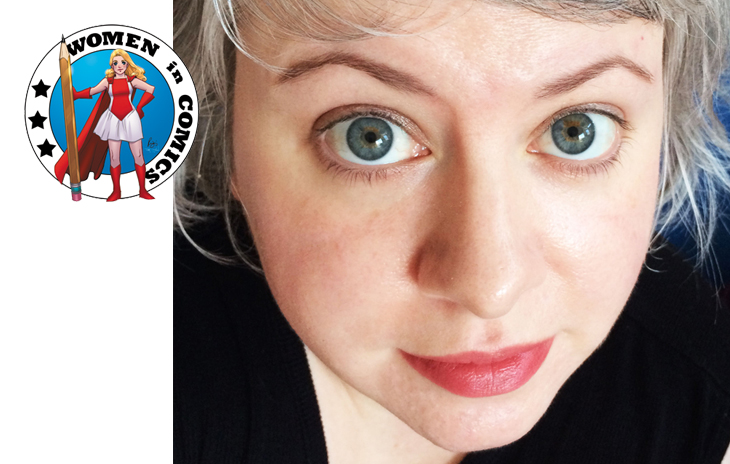 In honor of Women in Comics Month this March, PREVIEWSworld talks with editor, writer Mariah McCourt!
*************

PREVIEWSworld: Tell us a little bit about yourself! What are you currently working on?
Mariah McCourt: So many things! Editing the Charmz line for Papercutz and writing STITCHED for same. I'm also editing a new line of STEM comics for a new publisher and a STELA comic called BREAKER will debut in Feb 2017. I also have a Patreon, MonsterTeaTime where I'm creating art and writing of all kinds.
PREVIEWSworld: How long have you been working with sequential art? What titles, companies, and creators have you worked with over your time in comics?
Mariah McCourt: I've been working in comics going on 16 years now! I started at Vertigo, went on to work at Virgin Comics, then IDW, and now I freelance for everyone from Papercutz to Dark Horse. I've worked on Fables, Lucifer, The Last Unicorn, Angel, True Blood, Emily & the Strangers, Womanthology and way too many titles to keep listing.
PREVIEWSworld: Did you have a mentor or hero in the industry that inspired you to pursue a career in comics?
Mariah McCourt: I'd have to say that Karen Berger and Shelly Bond were big inspirations and I was lucky enough to have them both as mentors as well. Over the years so many women in the industry have inspired me. Jill Thompson, Janet K. Lee, Jenny Frison, Renae de LIz, Jennifer de Guzman, Gail Simone, Noelle Stevenson, Linda Barry, C. Spike Trotman and more!
PREVIEWSworld: In your opinion, how has the comic book industry evolved in terms of gender?
Mariah McCourt: There's still a lot of work to do but more and more books by female creators are being recognized, celebrated, and awarded these days than ever before. We've always been here, of course, but visibility matters a lot.
PREVIEWSworld: What challenges do you see surrounding women in comics and how could people of all genders go about addressing them?
Mariah McCourt: Read, share, and talk about our work. Listen to us when we tell you there's an issue. Remember that books by or even for girls/women are human stories that anyone can read.
PREVIEWSworld: Where do you see yourself in the industry in the next ten years and what projects would you like to work on that you haven't yet?
Mariah McCourt: Hopefully still working Charmz because this kind of line is really my dream project. I've gotten to work on so many different kinds of comics that it's hard to pick something I haven't. An epic fantasy series or horror sci-fi series would be pretty awesome!
PREVIEWSworld: If you could give advice to any aspiring editors, executives, writers, or artists, what would you tell them?
Mariah McCourt: Your stories matter. No matter what stories you want to tell, they matter and you should create them. Don't let anyone tell you can't or what kind of story you "should" tell. Make them, share them, and support others who make stories, too!
PREVIEWSworld: And lastly, are there any up-and-coming women creators who you would recommend readers check out
Mariah McCourt: Cat Faris, our own Kata Kane, Hanie Mohd, Elena Casagrande, Taneka Stotts…basically go to Tumblr and Twitter and do a search. You will find so many amazing artists already creating amazing things!