Women in Comics Month: Interview with M. Alice LeGrow
Mar 01, 2017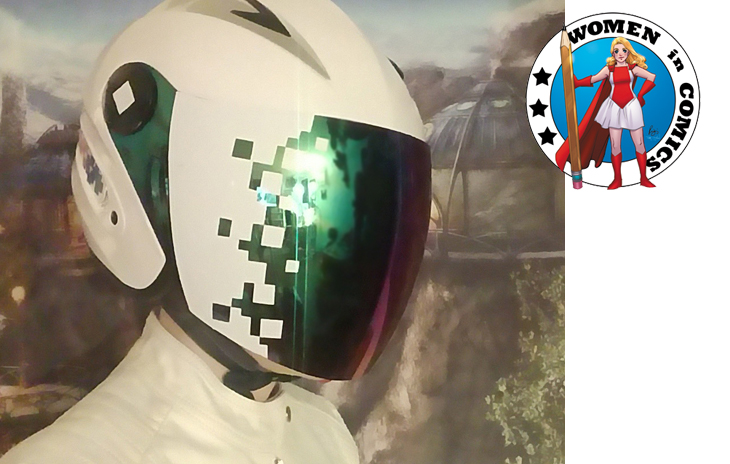 In honor of Women in Comics Month this March, PREVIEWSworld talks with artist M. Alice LeGrow!
**************

PREVIEWSworld: Tell us a little bit about yourself! What are you currently working on?
M. Alice LeGrow: I currently live in Philly, but I grew up overseas in Germany, before moving to the US in middle school. I have BFA in Sequential Art from Savannah College of Art and Design. Right now I'm currently working with Action Lab Comics on a new series called Toyetica, which is an all-ages monthly series debuting in 2017.
PREVIEWSworld: How long have you been working with sequential art? What titles, companies, and creators have you worked with over your time in comics?
M. Alice LeGrow: I've been working in sequential art for about 3 years now...my first and longest-running series was the 8-volume graphic novel series Bizenghast, which was published by TOKYOPOP. Since then, I've done a number of smaller anthology pieces and some self-published titles, and have recently started to work full-time on a series again with Action Lab.
PREVIEWSworld: Did you have a mentor or hero in the industry that inspired you to pursue a career in comics?
M. Alice LeGrow: Probably my professors at Savannah College of Art and Design, especially Paul Hudson, who not only worked in comics, but also with the FBI, NASA, Disney and so many other ridiculously big names.
PREVIEWSworld: In your opinion, how has the comic book industry evolved in terms of gender?
M. Alice LeGrow: I think we're seeing a long overdue move towards marketing comics for all genders and trying to promote representation for a more diverse audience, but we still have a very long way to go. It takes a long time to shift the window of an industry that spent decades focusing on only a very narrow demographic.
PREVIEWSworld: What challenges do you see surrounding women in comics and how could people of all genders go about addressing them?
M. Alice LeGrow: I think the biggest challenge that other women and I have faced in comics is that, for all the more heavily female-oriented titles now being published, it's still very much a "boy's club" on the industry side, and harassment is still a very present problem for non-male artists, writers and contributors. There's a feeling that equality has already been achieved with the small concessions the industry has made so far to their readership, so nothing more needs to be done on that front. But talking to any non-male, non-straight artist or professional, there are still plenty of upsetting anecdotes about treatment within the industry itself. And those who don't identify as a binary gender or orientation have an even worse time of it. So I think there are still of lot of issues we have to confront and more progress that needs to be made, before we can declare the comics industry to be equally welcoming to all creative types.
PREVIEWSworld: Where do you see yourself in the industry in the next ten years and what projects would you like to work on that you haven't yet?
M. Alice LeGrow: I honestly have no idea where I'll be in ten years, because I take on such different projects all the time, that lead to increasingly odder projects, so it's impossible for me to judge what my tastes will be in ten years! However, one thing I've always wanted to do is work on the TMNT comics franchise in some way, since I've been a fan since I was very little.
PREVIEWSworld: If you could give advice to any aspiring editors, executives, writers, or artists, what would you tell them?
M. Alice LeGrow: Deadlines are sometimes more important than talent. There's a vast number of talented professionals, but a much smaller number of talented people who can work within a professional setting to meet production demands. So I always advise younger artists and writers to cultivate their work ethic and reception to constructive criticism, as well as their regular skills.
PREVIEWSworld: And lastly, are there any up-and-coming women creators who you would recommend readers check out
M. Alice LeGrow: I always give a shout to my friend Amy Reeder, as every project she works on is always fabulous!