Women in Comics Month: Interview with JP Roth
Mar 01, 2017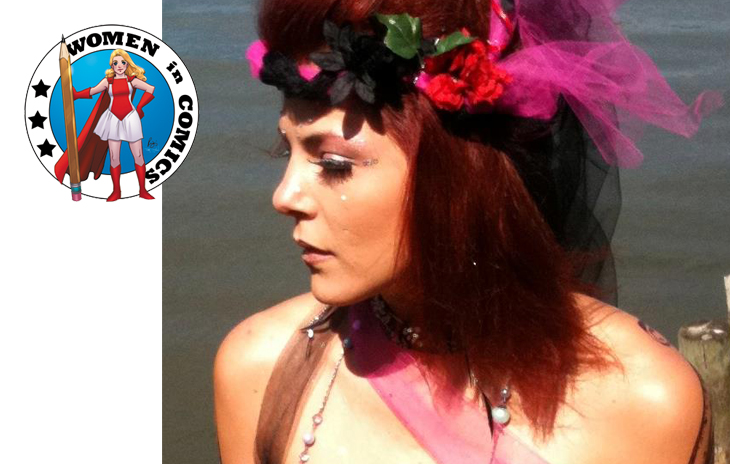 In honor of Women in Comics Month this March, PREVIEWSworld talks with writer, artist JP Roth!
************

PREVIEWSworld: Tell us a little bit about yourself! What are you currently working on?
JP Roth: My name is JP Roth and just five short years ago, my team and I dove head first into the comic book kingdom, constantly developing and ultimately establishing our business and brand: Rothic. All my life, I've been fascinated and innately drawn to the complexity of mythology. As a result, my narratives weave together culture, symbols, romance, elements, nature, immortality, time, dreams, alternate realities and beautiful Goddesses, all of which are ingredients for a kick ass comic book. So far on this journey, I've cultivated six separate Rothic realms for readers to immerse themselves in.
The first of these creations is a captivating chronicle of a young woman who becomes warped into a preeminent moment in history in order to break a curse and ultimately escape her own death. This piece of work, titled Ancient Dreams, was not only Rothic's first comic book series but is also on it's way to becoming my first official three-part novel! Each subsequent series preserves the same heart-wrenching story telling and consistently astounding art work: Southern Nightgown, Theory of Magic, Rem 8, Kiss and a new highly anticipated project in the works, DiVinica! Without revealing too much, I will tell you that DiVinica will be unlike any other comic book experience. It is designed such that each reader must essentially navigate their way through the realms of Lore while experiencing a re-imagined, lost in time, spellbinding tale of the Goddesses.
PREVIEWSworld: How long have you been working with sequential art? What titles, companies, and creators have you worked with over your time in comics?
JP Roth: As I mentioned, Rothic was born only five years ago. Before we became regulars at conventions, my wonderful sister/manager Clare Bendandi and dear friend/immensely talented artist Dawn McTeigue fashioned a disfigured yet encouraging first draft of our Ancient Dreams comic book and walked throughout the San Diego ComiCon. Once we grasped the challenge that was before us, there weren't many obstacles difficult enough to hinder our success. Soon, we found ourselves printing and selling our Rothic Novels at an exponential rate. This came as no surprise given that these books were a product of putting several heads together in a way that allowed each individuals talent to shine brightly through. Rothic would not be what it is today without the dedicated artistry of these incredible humans: Dawn McTeigue, Eric 'E Bas' Basaldua, Mike Krome, Nei Ruffino, Peter Steigerwald, Ale Garza, Paolo Pantalena, Ula Moss and the lovely Sabine Rich.
PREVIEWSworld: Did you have a mentor or hero in the industry that inspired you to pursue a career in comics?
JP Roth: Some of the most inspired moments in my life have happened when reading the enthralling fictional literature of Anne Rice. Each body of work she produces not only captures but epitomizes what I want readers to gain from my books. Her words materialize into a fragmented reality making each abstraction more concrete than the last. I've lost myself in every tale she tells and meeting her was as surreal as her works themselves. When I began transforming my stories to align with the structure of a comic book series, I looked to Frank Miller to help me find a meaningful message. His writings demonstrate the authors authority over fictional scenarios while never shying away from breaking the boundaries of our imaginations.
PREVIEWSworld: In your opinion, how has the comic book industry evolved in terms of gender?
JP Roth: The comic book industry has historically leaned toward glorifying males, especially in comparison to their women counterparts. Women are usually portrayed as characters designed to enhance the role of the lead male, and while integral to the story, women's meaningful place in comics is constantly being overshadowed. With more and more female comic writers coming onto the scene (although not nearly enough), women are finally being celebrated and are, in turn, shifting the perspectives of readers who are shown that women withhold all of the same abilities as men. Interestingly, women were the ones reigning power over men in the Middle Ages, before the famous witch hunts began to take place. Men used ridiculous accusations to not only drive women from their thrones but to strip them of their humanity for all of the world to see. I believe that only very recently have women begun to receive the positive feedback they deserve after relentlessly fighting for their rights to be acknowledged and enacted. We must, now more than ever, reach within our womanhood to find the Goddesses that have been silenced for far too long in an effort to remind people that we are a force to be reckoned with. Soon enough, the world will feel re-energized by the beauty and strength that lives within each woman, so long as we never forget our well-deserved empowerment and perpetual resilience as an oppressed gender.
PREVIEWSworld: What challenges do you see surrounding women in comics and how could people of all genders go about addressing them?
JP Roth: What exists in our environment or even in our history, is mirrored in our works. Many women may feel stifled by the overwhelming amount of men who run this industry, or any industry for that matter, and struggle to find a space for their work. Talented voices are oftentimes silenced when confronted with the harsh reality that they exist within the minority. This must be stopped! Everybody deserves a chance to be heard for not only their benefit, but for that of the spectators as well. I urge men and women alike to make a daily effort to go beyond ignoring a stereotype and actually try to break it, instead. We are all born with the ability to make a difference, but only once we allow ourselves to speak out do we realize that we hold, especially in our artistic voice, the power to positively impact many generations to come.
PREVIEWSworld: Where do you see yourself in the industry in the next ten years and what projects would you like to work on that you haven't yet?
JP Roth: In a decade from now, I envision myself spearheading a widely popular fantasy and comic book company. By then, I hope for Rothic to become a global empire and ultimately be a household name. I dream of watching as my Rothic Novels manifest themselves as television series' while ensuring that they maintain the same level of truth and beauty in the art and stories that live in the books now. Beyond that, I hope to find time to explore even more fields of mythology and, perhaps, even write a little science fiction. My motivation mixed with the help of a dedicated team inherently conquers any battle that may prevent Rothic from simply soaring.
PREVIEWSworld: If you could give advice to any aspiring editors, executives, writers, or artists, what would you tell them?
JP Roth: First, I would tell you to never stop creating. Even in a dull moment there is room for artistic expression and your story is worth being told, and talent worth being shared. Also, remember to always be original. Tell a new story. One that is interesting to read for the very first time. It is the way in which you explore an untapped world that urges people to come along for the ride and you will, undoubtedly, open up their minds and leave a lasting impression. I invite everyone aspiring to make a name in their industry to stick with it no matter how rough the waters may get. If you continue to believe in yourself, there is nothing stopping you from achieving your biggest goal and when you do, the world will recognize all the hard work it took to get there.
PREVIEWSworld: And lastly, are there any up-and-coming women creators who you would recommend readers check out?
JP Roth: Not only am I lucky enough to have her as a very close friend, but Dawn McTeigue is also one of the most talented artists I've ever had the privilege of working with. She is dedicated to both her work and to her beautiful family, and is one of the most loving and thoughtful people I've ever known. You can marvel at all of her incredible pieces of art here: www.dawnmcteigue.com.
My dear friend, Sabine Rich, has brought the Rothic novel series, Theory of Magic, to life by drawing and coloring the characters that existed only in my mind before she exceeded my expectations and curated pure art. You can see more of her work at: www.sabinerich.com.
Sweet Nei Ruffino has worked tirelessly to launch her very own mini-series titled The Secret Life of Crows. She truthfully knocked it out of the park and you owe it to yourself to check it out: www.organikmechanic.com.
I must congratulate Eric 'Ebas' Basaldua on all the effort he's put into his fantastic series Mojo. His art is innovative and speaks volumes to the appreciation that should be widely expressed toward women represented in comics. You can see more of his work on my website: www.rothic.com.
A special shoutout to Mike Krome! The way you utilize your talents inspires me everyday and I feel so grateful for your involvement with jumpstarting Ancient Dreams in the very beginning. Go like Mike's page featuring his artwork called "Krome Art" on Facebook!
Thank you to Jay Spence at PREVIEWSworld (Diamond) for allowing me to share my thoughts on what it means to be a woman in comics. It is truly such an honor and I feel very grateful for this opportunity to speak out and hopefully inspire women around the globe to abandon any fears they may hold about sharing their work with the world.
Worship the Gods and stay beautiful.