Women in Comics Month: Interview with Holly Golightly
Mar 01, 2017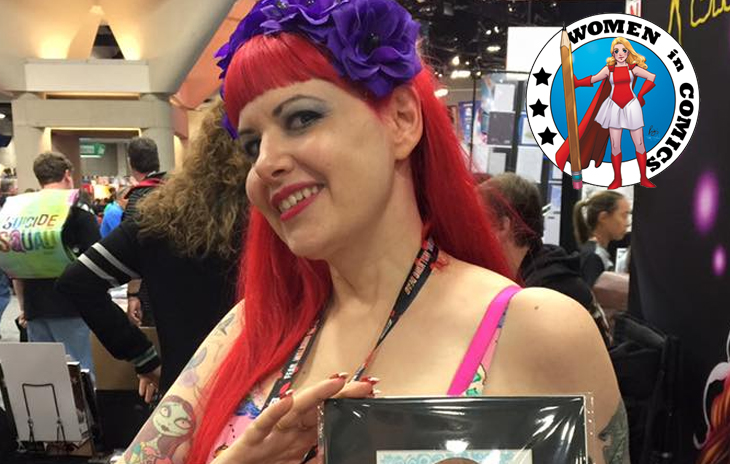 In honor of Women in Comics Month this March, PREVIEWSworld talks with the VP of BroadSword Comics, creator, and publisher Holly Golightly!

************
PREVIEWSworld: Tell us a little bit about yourself! What are you currently working on?
Holly Golightly: Hi, my name is Holly Golightly aka Holly G! I am VP of BroadSword Comics, Creator, & Publisher. Among many, many duties, I color, letter & do production for our bi-monthly comic, Jim Balent's Tarot: Witch of the Black Rose. We're on Issue #103! I'm also working on Teen Tarot, the backup story that appears in our comic.
PREVIEWSworld: How long have you been working with sequential art? What titles, companies, and creators have you worked with over your time in comics?
Holly Golightly: I've been working as an artist for about 24 years now. I started with indies, worked on Archie Comics titles like Sabrina & Josie and finally am happy running our own titles with my hubby Jim Balent from our BroadSword Comics Studios!
PREVIEWSworld: Did you have a mentor or hero in the industry that inspired you to pursue a career in comics?
Holly Golightly: No one really inspired me to pursue comics- I just knew that's where my happiness lay. BUT Frank Thorne was always my hero from the first time I saw his Red Sonja comic back in the 70s. So I don't have a mentor but Frank is my Wizard!
PREVIEWSworld: In your opinion, how has the comic book industry evolved in terms of gender?
Holly Golightly: You know I'm not sure. I've always been female, I've always loved comics… perhaps there are more gals loving comics and making them… I loved Wendy Pini from her Elfquest and I see other gals creating…so the evolution might be that there are more of us gals using the language of comics to express ourselves.
PREVIEWSworld: What challenges do you see surrounding women in comics and how could people of all genders go about addressing them?
Holly Golightly: Being a comic book artist has felt a lot like when I was in the theatre. It's hard! There are only so many gigs/roles to fill/ go around so you have to work hard getting them. OR start your own title. And if peeps want to support all those different voices out there- look for those creators, tell a pal, share what you have found. That will help get new work, different work out there and survive.
PREVIEWSworld: Where do you see yourself in the industry in the next ten years and what projects would you like to work on that you haven't yet?
Holly Golightly: I really live in the now. Creating demands that of you. Our readers do ask for many, many new ways to enjoy Jim & my art. Animation, toys, video games--so I do hope that if there's a fun, groovy studio that want to do unusual new stuff that they ping us!
PREVIEWSworld: If you could give advice to any aspiring editors, executives, writers, or artists, what would you tell them?
Holly Golightly: Do it for love, do it with passion! Be compassionate to readers, but don't let them sway or snark you down! Someone ruffles your feathers? Don't have a Twitter battle--go straight for a dance off!
PREVIEWSworld: And lastly, are there any up-and-coming women creators who you would recommend readers check out?
Holly Golightly: Well she's been around perhaps as long as myself- buy I have a kitty crush on Tavisha Wolfgarth-Simons's work. CATS! Must see her silly lovely cats!