Women in Comics Month: Interview with Amy Chu
Mar 01, 2017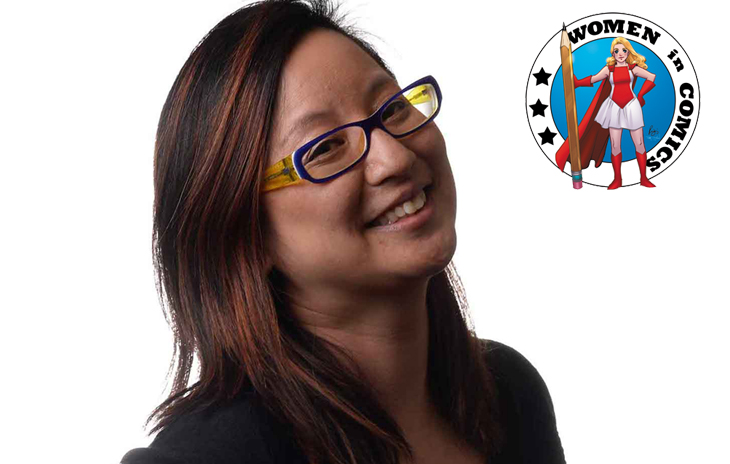 In honor of Women in Comics Month this March, PREVIEWSworld talks with writer Amy Chu!
*************

PREVIEWSworld: Tell us a little bit about yourself! What are you currently working on?
Amy Chu: At this moment I'm writing two familiar titles with a 40 year old history in comics, KISS and Red Sonja. Sonja I'm taking over from Gail Simone and Marguerite Bennett, but for KISS, I'm the first female writer, ever! Back by popular demand, I just finished another X-Files Deviations one shot with all women creative team - artists Silvia Califano and Elena Casangrande, and featuring the Scully/Samantha Mulder teamup. It'll be out in March. And for the tween set I'm working with Kata Kane on a Papercutz sci-fi romance "Ana and the Cosmic Race". It's Hogwarts in space with aliens and boys!
PREVIEWSworld: How long have you been working with sequential art? What titles, companies, and creators have you worked with over your time in comics?
Amy Chu: I started Alpha Girl Comics in 2011 to publish female friendly comics content with my friend, SyFy writer Georgia Lee. Since then I've been published by DC, Marvel, Vertigo, Valiant, Dynamite. Last year I wrote Poison Ivy's first mini series and two Wonder Woman stories. For Marvel Ant-Man and Deadpool. I really enjoy the short story format – it lets me work with new artists. I've had the privilege of working with Larry Hama, Alitha Martinez, Tana Ford, Bernard Chang, Ryan Browne, Mike McKone, Dario Brizuela, Clay and Seth Mann, Craig Yeung, Emilio Liaso. Right now it's Carlos Gomez on Red Sonja, and Kewber Baal and Eman Casallos on the KISS books.
PREVIEWSworld: Did you have a mentor or hero in the industry that inspired you to pursue a career in comics?
Amy Chu: There's not really one person, but kind of an amalgamation of many pros along the way. Josh Fialkov and Gail Simone read my first stories, and their comments made me feel like I had a shot at being a full-time comics writer. Larry Hama agreed to pencil my first published story which was a huge boost. I could go on and on...
PREVIEWSworld: In your opinion, how has the comic book industry evolved in terms of gender?
Amy Chu: Everything has gotten more friendly and diverse just in the time I've been in around, from retailers to publishers to conventions. I'd like to see more women creators getting into the comics game. Growing up as a girl in the Midwest, it wasn't something I even considered as a career. I hope that's changing.
PREVIEWSworld: What challenges do you see surrounding women in comics and how could people of all genders go about addressing them?
Amy Chu: Again, if we're talking mainstream superhero comics, I don't want to lump all women in the same category, but there's the Highlander problem, there can only be one. The She-Hulk problem- Like you can't just be Hulk, you have to be SHE- Hulk. I can't just be a writer, I have to be a female writer. I could go on and on, but I've got scripts to write!
PREVIEWSworld: Where do you see yourself in the industry in the next ten years and what projects would you like to work on that you haven't yet?
Amy Chu: Well, hopefully I'm still employed! I love writing comics but it's a tough industry, for sure. Virtually every creator I know is a freelancer and worried about their next paycheck. I have some creator-owned projects cooking, but there's a few characters I really want a chance to write- Killer Croc, Talia al Ghul, Scarlet Witch. I like complicated characters with baggage...
PREVIEWSworld: If you could give advice to any aspiring editors, executives, writers, or artists, what would you tell them?
Amy Chu: Don't wait for permission! Just do it. With digital technology and crowdfunding you can make comics starting now. Now if you're talking about "breaking in" to an established publisher, keep the four P's in mind– Patience, Persistence, Passion and Professionalism – will do a lot for you.
PREVIEWSworld: And lastly, are there any up-and-coming women creators who you would recommend readers check out?
Amy Chu: I feel weird using the term "up and coming" but would definitely like to see more work from artists like Devaki Neogi (Curb Stomp, The Skeptics), Bilquis Evely (Shaft) and Silvia Califano (X-Files). They're from India, Brazil and Italy respectively. In the US, I'm seeing great talent come out of schools like SCAD, The Kubert School, CCAD. It's very encouraging to see more and more women in these programs.