Top 100 Graphic Novels: January 2016
Feb 07, 2016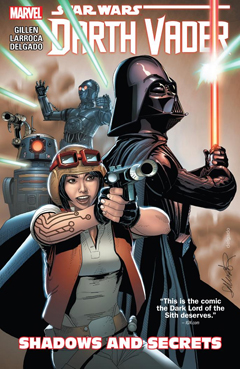 Darth Vader's pursuit of Luke Skywalker leads him into a dangerous confrontation in Kieron Gillen and Salvador Larroca's Star Wars: Darth Vader Volume 2: Shadows and Secrets from Marvel Comics, the best-selling graphic novel of January.
In total, Marvel Comics had nine of the month's top ten graphic novels. Also in the top ten were Star Wars Volume 2: Showdown on the Smuggler's Moon at #2, the Color Your Own Deadpool adult coloring book at #3, Death of Wolverine #4, Star Wars: Lando at #5, Deadpool's Secret Secret Wars at #6, Thor Volume 1: Goddess of Thunder at #8, Star Wars: Darth Vader Volume 1: Vader at #9, and Mark Millar and Steve McNiven's Civil War at #10.
Rounding out the top ten, Oni Press' Invader Zim Volume 1 ranked #7 for the month.
Among the premier publishers, Greg Rucka and Michael Lark's Lazarus Volume 4: Poison was Image Comics' top-selling graphic novel in January at #11. DC Entertainment's best-selling graphic novel for January was The Flash Volume 6: Out of Time at #20. Dark Horse Comics' The Savage Sword of Conan Volume 21 was their top book for January at #56. IDW Publishing's Teenage Mutant Ninja Turtles Volume 13: Vengeance Part 2 was their top book in Januayr at #63.
TOP 100 GRAPHIC NOVELS
Based on Total Unit Sales of Products Invoiced in January 2016
QTY
RANK
DESCRIPTION
PRICE
ITEM CODE
VENDOR
1
STAR WARS DARTH VADER TP VOL 02 SHADOWS AND SECRETS
$19.99
OCT150987
MAR
2
STAR WARS TP VOL 02 SHOWDOWN ON THE SMUGGLERS MOON
$19.99
OCT150986
MAR
3
COLOR YOUR OWN DEADPOOL TP
$9.99
NOV150950
MAR
4
DEATH OF WOLVERINE TP
$19.99
JUN150829
MAR
5
STAR WARS TP LANDO
$16.99
OCT150988
MAR
6
DEADPOOLS SECRET SECRET WARS TP
$15.99
OCT150977
MAR
7
INVADER ZIM TP VOL 01
$19.99
OCT151564
ONI
8
THOR TP VOL 01 GODDESS OF THUNDER
$19.99
OCT150985
MAR
9
STAR WARS DARTH VADER TP VOL 01 VADER
$19.99
JUL150827
MAR
10
CIVIL WAR TP
$24.99
JAN072436
MAR
11
LAZARUS TP VOL 4 POISON (MR)
$14.99
NOV150672
IMA
12
SAGA TP VOL 05 (MR)
$14.99
JUL150565
IMA
13
DEADPOOL FLASHBACKS TP
$19.99
MAY150835
MAR
14
SUPERIOR IRON MAN TP VOL 01 INFAMOUS
$19.99
OCT150982
MAR
15
STAR WARS TP JOURNEY TO SW FORCE AWAKENS SHATTER EMPIRE
$16.99
AUG150915
MAR
16
STAR WARS TP VOL 01 SKYWALKER STRIKES
$19.99
MAY150811
MAR
17
SAGA TP VOL 01 (MR)
$9.99
AUG120491
IMA
18
WALKING DEAD TP VOL 01 DAYS GONE BYE
$14.99
NOV128157-M
IMA
19
RAI TP VOL 01 WELCOME TO NEW JAPAN
$9.99
AUG141740
VAL
20
FLASH TP VOL 06 OUT OF TIME
$16.99
OCT150257
DC
21
DEADPOOL VS THANOS TP
$16.99
SEP150876
MAR
22
GRAYSON TP VOL 01 AGENTS OF SPYRAL TP
$14.99
OCT150253
DC
23
GRAYSON TP VOL 02 WE ALL DIE AT DAWN
$14.99
OCT150254
DC
24
BATMAN BY ED BRUBAKER TP VOL 01
$19.99
OCT150242
DC
25
AFTERLIFE WITH ARCHIE TP VOL 01 ESCAPE FROM RIVERDALE
$17.99
FEB140918-M
ARC
26
SOUTHERN CROSS TP VOL 01 (MR)
$9.99
AUG150495
IMA
27
STARVE TP VOL 01 (MR)
$9.99
OCT150605
IMA
28
ULTIMATE END TP
$16.99
SEP150866
MAR
29
BATMAN ARKHAM KNIGHT TP VOL 01
$14.99
OCT150245
DC
30
ONE PUNCH MAN GN VOL 01
$9.99
JUN158141
VIZ
31
BATMAN DETECTIVE COMICS TP VOL 06 ICARUS
$16.99
OCT150247
DC
32
SUPERGIRL TP VOL 01 THE GIRL OF STEEL
$16.99
OCT150252
DC
33
HELLBLAZER TP VOL 12 HOW TO PLAY WITH FIRE (MR)
$19.99
OCT150281
DC
34
BATGIRL TP VOL 01 SILENT KNIGHT
$19.99
OCT150244
DC
35
SILVER SURFER TP VOL 03 LAST DAYS
$17.99
AUG150886
MAR
36
PUNISHER MAX TP VOL 01 COMPLETE COLLECTION (MR)
$34.99
OCT150993
MAR
37
BATMAN THE JIRO KUWATA BATMANGA TP VOL 03 (OF 3)
$14.99
OCT150250
DC
38
ONE PUNCH MAN GN VOL 04
$9.99
NOV151742
VIZ
39
RED HOOD AND THE OUTLAWS TP VOL 07 LAST CALL
$14.99
OCT150260
DC
40
NEW TEEN TITANS TP VOL 04
$19.99
OCT150259
DC
41
BATMAN DETECTIVE COMICS HC VOL 07 ANARKY
$24.99
SEP150289
DC
42
ALL NEW X-MEN TP VOL 07 UTOPIANS
$19.99
OCT150983
MAR
43
BATMAN THE KILLING JOKE SPECIAL ED HC
$17.99
NOV070226
DC
44
FLASH HC VOL 07 SAVAGE WORLD
$22.99
SEP150296
DC
45
AVENGERS TIME RUNS OUT TP VOL 03
$19.99
OCT150979
MAR
46
BEE AND PUPPYCAT TP VOL 02
$14.99
NOV151159
BOO
47
JESSICA JONES TP VOL 01 ALIAS (MR)
$24.99
JUN150831
MAR
48
SWAMP THING TP VOL 07 SEASONS END
$16.99
OCT150262
DC
49
SHOWCASE PRESENTS BATMAN TP VOL 06
$19.99
OCT150261
DC
50
SAGA TP VOL 04 (MR)
$14.99
OCT140644
IMA
51
WALKING DEAD TP VOL 02 MILES BEHIND US (NEW PTG)
$14.99
SEP088204
IMA
52
SAGA TP VOL 02 (MR)
$14.99
APR130443
IMA
53
HOUSE OF M TP WARZONES
$15.99
OCT150975
MAR
54
SPIDER-WOMAN TP VOL 02 NEW DUDS
$17.99
NOV150946
MAR
55
SANDMAN OVERTURE DELUXE ED HC (MR)
$24.99
JUL150333
DC
56
SAVAGE SWORD OF CONAN TP VOL 21
$19.99
SEP150097
DAR
57
DEADPOOL AND CABLE OMNIBUS HC
$125.00
JUL140716
MAR
58
BITCH PLANET TP VOL 01 EXTRAORDINARY MACHINE (MR)
$9.99
MAY150482
IMA
59
X-MEN TP VOL 01 INFERNO
$34.99
OCT150984
MAR
60
SHIELD TP VOL 02 MAN CALLED DEATH
$17.99
NOV150945
MAR
61
SONIC MEGA MAN WORLDS COLLIDE COMPLETE EPIC TP
$29.99
FEB150982-M
ARC
61
GUARDIANS OF GALAXY HC VOL 02
$34.99
JUL150826
MAR
63
TMNT ONGOING TP VOL 13 VENGEANCE PT 2
$17.99
NOV150369
IDW
64
AMAZING SPIDER-MAN HC VOL 01
$34.99
OCT150969
MAR
65
INHUMANS TP ATTILAN RISING
$16.99
NOV150941
MAR
66
SAGA TP VOL 03 (MR)
$14.99
JAN140556
IMA
67
DAREDEVIL EPIC COLLECTION TP TOUCH OF TYPHOID
$39.99
OCT150991
MAR
67
DOCTOR WHO 2015 FOUR DOCTORS HC
$19.99
AUG151715
TTN
69
DEADPOOL KILLS MARVEL UNIVERSE TP
$14.99
AUG120709
MAR
70
BATMAN TP VOL 01 THE COURT OF OWLS (N52)
$16.99
DEC120323
DC
71
WALKING DEAD TP VOL 24 LIFE AND DEATH (MR)
$14.99
JUN150590
IMA
72
MY LITTLE PONY EQUESTRIA GIRLS TP
$17.99
NOV150426
IDW
73
BATMAN SUPERMAN WONDER WOMAN TRINITY DLX ED HC
$29.99
SEP150286
DC
74
MMW SUB MARINER HC VOL 07
$75.00
JUL150824-M
MAR
75
SHUTTER TP VOL 03 QUO VADIS (MR)
$14.99
OCT150609
IMA
75
DEADPOOL TP VOL 01 DEAD PRESIDENTS NOW
$15.99
MAR130727
MAR
77
RICK & MORTY TP VOL 01
$19.99
JUL151482
ONI
78
ONE PUNCH MAN GN VOL 03
$9.99
SEP151697
VIZ
79
GUARDIANS TEAM-UP TP VOL 02 UNLIKELY STORY
$16.99
OCT150980
MAR
80
SEX TP VOL 04 DAISY CHAINS (MR)
$14.99
NOV150692
IMA
81
DEADPOOL CLASSIC OMNIBUS HC VOL 01
$125.00
SEP150859
MAR
82
MIND MGMT HC VOL 06 THE IMMORTALS
$19.99
SEP150068
DAR
82
RASPUTIN TP VOL 02 (MR)
$14.99
NOV150688
IMA
84
ASTONISHING SPIDER-MAN AND WOLVERINE PREM HC
$24.99
MAY110733
MAR
85
ONE PUNCH MAN GN VOL 02
$9.99
JUN158140
VIZ
86
GROOT PREM HC
$24.99
NOV150925
MAR
87
BATMAN HUSH COMPLETE TP
$24.99
MAY090178
DC
88
WALKING DEAD COMPENDIUM TP VOL 01 (MR)
$59.99
MAR092419
IMA
89
BOOK OF DEATH TP
$14.99
NOV151724
VAL
90
BATMAN DARK KNIGHT RETURNS TP
$19.99
NOV118095
DC
91
AGE OF REPTILES ANCIENT EGYPTIANS TP
$14.99
SEP150062
DAR
92
SHADOWLAND PREM HC BLOOD ON STREETS
$19.99
JAN110835
MAR
93
X-MEN BY CLAREMONT AND LEE OMNIBUS HC VOL 02
$125.00
AUG110684
MAR
94
100 BULLETS TP BOOK 04 (MR)
$24.99
OCT150272
DC
95
MS MARVEL TP VOL 01 NO NORMAL
$15.99
JUN140725
MAR
96
WHAT IF TP INFINITY
$14.99
NOV150944
MAR
97
WICKED & DIVINE TP VOL 01 THE FAUST ACT (MR)
$9.99
SEP140684
IMA
98
ARMOR WARS WARZONES TP
$16.99
NOV150937
MAR
99
DESCENDER TP VOL 01 TIN STARS (MR)
$9.99
JUL150554
IMA
100
STAR WARS PRINCESS LEIA TP
$16.99
JUN150822
MAR
This information may not be reproduced in any format without the express permission of Diamond Comic Distributors.
For retailers, Diamond offers the Top 300 Comics and Top 300 Graphic Novels sales charts on the Diamond Tools page of the Diamond Retailer Services website to provide more information about the industry's top selling publications.
How does Diamond calculate the charts? It all starts at the comic book shop.
Data for Diamond's sales charts — which includes the monthly market shares and all top product charts — are compiled by Diamond Comic Distributors from sales made to thousands of comic book specialty shops located in North America and around the world. Additional sales made to online merchants and other specialty stores may be included as well.
Unit and dollar market shares are calculated based upon orders for comic books, graphic novels, and magazines invoiced and shipped to Diamond customers during any given month, which comprises pre-orders, advance reorders, and reorders, minus any copies that are received back from a title marked as returnable. Please note that comics marked with an asterisk (*) have had their reported quantities reduced due to retailer returnability, and thus may rank lower on the charts than their actual sales would reflect.
About the Diamond Sales Index: The Sales Index of selected monthly Best Seller Charts is presented as a comparative tool for retailers and publishers. It presents Diamond's monthly sales for individual titles in relation to Diamond's total sales for the issue of DC Comics' monthly Batman comic book. (Batman is used as the control title – with a value of 100 – because sales of Batman usually remain relatively stable.) This allows for easy comparison to other titles and helps retailers gauge their orders for all other titles. This formula is only a guide, other factors may impact a titles' ability to sell in certain locations and clientele.