Brad Meltzer Honors Dr. Martin Luther King Jr.
Jan 18, 2016
by Vince Brusio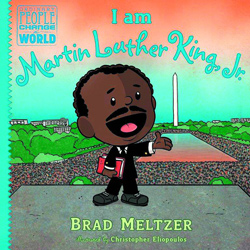 Brad Meltzer's "Ordinary People Change The World" children's stories are reminders that anything is possible, and the I Am Martin Luther King Jr. (NOV151884) book continues this mission, with the title's January release date coinciding with the civil rights leader's birthday on January 18.
This eighth biography in Brad's New York Times-bestselling series kicked off with a book tour that started at the Carroll Arts Center in Westminster, Maryland, January 7, and I was lucky enough to catch up with the author for an exclusive interview before he took to the stage to entertain the crowd with personal anecdotes, stories, and a Q&A session.
In the interview, Brad talked about his excitement for continuing this line of children's books, as he wanted to reaffirm for young readers that we can all be heroes if we put our minds to it. You don't have to be a movie star, or dance well in the end zone at a football stadium in order to say you've done something special with your life.
People like Rosa Parks, he asserted, and, yes, Dr. Martin Luther King Jr. were able to make life better for people just by being themselves, and speaking/acting from the heart. It's a message that Brad believes in, and one that he reinforces consistently, encouraging people to clap when they want, and do what they can to help others around them.
I Am Martin Luther King Jr. shows how these ideas were shared by the civil rights icon, and with fantastic illustrations rendered by Chris Eliopoulos, Meltzer recounts how King brought to America's attention the terrible and unfair way African-American people were treated, and how powerful words and peaceful demonstrations could pave the way to a new age of enlightenment. In both text and art, young readers learn how King led the way toward racial equality in America, and that his legacy is one that still inspires people young and old to this day.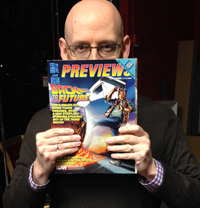 Our interview with Brad will be shown on PREVIEWSworld later in February to help commemorate Black History Month, but for now you can pick up a copy of I Am Martin Luther King Jr. at your local comic shop.
A fantastic illustrated history of one of America's greatest inspirational speakers, I Am Martin Luther King Jr. (NOV151884) will help kids in your circle of life learn about a man who reminded all of us that we should not hate, but love one another, and join hands as human beings in a unified march to the promised land.