PREVIEWS Plus for Orders Due Monday, January 18
Jan 12, 2016
The following items in this week's PREVIEWS Plus are now available to order from your local retailer by Monday, January 18th. NOTE: All product & shipping information in PREVIEWS Plus are subject to change without notice. Check with your retailer for more information.
Click here for PREVIEWS Plus Archives.
Featured This Week
CAPTAIN AMERICA:
SAM WILSON #4
RENAUD 2ND PTG. VARIANT
(NOV158424, $3.99)
THE MIGHTY THOR #2
DAUTERMAN 2ND PTG. VARIANT
(NOV158427, $3.99)
ALL NEW WOLVERINE #3
BENGAL 2ND PTG. VARIANT
(NOV158465, $3.99)
BATMAN V. SUPERMAN:
DAWN OF JUSTICE
MOVIE MASTER
6" ACTION FIGURES

ARMORED BATMAN
(NOV158370, PI)
BATMAN
(NOV158371, PI)
SUPERMAN
(NOV158372, PI)
WONDER WOMAN
(NOV158373, PI)
LEGEND OF ZELDA:
A LINK BETWEEN WORLDS
LINK FIGMA ACTION FIGURE

REGULAR
(NOV158469, $56.99)
DELUXE
(NOV158470, $67.99)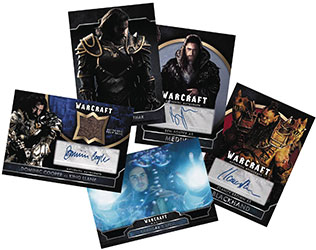 TOPPS 2016 WARCRAFT MOVIE TRADING CARDS BOX
(NOV158244, PI)
... and much more!
Download this week's PREVIEWS Plus as a full-color PDF.