The Top Graphic Novels of 2014
Jan 13, 2015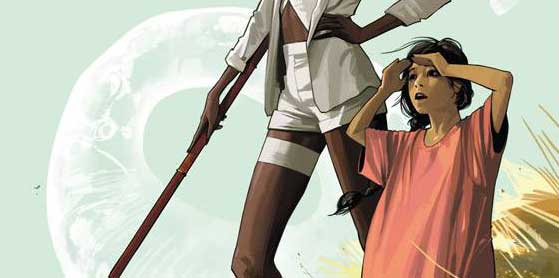 Brian K. Vaughan and Fiona Staples' epic sci-fi story from Image Comics, Saga Volume 3, was the best-selling graphic novel for 2014.
In total, Image Comics had nine titles in the top ten. Among the titles were three additional volumes of Saga (Volume 1 at #2, Volume 2 at #4, and Volume 4 at #10), four volumes of Robert Kirkman's The Walking Dead (Volume 20 at #3, Volume 1 at #5, Volume 21 at #6, and Volume 22 at #8), and Matt Fraction and Chip Zdarsky's Sex Criminals Volume 1 at #7.
Scott Snyder and Greg Capullo's Batman Volume 1: The Court of Owls from DC Comics was also among the top ten at #9.
Among the premier publishers, Brian Michael Bendis, Steve McNiven, and Sara Pichelli's Guardians of the Galaxy Volume 1: Cosmic Avengers was Marvel Comics' best-selling graphic novel at #11.
Dark Horse Comics' Avatar: The Last Airbender Volume 7: Rift, Part 1, based on the hit Nickelodeon series, was the publisher's best-selling graphic novel for the year at #41.
Finally, Joe Hill and Gabriel Rodriguez's Locke & Key Volume 6: Alpha & Omega, the final volume of the best-selling series, was IDW Publishing's top book in 2014 at #73.

TOP 100 GRAPHIC NOVELS
Based on Total Unit Sales of Products Invoiced in November 2014

| | | | | |
| --- | --- | --- | --- | --- |
| RANK | DESCRIPTION | PRICE | ITEM CODE | VENDOR |
| 1 | SAGA TP VOL 03 (MR) | $14.99 | JAN140556 | IMA |
| 2 | SAGA TP VOL 01 (MR) | $9.99 | AUG120491 | IMA |
| 3 | WALKING DEAD TP VOL 20 ALL OUT WAR PT 1 (MR) | $14.99 | JAN140559 | IMA |
| 4 | SAGA TP VOL 02 (MR) | $14.99 | APR130443 | IMA |
| 5 | WALKING DEAD TP VOL 01 DAYS GONE BYE | $14.99 | NOV128157-M | IMA |
| 6 | WALKING DEAD TP VOL 21 ALL OUT WAR PT 2 (MR) | $14.99 | MAY140652 | IMA |
| 7 | SEX CRIMINALS TP VOL 01 (MR) | $9.99 | JAN140558 | IMA |
| 8 | WALKING DEAD TP VOL 22 A NEW BEGINNING (MR) | $14.99 | SEP140657 | IMA |
| 9 | BATMAN TP VOL 01 THE COURT OF OWLS (N52) | $16.99 | DEC120323 | DC |
| 10 | SAGA TP VOL 04 (MR) | $14.99 | OCT140644 | IMA |
| 11 | GUARDIANS OF GALAXY TP VOL 01 COSMIC AVENGERS | $19.99 | JAN140800 | MAR |
| 12 | BATMAN THE KILLING JOKE SPECIAL ED HC | $17.99 | NOV070226 | DC |
| 13 | WALKING DEAD TP VOL 02 MILES BEHIND US | $14.99 | SEP088204 | IMA |
| 14 | BATMAN DEATH OF THE FAMILY BOOK & JOKER MASK SET (N52) | $39.99 | MAY140361 | DC |
| 15 | RAT QUEENS TP VOL 01 SASS & SORCERY (MR) | $9.99 | JAN140555 | IMA |
| 16 | EAST OF WEST TP VOL 01 THE PROMISE | $9.99 | JUN130466 | IMA |
| 17 | BATMAN TP VOL 02 THE CITY OF OWLS (N52) | $16.99 | JUL130235 | DC |
| 18 | BATMAN TP VOL 03 DEATH OF THE FAMILY (N52) | $16.99 | FEB140248 | DC |
| 19 | BLACK SCIENCE TP VOL 01 HOW TO FALL FOREVER (MR) | $9.99 | MAR140535 | IMA |
| 20 | BATMAN HUSH COMPLETE TP | $24.99 | MAY090178 | DC |
| 21 | EAST OF WEST TP VOL 02 WE ARE ALL ONE | $14.99 | DEC130494 | IMA |
| 22 | BATMAN DARK KNIGHT RETURNS TP | $19.99 | NOV118095 | DC |
| 23 | WALKING DEAD TP VOL 19 MARCH TO WAR | $14.99 | SEP130566 | IMA |
| 24 | CIVIL WAR TP | $24.99 | JAN072436 | MAR |
| 25 | WALKING DEAD TP VOL 03 SAFETY BEHIND BARS | $14.99 | NOV082245 | IMA |
| 26 | WATCHMEN TP | $19.99 | FEB140265-M | DC |
| 27 | FABLES TP VOL 01 LEGENDS IN EXILE (MR) | $12.99 | FEB120285 | DC |
| 28 | AFTERLIFE WITH ARCHIE TP VOL 01 | $17.99 | MAR140833-M | ARC |
| 29 | DEADPOOL KILLS MARVEL UNIVERSE TP | $14.99 | AUG120709 | MAR |
| 30 | SANDMAN TP VOL 01 PRELUDES & NOCTURNES (MR) | $19.99 | JUL100259 | DC |
| 31 | PRETTY DEADLY TP VOL 01 (MR) | $9.99 | FEB140533 | IMA |
| 32 | HAWKEYE TP VOL 01 MY LIFE AS WEAPON NOW | $16.99 | DEC120744 | MAR |
| 33 | BATMAN THE LONG HALLOWEEN TP | $24.99 | JUL110251 | DC |
| 34 | BATMAN YEAR ONE DELUXE SC | $14.99 | OCT060163 | DC |
| 35 | JOKER DEATH OF THE FAMILY TP (N52) | $24.99 | JAN140340 | DC |
| 36 | DEADPOOL TP VOL 01 DEAD PRESIDENTS NOW | $15.99 | MAR130727 | MAR |
| 37 | JUSTICE LEAGUE TP VOL 01 ORIGIN (N52) | $16.99 | OCT120252 | DC |
| 38 | BATMAN HC VOL 04 ZERO YEAR SECRET CITY (N52) | $24.99 | JAN140342 | DC |
| 39 | X-MEN DAYS OF FUTURE PAST TP | $19.99 | OCT110741 | MAR |
| 40 | MS MARVEL TP VOL 01 NO NORMAL | $15.99 | JUN140725 | MAR |
| 41 | AVATAR LAST AIRBENDER TP VOL 07 RIFT PART 1 | $10.99 | NOV130064 | DAR |
| 42 | WALKING DEAD TP VOL 04 HEARTS DESIRE | $14.99 | SEP088205 | IMA |
| 43 | WALKING DEAD TP VOL 18 WHAT COMES AFTER | $14.99 | APR130482 | IMA |
| 44 | THANOS INFINITY REVELATION OGN HC | $24.99 | APR140765 | MAR |
| 45 | NEMO ROSES OF BERLIN HC (MR) | $14.95 | JAN141334 | TOP |
| 46 | MINECRAFT OFFICIAL MOJANG ESSENTIAL HANDBOOK HC | $7.99 | FEB142549 | SCH |
| 47 | MINECRAFT OFFICIAL MOJANG REDSTONE HANDBOOK HC | $7.99 | FEB142550 | SCH |
| 48 | DEADLY CLASS TP VOL 01 REAGAN YOUTH (MR) | $9.99 | MAY140626 | IMA |
| 49 | WALKING DEAD COMPENDIUM TP VOL 01 (MR) | $59.99 | MAR092419 | IMA |
| 50 | SUPERMAN RED SON TP | $17.99 | JAN140353-M | DC |
| 51 | FABLES TP VOL 20 CAMELOT (MR) | $19.99 | MAY140403 | DC |
| 52 | INFINITY GAUNTLET TP | $24.99 | JUL110745 | MAR |
| 53 | MANIFEST DESTINY TP VOL 01 | $9.99 | MAR140546 | IMA |
| 54 | WALKING DEAD TP VOL 17 SOMETHING TO FEAR (MR) | $14.99 | SEP120449 | IMA |
| 55 | TEEN TITANS EARTH ONE HC VOL 01 | $22.99 | JUL140221 | DC |
| 56 | BRYAN LEE O MALLEY SECONDS GN | $25 | APR140949 | RAN |
| 57 | HAWKEYE TP VOL 03 LA WOMAN | $15.99 | MAY140930 | MAR |
| 58 | WALKING DEAD TP VOL 05 BEST DEFENSE | $14.99 | SEP088206 | IMA |
| 59 | SAGA DLX ED HC VOL 01 | $49.99 | SEP140591 | IMA |
| 60 | ATTACK ON TITAN GN VOL 01 | $10.99 | MAR121101 | RAN |
| 61 | BATMAN TP VOL 04 ZERO YEAR SECRET CITY (N52) | $16.99 | JUL140237 | DC |
| 62 | BATMAN HC VOL 03 DEATH OF THE FAMILY (N52) | $24.99 | MAY130216 | DC |
| 63 | WICKED & DIVINE TP VOL 01 THE FAUST ACT (MR) | $9.99 | SEP140684 | IMA |
| 64 | CAPTAIN AMERICA PEGGY CARTER AGENT OF SHIELD #1 | $7.99 | OCT140823 | MAR |
| 65 | NIGHT OF LIVING DEADPOOL TP | $16.99 | MAR140768 | MAR |
| 66 | V FOR VENDETTA TP (MR) | $19.99 | SEP088030 | DC |
| 67 | EAST OF WEST TP VOL 03 THERE IS NO US | $14.99 | JUL140478 | IMA |
| 68 | AGE OF ULTRON TP | $34.99 | FEB140842 | MAR |
| 69 | GOTG BY ABNETT AND LANNING COMPLETE COLL TP VOL 01 | $34.99 | APR140786 | MAR |
| 70 | DEADPOOL BY DANIEL WAY COMPLETE COLL TP VOL 01 | $34.99 | APR130732 | MAR |
| 71 | AVATAR LAST AIRBENDER TP VOL 08 RIFT PART 2 | $10.99 | MAR140061 | DAR |
| 72 | DEADPOOL KILLS DEADPOOL TP | $14.99 | SEP130799 | MAR |
| 73 | LOCKE & KEY HC VOL 06 ALPHA & OMEGA | $29.99 | NOV130333 | IDW |
| 74 | DEADPOOL TP VOL 04 DEADPOOL VS SHIELD | $15.99 | FEB140851 | MAR |
| 75 | FLASH TP VOL 01 MOVE FORWARD (N52) | $16.99 | MAY130224 | DC |
| 76 | CHEW TP VOL 08 FAMILY RECIPES (MR) | $12.99 | JAN140548 | IMA |
| 76 | X-MEN NO MORE HUMANS OGN HC | $24.99 | JAN140780 | MAR |
| 78 | PREACHER TP BOOK 01 (MR) | $19.99 | MAR130303 | DC |
| 79 | LOCKE & KEY TP VOL 01 WELCOME TO LOVECRAFT | $19.99 | JUN090991 | IDW |
| 80 | WALKING DEAD TP VOL 06 SORROWFUL LIFE | $14.99 | SEP088207-M | IMA |
| 81 | CHEW TP VOL 01 (MR) | $9.99 | SEP090288 | IMA |
| 82 | HAWKEYE TP VOL 02 LITTLE HITS NOW | $16.99 | MAR130726 | MAR |
| 83 | BATMAN HC VOL 05 ZERO YEAR DARK CITY (N52) | $24.99 | JUN140264 | DC |
| 84 | ALL NEW X-MEN TP VOL 01 YESTERDAYS X-MEN | $19.99 | OCT130757 | MAR |
| 85 | SUPERIOR SPIDER-MAN TP VOL 04 NECESSARY EVIL | $17.99 | OCT130759 | MAR |
| 86 | HELLBOY IN HELL TP VOL 01 DESCENT | $17.99 | JAN140125 | DAR |
| 87 | DEADPOOL TP VOL 05 WEDDING OF DEADPOOL | $15.99 | APR140772 | MAR |
| 88 | FOREVER EVIL HC (N52) | $24.99 | MAY140364 | DC |
| 89 | AVENGERS VS X-MEN TP AVX | $34.99 | JAN130771 | MAR |
| 90 | HARLEY QUINN WELCOME TO METROPOLIS TP | $19.99 | DEC130313 | DC |
| 91 | SOUTHERN BASTARDS TP VOL 01 HERE WAS A MAN (MR) | $9.99 | JUL140517 | IMA |
| 92 | DEADPOOL VS CARNAGE TP | $16.99 | MAY140932 | MAR |
| 93 | GUARDIANS OF GALAXY TP VOL 02 ANGELA | $19.99 | JUL140730 | MAR |
| 94 | VELVET TP VOL 01 BEFORE THE LIVING END (MR) | $9.99 | FEB140537 | IMA |
| 95 | BLACK CANARY AND ZATANNA BLOODSPELL HC | $22.99 | JAN140326 | DC |
| 96 | AMAZING SPIDER-MAN FAMILY BUSINESS OGN HC | $24.99 | DEC130759 | MAR |
| 97 | JUSTICE LEAGUE TP VOL 03 THRONE OF ATLANTIS (N52) | $16.99 | JAN140339 | DC |
| 98 | FABLES TP VOL 02 ANIMAL FARM | $14.99 | DEC138056-M | DC |
| 99 | WONDER WOMAN TP VOL 01 BLOOD (N52) | $14.99 | OCT120256 | DC |
| 100 | WOLVERINE OLD MAN LOGAN TP | $29.99 | JUL100692 | MAR |