July's Top 50 Comic Books & Graphic Novels
Aug 10, 2014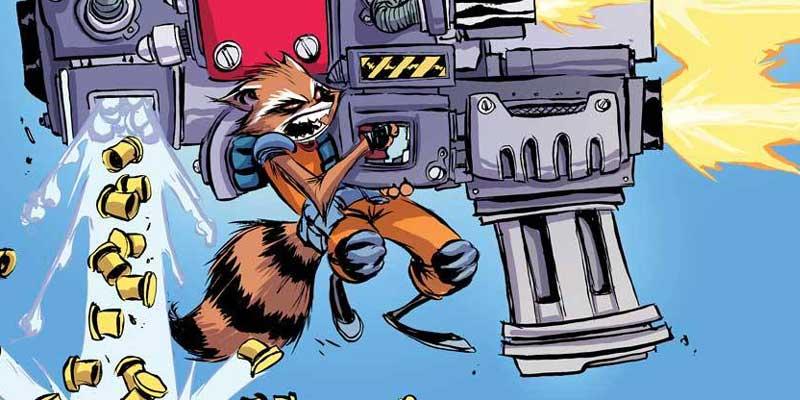 Rocket Raccoon, the breakout character of the new Guardians of the Galaxy film, stars in his new ongoing comic book series by Scottie Young, and its debut issue, Rocket Raccoon #1 from Marvel Comics, was July's best-selling comic book.
In total, Marvel Comics had six titles in the top ten. Also among the top-selling comics were Dan Slott and Humberto Ramos' Amazing Spider-Man #5 at #3, Jason Aaron and Mike Deodato's Original Sin #5 at #4, Peter David and Will Sliney's Spider-Man 2099 #1 at #5, Aaron and Deodato's Original Sin #6 at #6, and Sam Humphries and Paco Medina's The Legendary Star-Lord #1 at #9.
DC Entertainment rounded out the top ten with four titles, led by Scott Snyder and Greg Capullo's Batman #33 at #2. Also in the top ten were Geoff Johns and Doug Mahnke's Justice League #32 at #7, Tim Seeley and Tom King's Grayson #1 at #8, and Amanda Conner, Jimmy Palmiotti, and Chad Hardin's Harley Quinn #8 at #10.
Among the premier publishers, Robert Kirkman and Charlie Adlard's The Walking Dead #129 from Image Comics was the publisher's top book for July at #12. Dark Horse Comics' Star Wars #19 by Brian Wood and Carlos D'Anda ranked #106 for the month. Finally, Tom Scioli and John Barber's Transformers Vs. G.I. Joe #1 was IDW Publishing's top book for the month at #130.
--- The struggle for survival breaks out into conflict in Robert Kirkman's The Walking Dead Volume 21: All-Out War Part 2 from Image Comics, the best-selling graphic novel in July.
In total, Image comics had five titles among the top ten. Also in the top ten were Rick Remender and Wesley Craig's Deadly Class Volume 1: Reagan Youth at #3, Brian K. Vaughan and Fiona Staples' Saga Volume 1 at #4, Vaughan and Staples' Saga Volume 3 at #7, and Greg Rucka and Michael Lark's Lazarus Volume 2: Lift at #10.
Dark Horse Comics had two titles in the top ten — Avatar: The Last Airbender Volume 8: Rift Part 2 at #2 and J.w. Rinsler and Mike Mayhew's Star Wars: The Lucas Draft, an adaptation of George Lucas' original screenplay for Star Wars, at #8.
Seconds, the new graphic novel from Scott Pilgrim's Bryan Lee O'Malley, from Ballantine Books ranked #5 for the month.
Marvel Comics' Deadpool Volume 5: The Wedding of Deadpool ranked #8.
Rounding out of the top ten, DC Entertainment's Batman Volume 1: The Court of Owls ranked #9.
Also among premier publishers, My Little Pony: Friends Forever Volume 1 was IDW Publishing's top book for July at #88.
TOP 50 COMIC BOOKS
Based on Total Unit Sales of Products Invoiced in July 2014
| | | | | |
| --- | --- | --- | --- | --- |
| RANK | DESCRIPTION | PRICE | ITEM CODE | VENDOR |
| 1 | ROCKET RACCOON #1 | $3.99 | MAY140797-M | MAR |
| 2 | BATMAN #33 (ZERO YEAR) | $4.99 | MAY140230-M | DC |
| 3 | AMAZING SPIDER-MAN #4 | $3.99 | MAY140762-M | MAR |
| 4 | ORIGINAL SIN #5 | $3.99 | MAY140764-M | MAR |
| 5 | SPIDER-MAN 2099 #1 | $3.99 | MAY140807-M | MAR |
| 6 | ORIGINAL SIN #6 | $3.99 | MAY140768-M | MAR |
| 7 | JUSTICE LEAGUE #32 | $3.99 | MAY140173-M | DC |
| 8 | GRAYSON #1 | $2.99 | MAY140156-M | DC |
| 9 | LEGENDARY STAR LORD #1 | $3.99 | MAY140804-M | MAR |
| 10 | HARLEY QUINN #8 | $2.99 | MAY140245-M | DC |
| 11 | AMAZING SPIDER-MAN #1.3 | $3.99 | MAY140835-M | MAR |
| 12 | WALKING DEAD #129 (MR) | $2.99 | MAY140744 | IMA |
| 13 | SANDMAN OVERTURE #3 (MR) | $3.99 | MAY140393-M | DC |
| 14 | SUPERMAN UNCHAINED #7 | $3.99 | DEC130238-M | DC |
| 15 | BATMAN SUPERMAN #12 | $3.99 | APR140201-M | DC |
| 16 | HARLEY QUINN INVADES COMIC CON INTL SAN DIEGO #1 | $4.99 | MAY140248 | DC |
| 17 | BATMAN ETERNAL #13 | $2.99 | MAY140225 | DC |
| 18 | BATMAN ETERNAL #14 | $2.99 | MAY140226 | DC |
| 19 | SUPERMAN #33 | $3.99 | MAY140206-M | DC |
| 20 | GUARDIANS OF GALAXY #17 | $3.99 | MAY140852-M | MAR |
| 21 | DETECTIVE COMICS #33 | $3.99 | MAY140240-M | DC |
| 22 | BATMAN ETERNAL #15 | $2.99 | MAY140227 | DC |
| 23 | BATMAN ETERNAL #16 | $2.99 | MAY140228 | DC |
| 24 | ROBIN RISES OMEGA #1 | $4.99 | MAY140160-M | DC |
| 25 | BATMAN ETERNAL #17 | $2.99 | MAY140229 | DC |
| 26 | ALL NEW X-MEN #29 | $3.99 | MAY140879-M | MAR |
| 27 | LIFE WITH ARCHIE COMIC #36 | $4.99 | MAY141016-M | ARC |
| 28 | AVENGERS #32 | $3.99 | MAY140784-M | MAR |
| 29 | BATMAN AND ROBIN #33 | $2.99 | MAY140238-M | DC |
| 30 | SAGA #21 (MR) | $2.99 | MAY140726 | IMA |
| 31 | UNCANNY X-MEN #23 | $3.99 | MAY140792-M | MAR |
| 32 | OUTCAST BY KIRKMAN & AZACETA #2 (MR) [*] | $2.99 | MAY140719 | IMA |
| 33 | DEADPOOL VS X-FORCE #1 | $3.99 | MAY140886-M | MAR |
| 34 | UNCANNY X-MEN #24 | $3.99 | MAY140794 | MAR |
| 35 | TEEN TITANS #1 | $2.99 | MAY140164-M | DC |
| 36 | AVENGERS #33 | $3.99 | MAY140786 | MAR |
| 37 | SUPERMAN WONDER WOMAN #10 | $3.99 | MAY140216-M | DC |
| 38 | UNCANNY AVENGERS #22 | $3.99 | MAY140821-M | MAR |
| 39 | DEADPOOL #31 | $3.99 | MAY140788-M | MAR |
| 40 | ACTION COMICS #33 | $3.99 | MAY140220-M | DC |
| 41 | NEW SUICIDE SQUAD #1 | $2.99 | MAY140162-M | DC |
| 42 | LIFE WITH ARCHIE COMIC #37 | $4.99 | MAY141017-M | ARC |
| 43 | ORIGINAL SIN #5.1 | $3.99 | MAY140772-M | MAR |
| 44 | JUSTICE LEAGUE UNITED #3 | $3.99 | MAY140169-M | DC |
| 45 | WOLVERINE #10 | $3.99 | MAY140906-M | MAR |
| 46 | STORM #1 | $3.99 | MAY140882-M | MAR |
| 47 | NEW 52 FUTURES END #9 [*] | $2.99 | MAY140181 | DC |
| 48 | GREEN LANTERN #33 (UPRISING) | $2.99 | MAY140258-M | DC |
| 49 | DEADPOOL #32 | $3.99 | MAY140790 | MAR |
| 50 | 100TH ANNIVERSARY SPECIAL #1 SPIDER-MAN | $3.99 | MAY140813-M | MAR |
TOP 50 GRAPHIC NOVELS
Based on Total Unit Sales of Products Invoiced in July 2014
| | | | | |
| --- | --- | --- | --- | --- |
| RANK | DESCRIPTION | PRICE | ITEM CODE | VENDOR |
| 1 | WALKING DEAD TP VOL 21 ALL OUT WAR PT 2 (MR) | $14.99 | MAY140652 | IMA |
| 2 | AVATAR LAST AIRBENDER TP VOL 08 RIFT PART 2 | $10.99 | MAR140061 | DAR |
| 3 | DEADLY CLASS TP VOL 01 REAGAN YOUTH (MR) | $9.99 | MAY140626 | IMA |
| 4 | SAGA TP VOL 01 (MR) | $9.99 | AUG120491 | IMA |
| 5 | BRYAN LEE O MALLEY SECONDS GN | $25 | APR140949 | RAN |
| 6 | DEADPOOL TP VOL 05 WEDDING OF DEADPOOL | $15.99 | APR140772 | MAR |
| 7 | SAGA TP VOL 03 (MR) | $14.99 | JAN140556 | IMA |
| 8 | STAR WARS LUCAS DRAFT TP | $19.99 | MAR140021 | DAR |
| 9 | BATMAN TP VOL 01 THE COURT OF OWLS (N52) | $16.99 | DEC120323 | DC |
| 10 | LAZARUS TP VOL 02 LIFT (MR) | $14.99 | FEB140527 | IMA |
| 11 | RAT QUEENS TP VOL 01 SASS & SORCERY (MR) | $9.99 | JAN140555 | IMA |
| 12 | BATMAN THE KILLING JOKE SPECIAL ED HC | $17.99 | NOV070226 | DC |
| 13 | GUARDIANS OF GALAXY TP VOL 01 COSMIC AVENGERS | $19.99 | JAN140800 | MAR |
| 14 | NIGHTWING TP VOL 04 SECOND CITY (N52) | $14.99 | APR140258 | DC |
| 15 | GOTG BY ABNETT AND LANNING COMPLETE COLL TP VOL 01 | $34.99 | APR140786 | MAR |
| 16 | SEX CRIMINALS TP VOL 01 (MR) | $9.99 | JAN140558 | IMA |
| 17 | ROCKET GIRL TP VOL 01 TIMES SQUARED | $9.99 | MAY140639 | IMA |
| 18 | MARVELS GUARDIANS OF GALAXY PRELUDE TP | $14.99 | MAR140774 | MAR |
| 19 | SAGA TP VOL 02 (MR) | $14.99 | APR130443 | IMA |
| 20 | BATMAN A CELEBRATION OF 75 YEARS HC | $39.99 | APR140254 | DC |
| 21 | BATMAN HUSH COMPLETE TP | $24.99 | MAY090178 | DC |
| 22 | BLACK WIDOW TP VOL 01 FINELY WOVEN THREAD | $17.99 | APR140771 | MAR |
| 23 | ALEX + ADA TP VOL 01 | $12.99 | MAY140618 | IMA |
| 24 | BATMAN DARK KNIGHT RETURNS TP | $19.99 | NOV118095 | DC |
| 25 | BTVS SPIKE INTO LIGHT HC | $14.99 | MAR140080 | DAR |
| 26 | WOLVERINE ORIGIN II HC | $24.99 | APR140766 | MAR |
| 27 | UNWRITTEN TP VOL 09 THE UNWRITTEN FABLES (MR) | $14.99 | APR140302 | DC |
| 28 | DAMIAN SON OF BATMAN DELUXE ED HC (N52) | $24.99 | MAR140252 | DC |
| 29 | JOKER A CELEBRATION OF 75 YEARS HC | $39.99 | APR140255 | DC |
| 30 | LOEG III CENTURY HC COMPLETE ED (MR) | $29.95 | MAY141615 | TOP |
| 31 | BATMAN YEAR ONE DELUXE SC | $14.99 | OCT060163 | DC |
| 32 | NARUTO GN VOL 66 | $9.99 | MAY141685 | VIZ |
| 33 | BATMAN THE LONG HALLOWEEN TP | $24.99 | JUL110251 | DC |
| 34 | JUSTICE LEAGUE OF AMERICA TP VOL 01 DANGEROUS (N52) | $16.99 | APR140266 | DC |
| 35 | X-MEN TP BATTLE OF ATOM | $34.99 | APR140781 | MAR |
| 36 | SEX TP VOL 02 SUPERCOOL (MR) | $14.99 | MAY140641 | IMA |
| 37 | WALKING DEAD TP VOL 01 DAYS GONE BYE | $14.99 | NOV128157 | IMA |
| 38 | BATMAN DARK KNIGHT TP VOL 03 MAD | $16.99 | APR140257 | DC |
| 39 | UNCANNY X-MEN TP VOL 02 BROKEN | $19.99 | APR140778 | MAR |
| 40 | TEEN TITANS TP VOL 04 LIGHT AND DARK (N52) | $14.99 | APR140262 | DC |
| 41 | WOLVERINE TP BOOK 01 THREE MONTHS TO DIE | $24.99 | APR140775 | MAR |
| 42 | SUPERMAN ACTION COMICS TP VOL 03 AT THE END OF DAYS (N52) | $16.99 | APR140268 | DC |
| 43 | ARKHAM ASYLUM ANNIVERSARY ED SC (MR) | $17.99 | AUG050185 | DC |
| 44 | YU GI OH ZEXAL GN VOL 05 | $9.99 | MAY141686 | VIZ |
| 45 | LOEG BLACK DOSSIER TP | $19.99 | JUL080193 | DC |
| 46 | BATMAN BATMAN AND SON TP NEW ED | $19.99 | OCT130238 | DC |
| 47 | USAGI YOJIMBO TP VOL 28 RED SCORPION | $17.99 | MAR140069 | DAR |
| 48 | BATMAN THE BLACK MIRROR TP | $16.99 | NOV120268 | DC |
| 49 | JOHN CARTER WARLORD OF MARS OMNIBUS HC | $99.99 | SEP110633 | MAR |
| 50 | BATMAN LIL GOTHAM TP VOL 02 | $12.99 | APR140285 | DC |