PREVIEWS Plus #1139 -- Orders Due Monday, August 11
Aug 04, 2014
The following items in this week's PREVIEWS Plus (#1139) are now available to order from your local retailer by Monday, August 11. NOTE: All product & shipping information in PREVIEWS Plus are subject to change without notice. Check with your retailer for more information.
Click here for PREVIEWS Plus Archives.

Featured This Week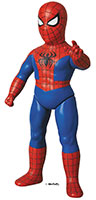 MARVEL HERO
PREVIEWS EXCLUSIVE
SOFUBI SPIDER-MAN
Item Code: JUN148300
SRP: $80.00
ORIGINAL SIN
ANNUAL #1
WARD VARIANT
Item Code: JUN148237
SRP: $4.99

DOCTOR WHO: 12 DOCTORS
12 STORIES SLIPCASE EDITION
Featuring a Twelfth Doctor story by Holly Black
(The Spiderwick Chroncicles)!
Item Code: JUN148309
SRP: $24.99
DIMENSION OF
DRAGON BALL:
SUPER SAIYAN SON GOKU
1:8 SCALE FIGURE
Item Code: JUN148284
SRP: $109.99


METAL GEAR SOLID:
SOLID SNAKE NENDOROID
Item Code: JUN148294
SRP: $56.99

GUYVER:
THE BIOBOOSTED ARMOR
GUYVER 1 FIGMA
Item Code: JUN148277
SRP: $70.99
Click below to read this week's issue!

Download this week's PREVIEWS Plus as a full-color PDF.