Sneak Peek At Upcoming Releases For 7/30/2014
Jul 13, 2014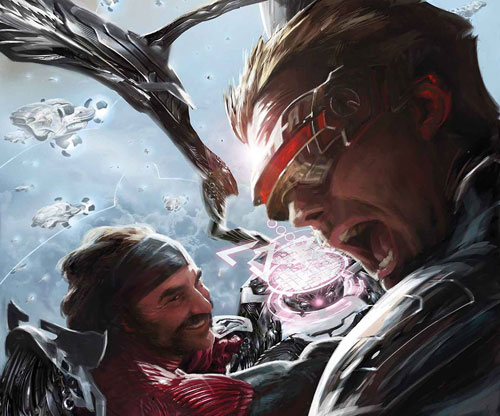 CYCLOPS #3

Every week, PREVIEWSworld announces which comics, graphic novels, toys and other pop-culture merchandise will arrive at your local comic shop. The products will be on sale in comic shops on the indicated date. This list is tentative and subject to change. Please check with your retailer for availability. For previous weeks releases, please see our New Releases Archives.
| | |
| --- | --- |
| Upcoming Releases in Two Weeks | |
For previous week's releases, visit the New Releases Archives.

PREMIER PUBLISHERS
ITEM CODE
DESCRIPTION
PRICE
DARK HORSE COMICS
MAY140027
BALTIMORE WITCH OF HARJU #1
$3.50
MAY140060
CAPTAIN MIDNIGHT #13
$2.99
MAY140080
DEEP GRAVITY #1
$3.99
MAR140096
EC ARCHIVES TWO-FISTED TALES HC VOL 03
$49.99
MAY140056
EMILY & THE STRANGERS BREAKING RECORD #2
$3.99
MAR140095
GASOLINE ALLEY HC VOL 02 COMPLETE SUNDAYS 1923-1925
$75.00
MAY140093
KING CONAN CONQUEROR #6
$3.50
JAN140217
LEGEND OF KORRA COASTER SET
$9.99
MAR140103
LEGEND OF KORRA MAGNET SET
$8.99
JAN140218
LEGEND OF KORRA PINT GLASS SET
$29.99
MAR140104
LEGEND OF KORRA SHOT GLASS SET
$19.99
MAY140071
MASSIVE #25
$3.50
MAY140070
MIND MGMT #24
$3.99
MAY140068
PARIAH #6
$3.99
JUN140089
SIN CITY PLAYING CARDS (2ND ED)
$5.00
MAY140087
STAR WARS REBEL HEIST #4 HUGHES MAIN CVR
$3.50
DC COMICS
MAY140353
ADVENTURES OF SUPERMAN #15
$3.99
APR140277
AME COMI GIRLS TP VOL 02 RISE OF BRAINIAC
$14.99
MAY140189
AQUAMAN ANNUAL #2
$4.99
MAR140253
BATMAN DARK KNIGHT HC VOL 04 CLAY (N52)
$24.99
APR140257
BATMAN DARK KNIGHT TP VOL 03 MAD
$16.99
MAY140229
BATMAN ETERNAL #17
$2.99
APR140285
BATMAN LIL GOTHAM TP VOL 02
$12.99
APR140260
BATWING TP VOL 04 WELCOME TO THE FAMILY (N52)
$16.99
MAY140392
BODIES #1 (MR)
$3.99
MAY140374
DC COMICS PRESENTS BATMAN ADVENTURES #1
$7.99
MAY140244
DETECTIVE COMICS ANNUAL #3
$4.99
MAR140282
DOOM PATROL OMNIBUS HC (MR)
$150.00
MAY148231
HARLEY QUINN #1 5TH PTG
$2.99
MAY140245
HARLEY QUINN #8
$2.99
MAY140173
JUSTICE LEAGUE #32
$3.99
MAY140176
JUSTICE LEAGUE #32 COMBO PACK
$4.99
MAY140185
NEW 52 FUTURES END #13 (WEEKLY)
$2.99
MAY140265
RED LANTERNS ANNUAL #1
$4.99
MAY140397
SANDMAN OVERTURE #3 COMBO PACK (MR)
$4.99
MAY140393
SANDMAN OVERTURE #3 CVR A (MR)
$3.99
MAY140394
SANDMAN OVERTURE #3 CVR B (MR)
$3.99
MAY140257
SINESTRO #4
$2.99
JUN140254
SMALLVILLE SEASON 11 SPECIAL #5
$4.99
MAY140412
VERTIGO QUARTERLY #1 MAGENTA (MR)
$7.99
APR140303
WAKE #10 (MR)
$2.99
DC COMICS/DC COLLECTIBLES
FEB140310
BATMAN ARKHAM ASYLUM HARLEY QUINN STATUE
$124.95
FEB140312
BATMAN BLACK & WHITE STATUE BY JAE LEE
$79.95
FEB140309
DC COMICS BOMBSHELLS STARGIRL STATUE
$124.95
FEB140305
DC COMICS NEW 52 POWERGIRL & HUNTRESS AF 2 PACK
$44.95
FEB140307
DC COMICS NEW 52 STARFIRE AF
$24.95
FEB140304
INJUSTICE BATMAN VS JOKER 2 PACK AF
$29.95
IDW PUBLISHING
MAY140475
CARTOON NETWORK SUPER SECRET CRISIS WAR #2
$3.99
MAY140476
CARTOON NETWORK SUPER SECRET CRISIS WAR #2 SUBSCRIPTION
$3.99
MAY140514
GHOSTBUSTERS #18
$3.99
MAR140412
GI JOE COMPLETE COLL HC VOL 05
$49.99
MAY140559
INFESTATION OMNIBUS TP
$29.99
JAN140519
JINNRISE TP VOL 02
$19.99
MAR140365
LOCKE & KEY COVERS OF GABRIEL RODRIGUEZ HC
$24.99
MAY142831
MACHI KORO THE CARD GAME
$29.99
APR140450
METAL GEAR SOLID DLX ED HC
$75.00
FEB140358
ROCKETEER JET POWERED ADVENTURES PROSE SC
$19.99
MAY140481
SAMURAI JACK #10
$3.99
MAY140544
STAR SLAMMERS REMASTERED #5
$3.99
MAY140500
TALES O/T TMNT TP VOL 05
$19.99
MAY140460
TRANSFORMERS ROBOTS IN DISGUISE #31 DAWN O/T AUTOBOTS
$3.99
MAY140446
WALTER SIMONSONS LAWNMOWER MAN ARTIST ED PORTFOLIO HC
PI
MAY148196
WINTERWORLD #1 2ND PTG
$3.99
MAY140546
WRAITH WELCOME TO CHRISTMASLAND HC
$29.99
MAY142832
X-FILES THE BOARD GAME
$59.99
IMAGE COMICS
MAY140696
BLACK SCIENCE #7 (MR)
$3.50
MAY140608
CHEW WARRIOR CHICKEN POYO #1
$3.50
MAY140700
COWL #3 (MR)
$3.50
MAY140702
DRUMHELLAR #7 (MR)
$3.50
MAY140703
EAST OF WEST #14
$3.50
MAR140516
FATALE #24 (MR)
$4.99
MAR140572
FIVE WEAPONS #10
$3.50
MAY140705
FUSE #6 (MR)
$3.50
MAY148255
HACK SLASH SON OF SAMHAIN #1 2ND PTG (MR)
$3.50
MAY140675
INVINCIBLE PROFILE BLACK T/S LG
$19.99
MAY140674
INVINCIBLE PROFILE BLACK T/S MED
$19.99
MAY140673
INVINCIBLE PROFILE BLACK T/S SM
$19.99
MAY140676
INVINCIBLE PROFILE BLACK T/S XL
$19.99
MAY140677
INVINCIBLE PROFILE BLACK T/S XXL
$21.99
FEB140527
LAZARUS TP VOL 02 LIFT (MR)
$14.99
MAY140566
LOW #1 (MR)
$3.99
MAY140711
MANHATTAN PROJECTS #22
$3.50
MAY140713
MERCENARY SEA #6
$2.99
MAY140714
MICE TEMPLAR IV LEGEND #12 CVR A OEMING
$3.99
MAY140715
MICE TEMPLAR IV LEGEND #12 CVR B SANTOS & FREE
$3.99
MAY148254
NAILBITER #3 2ND PTG (MR)
$2.99
MAY140719
OUTCAST BY KIRKMAN & AZACETA #2 (MR)
$2.99
NOV130513
PROPHET #45
$3.99
MAY140643
SHELTERED TP VOL 02
$14.99
MAY148253
SOUTHERN BASTARDS #3 2ND PTG (MR)
$3.50
MAY140732
SOVEREIGN #5 (MR)
$2.99
FEB140637
TEN GRAND #10 CVR A SMITH (MR)
$2.99
FEB140638
TEN GRAND #10 CVR B ANDRASOFSZKY (MR)
$2.99
MAY140680
WALKING DEAD GRAVEDIGGER HOODIE LG
$44.99
MAY140679
WALKING DEAD GRAVEDIGGER HOODIE MED
$44.99
MAY140678
WALKING DEAD GRAVEDIGGER HOODIE SM
$44.99
MAY140681
WALKING DEAD GRAVEDIGGER HOODIE XL
$44.99
MAY140682
WALKING DEAD GRAVEDIGGER HOODIE XXL
$46.99
MAY140750
WITCHBLADE #172 VALENTINES SPECIAL CVR
$9.99
MAY140748
WITCHBLADE #177 CVR A BRAGA
$3.99
MAY140749
WITCHBLADE #177 CVR B CHRISTOPHER
$3.99
MARVEL COMICS
MAY140811
100TH ANNIVERSARY SPECIAL #1 GOTG
$3.99
MAY148186
ALL NEW GHOST RIDER #3 2ND PTG MOORE VAR ANMN
$3.99
MAY140838
ALL NEW GHOST RIDER #5
$3.99
MAY140929
ALL NEW INVADERS TP VOL 01 GODS AND SOLDIERS
$17.99
MAY148187
ALL NEW X-MEN #27 2ND PTG IMMONEN VAR
$3.99
MAY148188
ALL NEW X-MEN #28 2ND PTG IMMONEN VAR
$3.99
MAY140786
AVENGERS #33 SIN
$3.99
MAY140829
AVENGERS WORLD #10
$3.99
MAY140900
CYCLOPS #3
$3.99
MAY140892
DEADPOOL DRACULAS GAUNTLET #4
$3.99
MAY148175
FIGMENT #2 2ND PTG CHRISTOPHER VAR
$3.99
MAY140852
GUARDIANS OF GALAXY #17
$3.99
FEB140793
HAWKEYE #19
$3.99
MAY140948
HUMAN TORCH BY KESEL AND YOUNG COMP COLL TP
$34.99
MAY140858
IRON MAN SPECIAL #1
$4.99
MAY140851
IRON PATRIOT #5
$3.99
MAY148248
LEGENDARY STAR LORD #1 2ND PTG MCNIVEN VAR ANMN
$3.99
MAY140949
MARVEL UNIVERSE AVENGERS ASSEMBLE DIGEST TP VOL 02
$9.99
MAY140920
MARVELS GUARDIANS GALAXY ART OF MOVIE SLIPCASE HC
$49.99
MAY140935
MIGHTY AVENGERS TP VOL 02 FAMILY BONDING
$17.99
MAY140923
MMW AMAZING SPIDER-MAN TP VOL 08
$24.99
MAY140826
NEW AVENGERS #21
$3.99
APR140643
ORIGINAL SIN #3.3
$3.99
MAY148249
ROCKET RACCOON #1 2ND PTG YOUNG VAR ANMN
$3.99
MAY140939
RUNAWAYS COMPLETE COLLECTION TP VOL 01
$34.99
MAY140824
SECRET AVENGERS #6
$3.99
MAY140941
SPIDER-MAN COMPLETE ALIEN COSTUME SAGA TP BOOK 01
$44.99
MAY140938
SUPERIOR FOES SPIDER-MAN TP VOL 02 CRIME CENTURY
$16.99
MAY140833
ULTIMATE FF #5
$3.99
MAY140821
UNCANNY AVENGERS #22
$3.99
MAY140794
UNCANNY X-MEN #24 SIN
$3.99
MAY148189
WOLVERINE #9 2ND PTG MCNIVEN VAR
$3.99
MAY140899
X-MEN #17
$3.99
MAY140947
X-MEN MAGNETO TESTAMENT TP NEW PTG
$19.99
MAGAZINES
| | | |
| --- | --- | --- |
| ITEM CODE | DESCRIPTION | PRICE |
| JUN141432 | HOW TO TRAIN YOUR DRAGON 2 MOVIE MAGAZINE | $4.99 |
PRODUCT CODES:

(O/A) offered again
(PI) please inquire at your store
available digitally from your comic shop and Digital Comics Reader
available as a print-plus edition a print/digital combo pack from your comic shop and Digital Comics Reader
(MR) mature readers
(RES) resolicited
(A) adult material
(Note Price) new price increase