In Shadows Matt Wagner Finds Grendel
Jul 10, 2014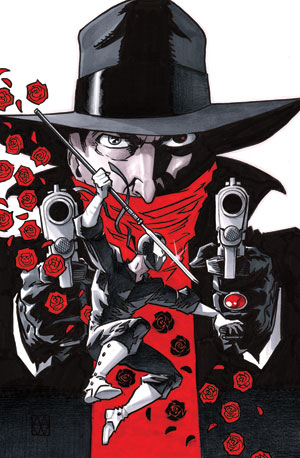 Open the July PREVIEWS catalog and you'll see that the gatefold cover advertises how Grendel vs. The Shadow is coming out in September from Dark Horse Comics.
Sly mob assassin Hunter Rose has been transported back to 1930s New York, and somehow he crosses paths with Lamont Cranston's alter-ego, The Shadow, in a three-issue mini-series which writer/artist (and Grendel creator) Matt Wagner says is a "dream come true" as it once again adds to his history of Grendel projects with Dark Horse Comics.
Released in 48-page prestige format issues, the series was quickly blessed by both Dark Horse's Mike Richardson and Dynamite Entertainment's Nick Barrucci.
Fans of what Wagner did previously with his Grendel/Batman stories will not want to miss out on this latest series, as the creator is a self-proclaimed "huge Shadow nut. more than excited to write a story back in the Golden Age of America as it was "a time where cities still had shadows!"
Look for Grendel vs. The Shadow (JUL140106) in the Dark Horse Comics section of the July issue of PREVIEWS!
**********
Check out these Grendel trade paperbacks, hardcovers, and merchandise that are in stock and available to order from your local comic shop!
| | | |
| --- | --- | --- |
| ITEM CODE | TITLE | PRICE |
| JAN070059 | GRENDEL ARCHIVE EDITION HC | $14.95 |
| AUG090020 | GRENDEL BEHOLD THE DEVIL HC | $19.99 |
| DEC070065 | GRENDEL DEVIL CHILD HC | $14.95 |
| NOV080062 | GRENDEL DEVILS REIGN TP | $19.95 |
| FEB080079 | GRENDEL GOD & THE DEVIL TP | $29.95 |
| OCT070037 | GRENDEL HC DEVIL QUEST | $14.95 |
| FEB120053 | GRENDEL OMNIBUS TP VOL 01 HUNTER ROSE | $24.99 |
| AUG120083 | GRENDEL OMNIBUS TP VOL 02 LEGACY | $24.99 |
| FEB130067 | GRENDEL OMNIBUS TP VOL 03 ORIONS REIGN | $24.99 |
| AUG130110 | GRENDEL OMNIBUS TP VOL 04 PRIME | $24.99 |
| STAR11493 | GRENDEL PAST PRIME ILLUSTRATED NOVEL | $14.95 |
| JUN070101 | GRENDEL PVC SET | $34.99 |
| STAR17671 | GRENDEL TALES THE DEVIL MAY CARE TP | $19.95 |
| SEP030020 | GRENDEL THE DEVIL INSIDE TP (MR) | $12.95 |