Brain Damage Returns With Dark Horse Presents Anthology
Jun 09, 2014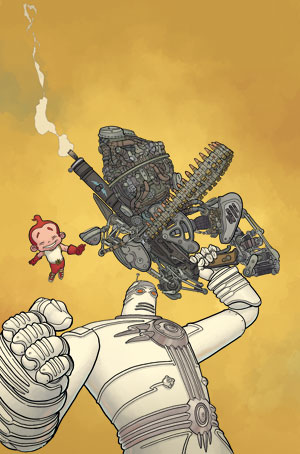 If you wanted a comics anthology that read like someone had taken a hammer to your head, what might that comic series be named? Think of mind-blowing stories and art that convince you only a blunt metal object that has whacked you upside the cranium could have caused the Defcon 4 alarm bell ringing inside your skullcap. The graphic imagination flashing before your eyes must be the result of brain synapses collapsing one another, correct?
Wrong.
What you would be reading is the resurrected Dark Horse Presents #1 (JUN140010) with this inaugural giving us the return of Geof Darrow and Frank Miller's Big Guy and Rusty the Boy Robot. In the 48 pages that make up this first issue, you also receive a Geof Darrow gallery of artwork, along with features from such stellar creators like Jimmy Palmiotti, Justin Gray, David Mack, and others.
Everything but the kitchen sink goes into a monthly issue of Dark Horse Presents, so get in on the ground floor with this Gem of the Month that you'll find in the Premier section of the June PREVIEWS catalog!