Ian Edginton Was Needed For Steed & Mrs. Peel
Jun 06, 2014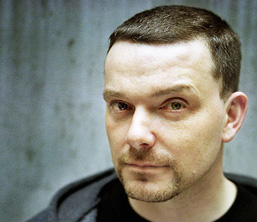 by Vince Brusio
The life of a comic book writer. There's two sides to the story. Yes there is the glory of being at a convention behind a table with a line of people that want your picture and autograph. But then there are the publishers who need a product delivered under a deadline, and the phone call can be an abrupt "We need this now. Can you do it?" For Ian Edginton, the call was an opportunity to raid his private vault, and produce Steed & Mrs. Peel: We're Needed for BOOM! Studios.
**********
PREVIEWSworld: Ian, what's behind you writing Steed & Mrs. Peel: We're Needed? Can you tell us your history with the Avengers? Has it been one of your favorite TV shows from childhood? Did you ever meet any of the actors? We very much would like to know your connection to the culture.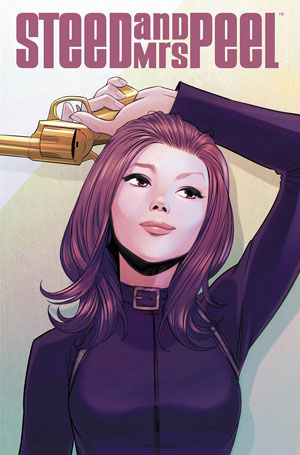 Ian Edginton: Growing up in the UK in the 1960s and '70s, we only had two, three—and then in the 1980s—four TV channels, so a lot of stuff would come around on repeat. That said, this was pre-Star Wars and its impact had yet to be felt on the medium, so science fiction TV was pretty niche, good science fiction TV more so. Finding it was like panning for gold!
We had Doctor Who, The Prisoner, Quatermass (that was more the 1950s though) all the Gerry Anderson shows, and of course, The Avengers. I was always drawn to the Emma Peel era shows because they seemed more fantastic and "out there." They're quirky and quaint and there's a lighter, surreal comic touch to the show. What I didn't know at the time was that it perfectly matched the feel of Britain and London in the swinging '60s. A colorful mix of optimism, modernism and hedonism. I've not met any of the cast but I've seen Diana Rigg on stage a couple of times and she's wonderful.
PREVIEWSworld: In putting together your story, were there any particular resources you consulted for this project? Or did you rely on your own knowledge of the property?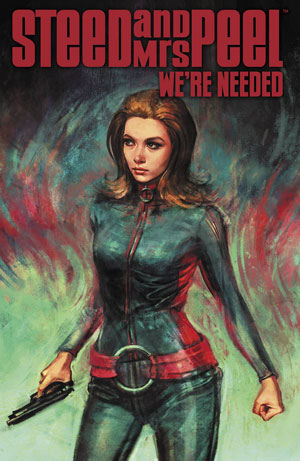 Ian Edginton: I have a shelf full of reference books and episode guides of TV shows I like and that I've been lucky to work on in one way or another. When I was asked if I'd like to write Steed and Mrs. Peel, there were two episodes in particular that I wanted to hark back to. They're probably pretty obscure ones, too, but I make sure everyone's bought up to speed.
PREVIEWSworld: Tell us the genesis for this story. Is it something you imagined within the past year? Or is this something that slowly filled the pages of a notebook in between your other projects?
Ian Edginton: Ian Brill at BOOM! Studios got in touch and asked me if I'd be interested in writing six issues. It was a simple as that! I took a nano-second to think about it, probably not even that long. I then read through all of BOOM!'s earlier Steed and Mrs. Peel titles as well as going through the books on the TV series before drawing up a battle plan.
PREVIEWSworld: Summarize for us the chemistry between you and Marco Cosentino. How did the two of you communicate and work together for this six-issue mini-series? Is he the type of artist to surprise you, or is he one who very much colors within the lines?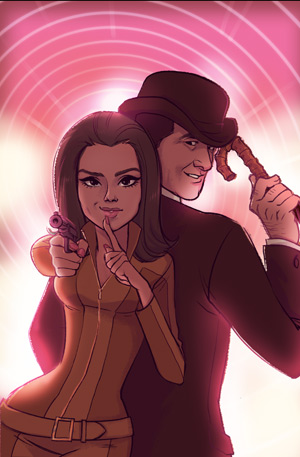 Ian Edginton: We've only spoken briefly so far. As soon as we signed to do the book and were given our deadlines, we had to hit the ground running. I've been really happy with what he's turned in so far. I've written some freaky stuff and he's taken it all in stride!
PREVIEWSworld: Without giving away any details that would be spoilers, what can you tell us about this mini-series? How will it appeal to comic readers and fans of the television series? What makes it a kick to the gut?
Ian Edginton: I imagine if you're a fan of the comic you're going to be into the TV series, too and vice versa. I try and capture the mood and feel of the series, especially the interplay between Steed and Emma. Of course, the one advantage we have over the TV series is budget.
What I mean is, we can show things that they could do never afford to do on the show. So we can do some pretty wild and wonderful stuff. The sky's the limit!
| | | |
| --- | --- | --- |
| ITEM CODE | TITLE | PRICE |
| MAY141140 | STEED & MRS PEEL NEEDED #1 | SRP: $3.99 |
| JUN140957 | STEED & MRS PEEL NEEDED #2 | SRP: $3.99 |
| MAY141142 | STEED & MRS PEEL TP VOL 01 VERY CIVIL ARMAGEDDON | SRP: $14.99 |
| MAY141143 | STEED & MRS PEEL TP VOL 02 SECRET HISTORY OF SPACE | SRP: $14.99 |
| MAY141144 | STEED & MRS PEEL TP VOL 03 | SRP: $14.99 |
| MAY141145 | STEED & MRS PEEL TP GOLDEN GAME | SRP: $16.99 |