Indie Edge June 2014: Kazu Kibuishi
May 21, 2014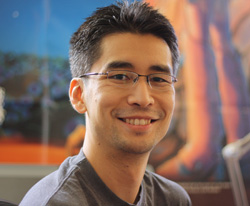 This month's featured creator is…
Kazu Kibuishi
Please tell us a bit about yourself!
My name is Kazu Kibuishi. I'm the creator of Amulet for Scholastic/Graphix and Explorer for Abrams ComicArts.
I also created Copper, Daisy Kutter and the Flight anthologies. I've been drawing comics ever since I could remember picking up a pencil thanks to the influence of MAD Magazine, Garfield, and manga.
What are your favorite projects you've contributed to over the past decade?
My favorite project has definitely been the Amulet series!
Amulet Vol. 1: Stonekeeper GN (APR128211)
Amulet Vol. 2: Stonekeeper's Curse GN (MAR128292)
Amulet Vol. 3: Cloud Searchers GN (AUG118100)
Amulet Vol. 4: Last Council GN (NOV118145)
Amulet Vol. 5: Prince of the Elves GN (JUN121162)
What are you currently working on? What can readers expect from your new book Amulet 6?
I'm currently finishing up Explorer 3: The Hidden Doors and I'm about to begin work on the seventh Amulet book. In Amulet 6: Escape from Lucien, readers can expect big environments, high technology, magic, and fast-paced action as the characters journey from the clouds to an underground world, battling the Elf King's forces and forming new alliances.
Explorer Vol. 1: Mystery Boxes GN (NOV110700)
Explorer Vol. 2: Lost Islands GN (AUG130948)
What fun titles are you reading? Are there any kid's comics that you would recommend?
I absolutely loved reading Raina Telgemeier's Sisters (See Page 349!), one of the best books I've read in a while! Another book I read recently is Gene Luen Yang's Boxers (JUL131151) and Saints (JUL131152), which is fantastic. The box set (JUL131153) that it comes in is also very nice. First Second did a great job on those books, and they also published another one of my recent favorites, Battling Boy (SC: AUG131327; HC: AUG131328) by Paul Pope.
Are you following PREVIEWSWorld on Twitter yet? Follow @PREVIEWSworld