Grayson Now A Sharp Dressed Man
May 01, 2014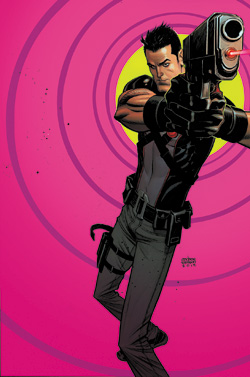 So here's what we learned since the conclusion of DC's Forever Evil: the Dick Grayson that we knew as "Nightwing" is no longer cashing a paycheck. Show's over, folks. The name tag's been removed from outside the office door. And there's no comment to be found on TMZ.
Instead, what we're learning from the solicitation in the May issue of the PREVIEWS catalog is that a new series is set to debut in July that details the new chapter in Dick Grayson's life.
The series is simply called, Grayson, and it is a project that is being talked about in very high circles. The story broke on USA Today, and since then there's been constant chatter about how the former boy wonder is going through yet another change in wardrobe and attitude, and how he may be more likely to want James Bond gadgetry than truncheons.
Written by Tim Seeley, the series follows along with how Dick Grayson signs up with spy agency Spyral, stemming from events in Batman Incorporated.
Issue #30 will be the swan song for DC's Nightwing, and in July readers will be introduced to the new Dick Grayson whose costume, swagger, and sex appeal may make him a candidate for the cover of GQ magazine.
Look for Grayson #1 (MAY140156) from DC Comics in the Premier Comics section of the May PREVIEWS catalog.