May PREVIEWS Honors Women in Comics
May 04, 2014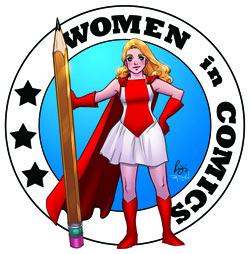 The May PREVIEWS celebrates the many women who work within the comics industry and community, whether it is behind-the-scenes as publishers, editors, or translators or in the spotlight as writers, artists or as strong female lead characters! Throughout PREVIEWS you'll find the "Women in Comics" icon pointing out a deserving title featuring female creators or protangionists. You'll also find profiles of some of comics' most accomplished females here at PREVIEWSworld.com throughout the month, so stay tuned!
We're kicking off this month in a big way with an interview with writer, Kelly Sue DeConnick. The writer got her start in comics by translating Japanese and Korean comics for the American market and moved into the spotlight with her work on Marvel's Captain Marvel and her new Image Comics series, Pretty Deadly. Kelly Sue talks about her own career and the role women play in the comics industry in an exclusive interview.
"Women are WILDLY under-represented both on the production side and on the page. This is not just a comics problem, it's an cultural problem," DeConnick explains. "Doing away with the myth that women don't create or read comics would be a great place to start. There remains this pervasive notion that we don't have more women readers because superhero comics are 90% of our industry in this country and superhero comics don't and can't appeal to women."

"It's simply not true. There is nothing inherently masculine about heroism, or the pulp aesthetic or power fantasies — believe me, I'm a five foot tall woman. I can teach any man in any room about power fantasies — I promise. Superheroes aren't inherently masculine any more than opera, Shakespeare or myth."
To read the entire interview, click here or check out the FLIPSide of May's catalog.
Check out the list below for comics from May PREVIEWS featuring women leads and/or creators:

| | |
| --- | --- |
| Item Code | Description |
| | RACHEL RISING #27 |
| | RACHEL RISING TP VOL 01 SHADOW OF DEATH (JAN120780) |
| | RACHEL RISING TP VOL 02 FEAR NO MALUS (SEP120729) |
| | RACHEL RISING TP VOL 03 CEMETERY SONGS (JUN130709) |
| | STRANGERS IN PARADISE OMNIBUS SC ED (APR130755) |
| | TERRY MOORES ECHO COMPLETE ED SC (MAY110780) |
| | VAMPLETS NIGHTMARE NURSERY HC BOOK 01 (AUG130915) |
| | VAMPLETS NIGHTMARE NURSERY HC BOOK 02 |
| | GOLD DIGGER #214 |
| | VICTORIAN SECRET COLLECTION 2014 TP |
| | WOMEN OF GOLD DIGGER SUMMER VACATION SPL ONE SHOT |
| | ART OF BETTY AND VERONICA HC (JUN120803) |
| | BEST OF JOSIE AND PUSSYCATS TP VOL 01 (STAR13522) |
| | BETTY & VERONICA BATTLE OF THE BFFS (OCT110813) |
| | BETTY & VERONICA JUMBO COMICS DIGEST #225 |
| | MAGIC OF SABRINA THE TEENAGE WITCH TP (AUG110817) |
| | DAMSELS IN EXCESS #1 DIRECT MARKET CVR A |
| | DAMSELS IN EXCESS #1 DIRECT MARKET CVR B |
| | SOULFIRE ANNUAL #1 DIRECT MARKET CVR A |
| | MICHAEL TURNER SOULFIRE TP VOL 02 DRAGONFALL |
| | SOULFIRE SHADOW MAGIC TP VOL 01 |
| | LOLA XOXO #4 DIRECT MARKET CVR A |
| | LOLA XOXO #4 DIRECT MARKET CVR B |
| | LOLA XOXO #4 DIRECT MARKET CVR C |
| | LOLA XOXO #4 DIRECT MARKET CVR D |
| | LEGEND OF OZ THE WICKED WEST ONGOING #22 |
| | LEGENDS OF OZ TIK TOK #2 (OF 3) |
| | SHAHRAZAD #9 |
| | URSA MINOR ANNUAL #1 |
| | URSA MINOR TP VOL 02 |
| | TAROT WITCH OF THE BLACK ROSE #87 (MR) |
| | TAROT WITCH OF THE BLACK ROSE #87 DLX ED (MR) |
| | LEONARD STARRS MARY PERKINS ON STAGE TP VOL 13 |
| | STAN DRAKE HEART JULIET JONES TP VOL 04 SUNDAYS 1954-58 |
| | HILDA & BIRD PARADE GN |
| | HILDA & BLACK HOUND GN |
| | HILDA & MIDNIGHT GIANT GN |
| | HILDA & TROLL GN |
| | ANGEL AND FAITH SEASON 10 #4 MAIN CVR |
| | BTVS SEASON 10 #5 MAIN CVR |
| | DEEP GRAVITY #1 (OF 4) |
| | ELFQUEST FINAL QUEST #4 |
| | EMILY & THE STRANGERS BREAKING RECORD #2 |
| | FINDER THIRD WORLD TP (C: 0-1-2) |
| | FURIOUS TP VOL 01 FALLEN STAR (C: 0-1-2) |
| | GHOST #6 |
| | GHOST TP VOL 01 IN THE SMOKE AND DIN (MAR130011) (MR) |
| | GHOST TP VOL 02 WHITE CITY BUTCHER (MR) (C: 0-1-2) |
| | LEAVING MEGALOPOLIS HC (C: 0-1-2) |
| | LEGAL DRUG OMNIBUS TP (C: 0-1-2) |
| | SALLY HEATHCOTE SUFFRAGETTE HC (C: 0-1-2) |
| | STAR WARS LEGACY II #17 (C: 1-0-0) |
| | TOMB RAIDER #6 |
| | WITCHFINDER MYSTERIES OF UNLAND #2 |
| | JUDGE ANDERSON PSI FILES TP VOL 04 (MR) |
| | ROY THOMAS PRESENTS SHEENA QUEEN O/T JUNGLE SLIPCASE ED VOL 01 |
| | GRAPHIC CLASSICS GN VOL 18 LOUISA MAY ALCOTT (OCT090898) |
| | MAGIC TRIXIE GN VOL 03 MAGIC TRIXIE & THE DRAGON (APR090841) |
| | BRENDA STARR COMP PRE CODE COMICS HC VOL 01 (MAR131192) |
| | BRENDA STARR REPORTER STRIPS VOL 01 (MAY111109) |
| | MILTON CANIFF MALE CALL HC (FEB111067) |
| | ARE YOU MY MOTHER A COMIC DRAMA SC (JAN131202) |
| | BLUESY LUCY EXISTENTIAL CHRONICLES HC (JUN131176) (MR) |
| | CARTOON NETWORK SUPER SECRET CRISIS WAR #2 (OF 6) |
| | CARTOON NETWORK SUPER SECRET CRISIS WAR #2 (OF 6) SUBSCRIPTION VAR |
| | SUPER SECRET CRISIS WAR JOHNNY BRAVO #1 |
| | SUPER SECRET CRISIS WAR JOHNNY BRAVO #1 SUBSCRIPTION VAR |
| | ZAYA HC (MR) |
| | LEGEND OF BOLD RILEY #3 |
| | PRINCESS UGG #2 |
| | MONOMYTH #1 (OF 3) |
| | AMELIA RULES S&S ED TP VOL 01 WHOLE WORLDS CRAZY (FEB108060) |
| | CHIGGERS SC NEW PTG (APR138017) |
| | HOPE LARSON MERCURY GN NEW PTG |
| | MUDDY MAX GN VOL 01 MYSTERY OF MARSH CREEK |
| | WHO IS AC GN (FEB130808) |
| | LENA FINKLES MAGIC BARREL GN |
| | WONDER WOMAN STORY OF AMAZON PRINCESS YR HC (FEB111275) |
| | DIANA GABALDON OUTLANDER GN VOL 01 EXILE (JUL100958) |
| | LA PERDIDA TP NEW PTG |
| | UNTERZAKHN GN (O/A) |
| | BRASS SUN #3 (OF 6) |
| | BAD DREAMS #4 (OF 5) |
| | HAUNTED #4 (OF 4) |
| | MOON GIRL TP (NOV121284) |
| | OWLGIRLS #1 |
| | MEDUSAS DAUGHTER HC (OCT131300) |
| | BULLYS BULLY TP VOL 01 |
| | DRAMA GN (JUL121102) |
| | FRIENDS WITH BOYS GN (DEC111077) |
| | RELISH MY LIFE IN KITCHEN GN (FEB131017) |
| | LENORE VOLUME II #10 |
| | POWER OF TANK GIRL OMNIBUS HC |
| | SALLY O/T WASTELAND #2 (OF 5) |
| | MARIE SEVERIN MIRTHFUL MISTRESS OF COMICS SC (MAY121304) |
| | 07 GHOST GN VOL 11 |
| | D GRAY MAN 3IN1 TP VOL 04 |
| | DEMON LOVE SPELL GN VOL 06 |
| | FULLMETAL ALCHEMIST 3IN1 TP VOL 08 |
| | MIDNIGHT SECRETARY GN VOL 06 (MR) |
| | MY LOVE STORY GN VOL 01 |
| | PHANTOM THIEF JEANNE GN VOL 03 |
| | RANMA 1/2 2IN1 TP VOL 03 |
| | RIN-NE GN VOL 15 |
| | SKIP BEAT 3IN1 TP VOL 08 |
| | SWEET REIN GN VOL 03 |
| | VAMPIRE KNIGHT GN VOL 01 (CURR PTG) (AUG138193) |
| | VAMPIRE KNIGHT GN VOL 02 (CURR PTG) |
| | VAMPIRE KNIGHT GN VOL 03 (JUL073945) |
| | VAMPIRE KNIGHT GN VOL 04 (JAN083988) |
| | VAMPIRE KNIGHT GN VOL 05 (JUN084343) |