John Romita Jr. On Board To Draw Superman
Apr 01, 2014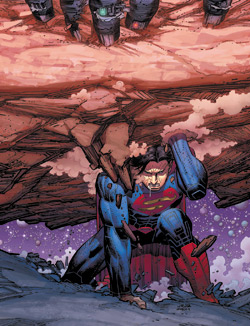 Back in March the 'Net started to buzz with first looks at John Romita Jr. and Klaus Janson's cover art for Superman #32, which marks Romita's first work for DC Entertainment, and a surprise moment in the artist's career: he never expected to get a gig drawing Superman. A San Diego breakfast meeting between the vet and DC Comics Co-Publisher Dan DiDio cemented a deal with Geoff Johns to make what what used to be a pipe dream a cold-hard reality. And much to Romita's surprise, the assignment had him and Johns create a new character: Ulysses … the Man of Tomorrow.
Sound like strong competition for The Man of Steel?
Yes. Yes indeed.
And what makes the new team-up between Romita and Johns even more of a headline? They're not stopping with Ulysses. Both men have said change is in the air, and that means new villains and heroes will be introduced in the pages of the ongoing Superman title.
So be sure to check out Superman #32 (APR140188) in the DC Comics section of the April PREVIEWS catalog. It's this month's Gem of the Month, and from the looks of the cover art, John Romita Jr. is going to have a lot of fun putting Clark Kent through the wringer...and the Daily Planet.
Check out these other Superman New 52 titles you can order from your local comic shop!
| | | |
| --- | --- | --- |
| ITEM CODE | TITLE | PRICE |
| JAN140346 | ADVENTURES OF SUPERMAN TP VOL 01 | $14.99 |
| FEB130215 | SUPERMAN ACTION COMICS TP VOL 01 SUPERMAN MEN OF STEEL (N52) | $16.99 |
| SEP130275 | SUPERMAN ACTION COMICS TP VOL 02 BULLETPROOF (N52) | $16.99 |
| MAR130274 | SUPERMAN TP VOL 01 WHAT PRICE TOMORROW (N52) | $14.99 |
| OCT130246 | SUPERMAN TP VOL 02 SECRETS AND LIES (N52) | $16.99 |