Sneak Peek: "School Bites — Night Classes Part 1" From Broadsword Comics
Mar 31, 2014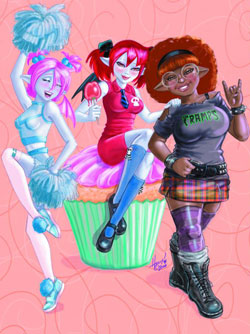 Broadsword Comics usually conjures images of Tarot: Witch of the Black Rose. But this month the news around the ouija board is Holly GoLightly's School Bites, which is featured in the April PREVIEWS for its new series Night Classes.
And what, you say, can we expect from this new book. Imagine a marriage between Harry Potter and The Breakfast Club! Start there, and then let random chaos get behind the driver's wheel, because this is the continued e adventures of the Shadow Academy Girls. Anything can happen. Anything.
Check out the scoop on this latest book from Holly, who talked to us in this exclusive PREVIEWS interview!
Click here to read the Holly GoLightly interview!
Read the interview? Well, then, place a pre-order for this new 32-page manga-sized series that includes a postcard sized print of Cherri cosplaying, and a bonus story by Archie's Jughead writer Craig Boldman!
SCHOOL BITES — NIGHT CLASSES PART 1: JUST DESSERTS
(W/A) Holly Golightly
Item Code: APR141046
Price: $4.99
PREVIEWS Page #304
In Shops 6/25/14
Check out these interior pages!
Order these other School Bites titles from your local comic shop!
| | | |
| --- | --- | --- |
| ITEM CODE | TITLE | PRICE |
| APR141049 | SCHOOL BITES INDEPENDENT STUDIES COLL TP (FEB130883) | $19.99 |
| APR141050 | SCHOOL BITES SPECIAL SEMESTER COLL TP (OCT110958) | $19.99 |
| APR141047 | SCHOOL BITES GN VOL 01 (O/A) | $12.95 |
| APR141048 | SCHOOL BITES GN VOL 02 (O/A) | $12.95 |