Witchfinder In Search Of Swamp Monsters
Mar 21, 2014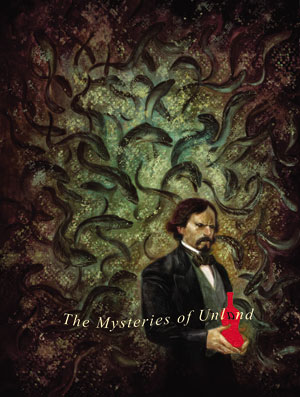 Twenty years ago, Mike Mignola's Hellboy began with just a single mini-series about a paranormal detective, and as the years have passed the series has expanded to include a team-up book in B.P.R.D., pulp heroics with Lobster Johnson, superheroics from Sledgehammer 44, and English sitting room horror in Witchfinder. The 19th-century spiritualist Edward Grey, the Witchfinder, returns this June in a new five-part mini-series, Witchfinder: The Mysteries of Unland!
Horror writer Kim Newman, perhaps best known for his series of Anno Dracula novels, is the perfect writer to pen this chapter in the broader Hellboy mythos. A skeptic by nature, Grey is sent to Hallam to unravel the mystery surrounding an unexplained death, and he soon discovers that there is something in the marshes beyond the town, something the locals call "Unland," a place where monsters dwell and yearn to be free.
Newman is joined by co-writer Maura McHugh and artist Tyler Crook for a tale of 19th-century English horror, and Witchfinder: The Mysteries of Unland is a book no Mignola fan will want to miss!
Check out these other Witchfinder books available to order from your local comic shop.
| | | |
| --- | --- | --- |
| ITEM CODE | TITLE | PRICE |
| DEC090046 | WITCHFINDER TP VOL 01 IN THE SERVICE OF ANGELS | $17.99 |
| SEP110020 | WITCHFINDER TP VOL 02 LOST AND GONE FOREVER | $17.99 |