Titan Comics Kicks Off Two Doctor Who Series
Mar 20, 2014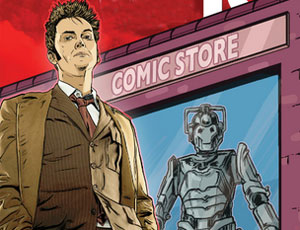 Two new Doctor Who ongoing series are on their way from Titan Comics! The Tenth Doctor is back with a new companion, new foes, and unforgettable new horizons. The Eleventh Doctor returns with a time-twisting leap into the unknown!
In Doctor Who: The Tenth Doctor #1 (APR141372), the Eisner Award-winning Nick Abadzis (Laika) and fan-favorite Elena Casagrande (Angel, Suicide Risk, Doctor Who, Star Trek) take control of the TARDIS for their first five-issue arc with the Tenth Doctor, as played by David Tennant. Gabriella Gonzalez is stuck in a dead-end job in her family's New York Laundromat, dreaming of college and bigger, better and brighter things.
So when a strange man with an even stranger big blue box barges into her life on the eve of the Day of the Dead celebrations – talking about an infestation of psychic aliens – she seizes her chance for adventure with both hands. After Donna's tragic exit, the Doctor thought he was done with new companions. But Gabby Gonzalez is going to prove him wrong… if she survives the night. Regular linked cover by Alice X. Zhang!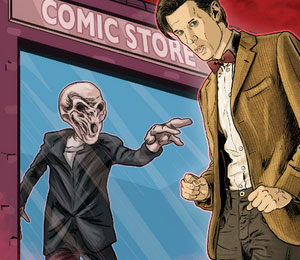 In Doctor Who: The Eleventh Doctor #1 (APR141379) a stunning new era begins for the Eleventh Doctor, as played by Matt Smith! Alice Obiefune has just lost her mother when the Doctor explodes into her life. But what does this grieving young woman have to do with the career of a 70s musician, an amnesiac alien, and a terrifying cosmic threat? In the wake of the second Big Bang, find out what the Doctor gets up to when Amy and Rory aren't around!
Series architects Al Ewing (Loki: Agent of Asgard, Mighty Avengers, Trifecta) and Rob Williams (Revolutionary War, Ordinary, Miss Fury, The Royals: Masters of War, Trifecta) kick off a whirlwind adventure through eternity with artist Simon Fraser (Nikolai Dante, Grindhouse, Doctor Who). Regular linked cover by Alice X. Zhang!
| | | |
| --- | --- | --- |
| ITEM CODE | TITLE | PRICE |
| APR141372 | DOCTOR WHO 10TH #1 REG ZHANG | SRP: $3.99 |
| APR141373 | DOCTOR WHO 10TH #1 SUBSCRIPTION CASAGRANDE | SRP: $3.99 |
| APR141379 | DOCTOR WHO 11TH #1 REG ZHANG | SRP: $3.99 |
| APR141380 | DOCTOR WHO 11TH #1 SUBSCRIPTION FRASER | SRP: $3.99 |