Celebrate Black History Month in February PREVIEWS
Feb 02, 2014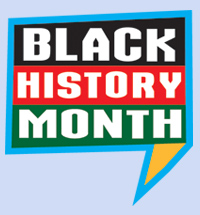 February is National Black History Month, and we're showcasing comics and graphic novels that feature black main characters, are created by African-American creators, or somehow describe the black experience in America.
We've got biographical comics telling the stories of the likes of Nelson Mandela, Jackie Robinson and Martin Luther King, Jr., and tributes to comic artists like the Golden Age great, Matt Baker.

Plus, we interview Andrew Aydin, the co-author (with Congressman John Lewis) of the #1 New York Times bestselling graphic novel March: Book One, about Top Shelf's reprinting of Martin Luther King and The Montgomery Story (FEB141441, $5.00), a 16-page comic book originally published in 1957 by the Fellowship of Reconciliation. As Congressman Lewis has explained in interviews, the March project was patterned after a comic book he read in the 1950s, which inspired him and many other young activists to join the movement and use the principles of nonviolence to battle racial discrimination. Click here to read the interview.
In honor of all that the African-American community does for the comic industry, we have put together a list of items below found in the February PREVIEWS catalog and available now at your local comic shop!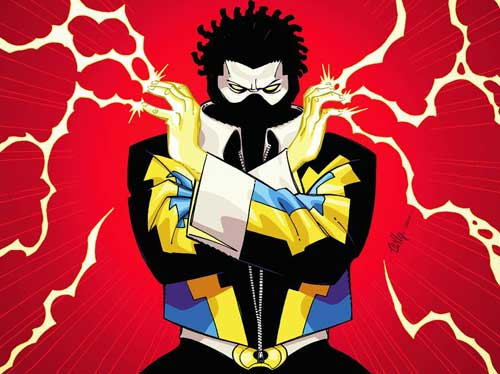 Black Lightning Year One TP
| | | |
| --- | --- | --- |
| | | |
| March: Book One GN | Watson & Holmes Vol. 1 TP | Matt Baker: Art of Glamour |
| | | | |
| --- | --- | --- | --- |
| | AVAILABLE NOW | | |
| Item Code | Description | Price | Vendor |
| MAY130760 | MOLLY DANGER HC BOOK 01 (O/A) | $19.95 | ACTION LAB ENTERTAINMENT |
| MAY128260 | EMPOWERED TP VOL 01 (MR) | $16.99 | DARK HORSE COMICS |
| NOV130045 | SKYMAN #1 (OF 4) | $2.99 | DARK HORSE COMICS |
| AUG090171 | BLACK LIGHTNING YEAR ONE TP | $17.99 | DC COMICS |
| NOV060212 | FIRESTORM THE NUCLEAR MAN REBORN TP | $14.99 | DC COMICS |
| APR110202 | FIRESTORM THE NUCLEAR MAN TP | $17.99 | DC COMICS |
| MAY110247 | JUSTICE LEAGUE OF AMERICA OMEGA HC | $24.99 | DC COMICS |
| JUL131248 | ROY THOMAS PRESENTS CLASSIC PHANTOM LADY TP BOXED SET (O/A) | $79.99 | PS ARTBOOKS |
| OCT121176 | ROY THOMAS PRESENTS PHANTOM LADY COLL WORKS HC VOL 01 | $47.99 | PS ARTBOOKS |
| SEP074095 | CLASSIC MARVEL FIG COLL MAG #59 LUKE CAGE | $12.00 | EAGLEMOSS PUBLICATIONS LTD |
| MAR121058 | BLACK IMAGES IN THE COMICS SC (O/A) | $19.99 | FANTAGRAPHICS BOOKS |
| NOV110995 | LISTEN WHITEY HC SOUNDS BLACK POWER 1965-1975 | $39.99 | FANTAGRAPHICS BOOKS |
| OCT090999 | ORIGINAL JOHNSON GN VOL 01 | $19.99 | IDW PUBLISHING |
| DEC100421 | ORIGINAL JOHNSON GN VOL 02 | $19.99 | IDW PUBLISHING |
| APR061768 | BEST OF CURSE O/T SPAWN TP | $16.99 | IMAGE COMICS |
| JUN100416 | HELLSPAWN COMPLETE COLL HC | $39.99 | IMAGE COMICS |
| FEB100328 | IMAGE FIRSTS SPAWN #1 (MR) | $1.00 | IMAGE COMICS |
| SEP088230 | SPAWN #185 (2ND PTG) (PP #842) | $2.95 | IMAGE COMICS |
| DEC100493 | SPAWN #204 (RES) | $2.99 | IMAGE COMICS |
| JAN110621 | SPAWN #205 (RES) | $2.99 | IMAGE COMICS |
| SEP108121 | SPAWN ENDGAME COLLECTION TP | $24.99 | IMAGE COMICS |
| MAY082190 | SPAWN NEO NOIR TP (C: 0-1-2) | $14.95 | IMAGE COMICS |
| MAY110469 | SPAWN NEW BEGINNINGS TP VOL 01 | $14.99 | IMAGE COMICS |
| AUG071996 | SPAWN NEW FLESH TP (C: 0-1-2) | $14.95 | IMAGE COMICS |
| JAN100418 | SPAWN ORIGINS HC VOL 01 | $29.99 | IMAGE COMICS |
| AUG100472 | SPAWN ORIGINS HC VOL 02 | $29.99 | IMAGE COMICS |
| DEC100473 | SPAWN ORIGINS HC VOL 03 | $29.99 | IMAGE COMICS |
| MAR092416 | SPAWN ORIGINS TP VOL 01 | $14.99 | IMAGE COMICS |
| JUL090364 | SPAWN ORIGINS TP VOL 03 | $14.99 | IMAGE COMICS |
| OCT090385 | SPAWN ORIGINS TP VOL 04 | $14.99 | IMAGE COMICS |
| MAR100375 | SPAWN ORIGINS TP VOL 05 | $14.99 | IMAGE COMICS |
| MAY100459 | SPAWN ORIGINS TP VOL 06 | $14.99 | IMAGE COMICS |
| JUL100421 | SPAWN ORIGINS TP VOL 07 | $14.99 | IMAGE COMICS |
| SEP100472 | SPAWN ORIGINS TP VOL 08 | $14.99 | IMAGE COMICS |
| NOV100435 | SPAWN ORIGINS TP VOL 09 | $14.99 | IMAGE COMICS |
| JAN110578 | SPAWN ORIGINS TP VOL 10 | $14.99 | IMAGE COMICS |
| APR110433 | SPAWN ORIGINS TP VOL 11 | $14.99 | IMAGE COMICS |
| JAN082061 | SPAWN THE UNDEAD TP | $24.99 | IMAGE COMICS |
| DEC041547 | WILDGUARD TP VOL 01 CASTING CALL | $17.95 | IMAGE COMICS |
| DEC082311 | BLACK PANTHER 2 #1 70TH ANNIV DJURDJEVIC VAR DKR | $3.99 | MARVEL COMICS |
| JAN110747 | BLACK PANTHER MAN WITHOUT FEAR #516 CAPTAIN AMERICA 70TH ANN | $2.99 | MARVEL COMICS |
| FEB110576 | BLACK PANTHER MAN WITHOUT FEAR #517 THOR GOES HOLLYWOOD VAR | $2.99 | MARVEL COMICS |
| JUL120667 | BLACK PANTHER MAN WITHOUT FEAR TP FEAR ITSELF | $16.99 | MARVEL COMICS |
| MAY110746 | BLACK PANTHER MAN WITHOUT FEAR TP VOL 01 URBAN JUNGLE | $16.99 | MARVEL COMICS |
| FEB120680 | BLACK PANTHER MDMA KINGPIN OF WAKANDA TP | $16.99 | MARVEL COMICS |
| DEC090625 | BLACK PANTHER POWER TP | $16.99 | MARVEL COMICS |
| FEB082302 | BLACK PANTHER TP LITTLE GREEN MEN | $10.99 | MARVEL COMICS |
| AUG100705 | CAPTAIN AMERICA BLACK PANTHER FLAGS OUR FATHERS TP | $14.99 | MARVEL COMICS |
| MAR072151 | CIVIL WAR BLACK PANTHER TP | $17.99 | MARVEL COMICS |
| JUN062030 | ESSENTIAL LUKE CAGE POWER MAN TP VOL 02 | $16.99 | MARVEL COMICS |
| JUN062030 | ESSENTIAL LUKE CAGE POWER MAN TP VOL 02 | $16.99 | MARVEL COMICS |
| JAN092612 | ESSENTIAL POWER MAN AND IRON FIST TP VOL 02 | $19.99 | MARVEL COMICS |
| DEC110726 | FEAR ITSELF BLACK PANTHER MAN WITHOUT FEAR PREM HC | $19.99 | MARVEL COMICS |
| DEC090603 | LUKE CAGE NOIR PREM HC | $19.99 | MARVEL COMICS |
| MAY100688 | LUKE CAGE NOIR TP GN | $14.99 | MARVEL COMICS |
| JUL100702 | NEW AVENGERS LUKE CAGE TP TOWN WITHOUT PITY | $14.99 | MARVEL COMICS |
| DEC082441 | SECRET INVASION TP BLACK PANTHER | $12.99 | MARVEL COMICS |
| OCT090634 | SECRET WARRIORS TP VOL 01 NICK FURY AGENT OF NOTHING | $16.99 | MARVEL COMICS |
| JAN110836 | SHADOWLAND PREM HC POWER MAN | $19.99 | MARVEL COMICS |
| JUN130695 | X-MEN MAGIK TP STORM AND ILLYANA | $16.99 | MARVEL COMICS |
| JUL130722 | X-MEN STORM BY WARREN ELLIS AND TERRY DODSON TP | $19.99 | MARVEL COMICS |
| OCT131251 | WATSON AND HOLMES TP VOL 01 STUDY IN BLACK | $16.99 | NEW PARADIGM STUDIOS, CO. |
| NOV110979 | SILENCE OF OUR FRIENDS GN | $16.99 | FIRST SECOND BOOKS |
| JUN131298 | MARCH GN BOOK 01 | $14.95 | TOP SHELF PRODUCTIONS |
| JUN121310 | MATT BAKER ART OF GLAMOUR HC | $39.95 | TWOMORROWS PUBLISHING |
| SEP084305 | MODERN MASTERS SC VOL 20 KYLE BAKER | $14.95 | TWOMORROWS PUBLISHING |
| JUN131321 | QUANTUM & WOODY #2 ORDERALL VAR FOWLER | $3.99 | VALIANT ENTERTAINMENT LLC |
| JUL131317 | QUANTUM & WOODY #3 REG SOOK | $3.99 | VALIANT ENTERTAINMENT LLC |
| AUG131487 | QUANTUM & WOODY #4 ORDERALL 8-BIT L2 VAR | $3.99 | VALIANT ENTERTAINMENT LLC |
| AUG131486 | QUANTUM & WOODY #4 REG SOOK | $3.99 | VALIANT ENTERTAINMENT LLC |
| SEP131360 | QUANTUM & WOODY #5 PULLBOX GARBETT | $3.99 | VALIANT ENTERTAINMENT LLC |
| SEP131359 | QUANTUM & WOODY #5 REG ROBINSON | $3.99 | VALIANT ENTERTAINMENT LLC |
| SEP131374 | QUANTUM & WOODY TP VOL 01 WORLDS WORST | $9.99 | VALIANT ENTERTAINMENT LLC |
| JUN138340 | QUANTUM & WOODY #1 3RD PTG | $3.99 | VALIANT ENTERTAINMENT LLC |
| OCT131351 | QUANTUM & WOODY #6 REG CRAIN | $3.99 | VALIANT ENTERTAINMENT LLC |
| NOV131289 | QUANTUM & WOODY #7 ORDERALL CTD FOWLER VAR | $3.99 | VALIANT ENTERTAINMENT LLC |
| | AVAILABLE FOR PRE-ORDER | | |
| Item Code | Description | Price | Vendor |
| FEB140869 | KYLE BAKER NAT TURNER SC NEW PTG (NOTE PRICE) | $17.95 | ABRAMS |
| FEB140019 | SKYMAN #4 | $3.99 | DARK HORSE COMICS |
| DEC138079 | BLACK DYNAMITE TP | $17.99 | IDW PUBLISHING |
| FEB140782 | MIGHTY AVENGERS #9 | $3.99 | MARVEL COMICS |
| FEB141441 | MLK MONTGOMERY STORY ONE SHOT | $5.00 | TOP SHELF PRODUCTIONS |
| FEB141460 | SHADOWMAN END TIMES #1 REG | $3.99 | VALIANT ENTERTAINMENT |
| FEB141461 | SHADOWMAN END TIMES #1 PULLBOX | $3.99 | VALIANT ENTERTAINMENT |
| FEB141572 | GFT GODSTORM HERCULES PAYNE #1 (OF 5) A CVR TOLIBAO | $3.99 | ZENESCOPE ENTERTAINMENT |
| FEB141573 | GFT GODSTORM HERCULES PAYNE #1 (OF 5) B CVR REYES | $3.99 | ZENESCOPE ENTERTAINMENT |
| FEB141574 | GFT GODSTORM HERCULES PAYNE #1 (OF 5) C CVR CUCCA | $3.99 | ZENESCOPE ENTERTAINMENT |
| FEB141575 | GFT GODSTORM HERCULES PAYNE #1 (OF 5) D CVR JOHNSON | $3.99 | ZENESCOPE ENTERTAINMENT |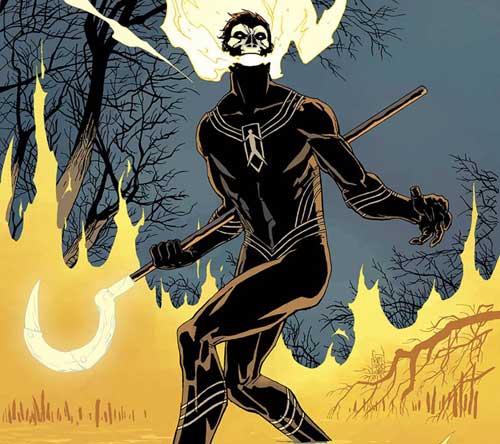 Shadowman: End Times #1
Kyle Baker Nat Turner SC
Martin Luther King and
The Montgomery Story