PREVIEWSworld's Certified Cool For February 2014
Jan 22, 2014

Throughout PREVIEWS, you'll find a selection of some of the coolest comics around, but let's face it, some comics are so cool that they deserve to be singled out. So every month, we "certify" some of the best and brightest!
"Certified Cool" is PREVIEWS' way of showing you a comics world that is powerfully unique unto itself. The titles listed below stood out to us as perfect examples of distinct comic stories that will broaden your entertainment experience and the industry.
Dive right in and enjoy some of these wonderful tales, and be sure to find the "pg #" column in the chart below to locate where you can read more about each title in the current issue of the PREVIEWS catalog!
PREMIER PUBLISHERS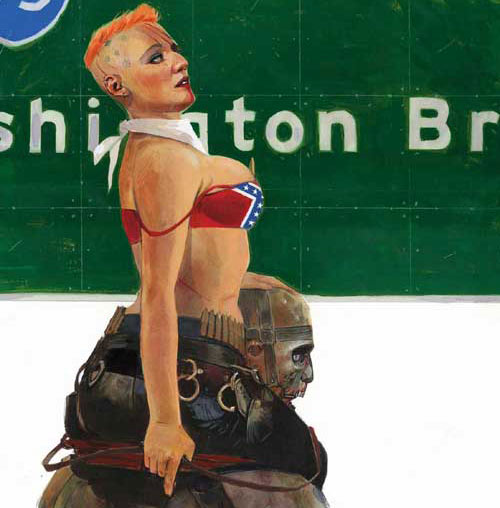 GEORGE ROMERO'S EMPIRE OF THE DEAD #4


ITEM CODE
TITLE
PRICE
PREVIEWS
PAGE #

DC COMICS
FEB140295
TRILLIUM #8 (OF 8) (MR)
$2.99
152
FEB140296
WAKE #8 Of(10) (MR)
$2.99
153
IDW PUBLISHING
FEB140373
24 #1
PI
175
FEB140355
GENIUS ANIMATED CARTOON ART OF ALEX TOTH HC VOL 03
$49.99
172
FEB140452
IN THE DARK HORROR ANTHOLOGY HC
$49.99
192
FEB140413
RED STAR TREASURY ED
$9.99
184
FEB140341
TRANSFORMERS LEGACY CELEBRATION OF PACKAGE ART HC
$49.99
170
MARVEL COMICS
FEB140770
GEORGE ROMEROS EMPIRE OF DEAD ACT ONE #4 Of(5)
$3.99
48
COMICS & GRAPHIC NOVELS
ITEM CODE
TITLE
PRICE
PREVIEWS
PAGE #

:01 FIRST SECOND
FEB141298
HIDDEN CHILDS STORY OF HOLOCAUST HC GN
$16.99
334
AAZURN PUBLISHING
FEB140868
MERCENARY PIG #1 (MR)
$4.99
252
ACTION LAB ENTERTAINMENT
FEB140878
SKYWARD TP
$8.99
256
DRAWN & QUARTERLY
FEB141228
NEW YORK POSTCARDS ADRIAN TOMINE
$14.95
327
FANTAGRAPHICS BOOKS
FEB141278
COSPLAYERS ONE SHOT
$4.99
332
HUMANOIDS
FEB141321
WHITE LAMA HC (MR)
$39.95
337
NBM/PAPERCUTZ
FEB141381
DINOSAURS HC
$10.99
355
SELFMADEHERO
FEB141423
BOXER TRUE STORY OF HOLOCAUST SURVIVOR HARRY HAFT GN
$22.95
362
VIZ MEDIA
FEB141507
HAYAO MIYAZAKI STARTING POINT 1979-1996 SC
$16.99
383
FEB141506
HAYAO MIYAZAKI TURNING POINT 1997-2008 HC
$29.99
383