Terminator TV Follows Comic & Movies
Dec 09, 2013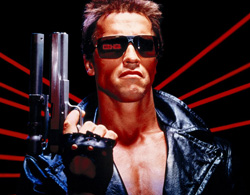 Those of you who picked up Terminator — Salvation: The Final Battle #1 when it shipped December 4th probably don't know that you're in on the ground floor for something much bigger that kicks off in 2015.
In an article published by the Hollywood Reporter, Skydance Productions and Annapurna Pictures have made plans to bring the Terminator franchise back to television. Paramount, Skydance, and Annapurna have marked June 26, 2015 to be the launch point for a new Terminator trilogy in theaters with Zack Stentz and Ashley Miller (Thor, X-Men: First Class) pegged as the film's writers.
So far, details leaked suggest that while the new film trilogy unfolds, the TV series will follow on the heels of the films, and the TV series will intersect with the continuity of the films in "surprising and dramatic ways."
Very excitiing times for fans of the metallic murdering robots from the future!
If you just started reading the new Dark Horse series penned by J. Michael Straczynski, and want to see if you can now catch up on Terminatory history, check out the links below that feature all things Terminator that are in stock and ready to ship to your local comic shop. And if you only now just found out about Terminator — Salvation: The Final Battle #1, now's your second chance to get to the store and jump on this new maxi-series from Dark Horse Comics!
| | | |
| --- | --- | --- |
| ITEM CODE | TITLE | PRICE |
| OCT130008 | TERMINATOR SALVATION FINAL BATTLE #1 (OF 12) | $3.99 |
| NOV130033 | TERMINATOR SALVATION FINAL BATTLE #2 (OF 12) | $3.99 |
| DEC130063 | TERMINATOR SALVATION FINAL BATTLE #3 (OF 12) | $3.99 |
| NOV098015 | TERMINATOR OMNIBUS TP VOL 01 | $24.99 |
| JAN080066 | TERMINATOR OMNIBUS TP VOL 02 | $24.95 |
| JUL130081 | TERMINATOR BURNING EARTH TP | $17.99 |
| FEB110024 | TERMINATOR TP 2029 TO 1984 | $19.99 |
| OCT084024 | TERMINATOR REVOLUTION #1 | $3.50 |
| NOV083951 | TERMINATOR REVOLUTION #2 | $3.50 |
| JAN094134 | TERMINATOR REVOLUTION #4 (OF 5) | $3.50 |
| FEB094213 | TERMINATOR REVOLUTION #5 (OF 5) | $3.50 |
| JUN090842 | TERMINATOR REVOLUTION TP | $19.99 |
| MAY111001 | TERMINATOR ROBOCOP KILL HUMAN #1 | $3.99 |
| JUN111029 | TERMINATOR ROBOCOP KILL HUMAN #2 | $3.99 |
| JUL111033 | TERMINATOR ROBOCOP KILL HUMAN #3 (OF 4) | $3.99 |
| AUG111002 | TERMINATOR ROBOCOP KILL HUMAN #4 (OF 4) | $3.99 |
| MAR083601 | TERMINATOR INFINITY TP VOL 01 (MR) | $19.99 |
| MAR132014 | MUV LUV ALT TE SU-37UB TERMINATOR PLASTIC MDL KIT | $59.99 |
| AUG132142 | TERMINATOR 2 AERIAL HUNTER KILLER 1/32 SCALE MOD | $39.99 |