Celebrate Doctor Who's 50th Anniversary
Nov 13, 2013
BBC America is doing a Doctor Who Takeover for the week surrounding its Doctor Who: The Day of the Doctor 50th Anniversary special on November 23rd (see "Global Simulcast for 'Doctor Who'"). Programming will include marathons showcasing all of the first ten Doctors, and the ninth, tenth, and eleventh Doctors, and a number of new specials covering the history of Doctor Who:
Tales from the Tardis, a documentary program about the show's history
The Science of Doctor Who with Brian Cox, which discusses the science behind the show
Doctor Who Explained, interviews of cast members from the show's 50 year history
An Adventure in Space and Time, a drama about the launch of the original Doctor Who.
The Graham Norton Show, the BBC talk show, with Matt Smith and David Tennant as guests.
The Doctors Revisited – The Eleventh Doctor, interviews and more about the Eleventh Doctor.
The special programming kicks off on Monday, November 18th, and runs through the following Sunday.
But the news doesn't stop there.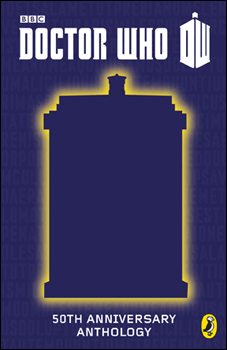 The BBC has also revealed that Neil Gaiman will write the final novella in their eleven-volume set celebrating the 50th Anniversary of Doctor Who. Titled Nothing O'Clock, the novella will feature the Eleventh Doctor (as portrayed by Matt Smith) be included in Penguin Books' Doctor Who 50th Anniversary Anthology (AUG131594), scheduled for release in February 2014. An e-book edition of the story will be available November 21.

Bestselling and beloved author Gaiman joins the ranks of high-profile authors Eoin Colfer (Artemis Fowl) and Richelle Mead (Vampire Academy) in the anthology which devotes a story to each of the eleven incarnations of the Doctor.

Gaiman's story will feature an all-new villain he created for the book. "Wouldn't this be fun to see if I can actually make people wee themselves with terror in real life?" he said in a BBC News story.

The Doctor Who 50th Anniversary Anthology is scheduled for release February 11, 2014 and is available for pre-order.
Ready to now take on a Dalek all by yourself? Well, before you go time-jumping without us, help us wind down the celebration by checking out all of the Doctor Who items featured in the November PREVIEWS.
COMICS & GRAPHIC NOVELS
| | | |
| --- | --- | --- |
| ITEM CODE | TITLE | PRICE |
| NOV131181 | DOCTOR WHO TP CHILD OF TIME | $24.99 |
| NOV131187 | DOCTOR WHO TP COLD DAY IN HELL | $24.99 |
| NOV131182 | DOCTOR WHO TP CRIMSON HAND | $24.99 |
| NOV131184 | DOCTOR WHO TP DRAGONS CLAW | $24.95 |
| NOV131190 | DOCTOR WHO TP FLOOD | $24.99 |
| NOV131188 | DOCTOR WHO TP GLORIOUS DEAD | $24.99 |
| NOV131183 | DOCTOR WHO TP IRON LEGION | $24.95 |
| NOV131180 | DOCTOR WHO TP NEMESIS OF DALEKS | $24.99 |
| NOV131189 | DOCTOR WHO TP OBLIVION | $24.99 |
| NOV131186 | DOCTOR WHO TP VOYAGER | $24.99 |
| NOV131191 | DOCTOR WHO TP WIDOWS CURSE | $24.99 |
| NOV131185 | DOCTOR WHO TP WORLD SHAPERS | $24.99 |
BOOKS/MAGAZINES/CDs

| | | |
| --- | --- | --- |
| ITEM CODE | TITLE | PRICE |
| NOV131447 | DOCTOR WHO MAGAZINE #469 | $10.99 |
| NOV131391 | DOCTOR WHO ANTIDOTE TO OBLIVION AUDIO CD | $24.99 |
| NOV131392 | DOCTOR WHO COMP CHRON LUNA ROMANA AUDIO CD | $14.99 |
| NOV131389 | DOCTOR WHO DOCTORS LIVES & TIMES SC | $19.99 |
| NOV131393 | DOCTOR WHO KING OF SONTAR AUDIO CD | $18.99 |
| NOV131390 | DOCTOR WHO SHADA LOST ADVENTURE SC | $16.00 |
COLLECTIBLES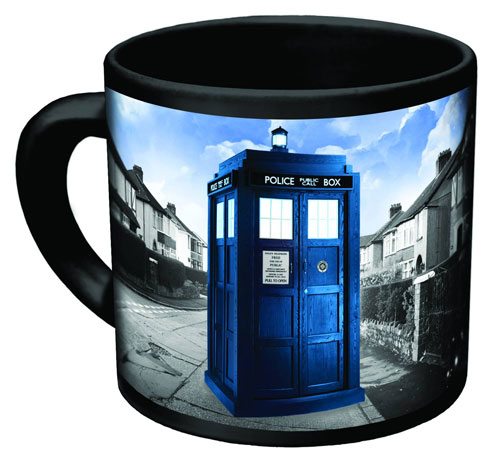 | | | |
| --- | --- | --- |
| ITEM CODE | TITLE | PRICE |
| NOV132136 | DOCTOR WHO 10TH DOCTOR DYNAMIX VINYL FIG (RES) | $79.99 |
| NOV132068 | DOCTOR WHO 10TH DR SONIC SCREWDRIVER LED FLASHLIGHT | $14.99 |
| NOV132071 | DOCTOR WHO 11TH DOCTOR TARDIS USB HUB (O/A) | $41.99 |
| NOV132069 | DOCTOR WHO 11TH DR SONIC SCREWDRIVER FLASHLIGHT | $14.99 |
| NOV132070 | DOCTOR WHO 11TH SONIC SCREWDRIVER KEYCHAIN TORCH (O/A) | $14.99 |
| NOV132072 | DOCTOR WHO 3D MOLDED TARDIS KEYCHAIN | $13.99 |
| NOV132076 | DOCTOR WHO BRITISH INVASION DALEK TOTE BAG (O/A) | $9.99 |
| NOV132063 | DOCTOR WHO COMIC STRIP RED WRISTBAND | $7.99 |
| NOV132137 | DOCTOR WHO CYBERSCOUT MAXI BUST | $99.99 |
| NOV132060 | DOCTOR WHO DALEK BRITISH INVASION WRISTBAND | $7.99 |
| NOV132294 | DOCTOR WHO DAY OF THE DOCTOR MUG | $10.99 |
| NOV132295 | DOCTOR WHO DISAPPEARING TARDIS MUG | $12.95 |
| NOV132299 | DOCTOR WHO DOCTORS COLLAGE TIN WALL SIGN | $15.99 |
| NOV132296 | DOCTOR WHO SONIC SCREWDRIVER TABLE LAMP (O/A) | $50.00 |
| NOV132298 | DOCTOR WHO TARDIS DOOR SIGN TIN WALL SIGN | $15.99 |
| NOV132297 | DOCTOR WHO TARDIS NIGHT LIGHT (O/A) | $16.99 |
| NOV132049 | DOCTOR WHO DALEK COLLECTOR WATCH | $300.00 |
| NOV132057 | DOCTOR WHO DALEK REPEAT WRISTBAND | $7.99 |
| NOV132067 | DOCTOR WHO DONT BLINK WRISTBAND (O/A) | $7.99 |
| NOV132073 | DOCTOR WHO EXPLODING TARDIS TOTE BAG | $9.99 |
| NOV132051 | DOCTOR WHO FIG COLL #3 CYBER CONTROLLER | $20.00 |
| NOV132052 | DOCTOR WHO FIG COLL #4 WEEPING ANGEL | $20.00 |
| NOV132053 | DOCTOR WHO FIG COLL #5 SILURIAN WARRIOR | $20.00 |
| NOV132050 | DOCTOR WHO FIG COLL #6 LAST DALEK | $20.00 |
| NOV132062 | DOCTOR WHO GIRL WHO WAITED WRISTBAND | $7.99 |
| NOV132075 | DOCTOR WHO I AM TARDIS TOTE BAG | $9.99 |
| NOV132074 | DOCTOR WHO MONOCHROME COMIC STRIP TOTE BAG (O/A) | $9.99 |
| NOV132064 | DOCTOR WHO RUN CLEVER BOY WRISTBAND | $7.99 |
| NOV132055 | DOCTOR WHO TARDIS ADULT ANALOGUE WATCH (O/A) | $59.99 |
| NOV132048 | DOCTOR WHO TARDIS COLLECTOR WATCH (O/A) | $300.00 |
| NOV132058 | DOCTOR WHO TARDIS REPEAT WRISTBAND | $7.99 |
| NOV132056 | DOCTOR WHO TARDIS WRISTBAND (RES) | $7.99 |
| NOV132065 | DOCTOR WHO TIMEY WIMEY WRISTBAND | $7.99 |
| NOV132138 | DOCTOR WHO TITANS MINI FIG SER 01 | PI |
| NOV132054 | DOCTOR WHO TUMBLING TARDIS TOWER | $34.99 |
| NOV132061 | DOCTOR WHO UNION FLAG DALEK REPEAT WRISTBAND | $7.99 |
| NOV132059 | DOCTOR WHO VWORP VWORP WRISTBAND | $7.99 |
| NOV132066 | DOCTOR WHO WHOVIAN WRISTBAND | $7.99 |
APPAREL

| | |
| --- | --- |
| | |
| | | |
| --- | --- | --- |
| ITEM CODE | TITLE | PRICE |
| NOV131724 | DOCTOR WHO 4TH DOCTOR SCARF OVER KNEE WMNS SOCKS (O/A) | $15.00 |
| NOV131701 | DOCTOR WHO COAT OF ARMS BLUE JRS T/S LG | $23.99 |
| NOV131700 | DOCTOR WHO COAT OF ARMS BLUE JRS T/S MED | $23.99 |
| NOV131699 | DOCTOR WHO COAT OF ARMS BLUE JRS T/S SM | $23.99 |
| NOV131702 | DOCTOR WHO COAT OF ARMS BLUE JRS T/S XL | $23.99 |
| NOV131763 | DOCTOR WHO DOCTOR & TARDIS PRINT MENS SOCKS (O/A) | $12.00 |
| NOV131723 | DOCTOR WHO DOCTOR & TARDIS PRINT WMNS SOCKS (O/A) | $12.00 |
| NOV131802 | DOCTOR WHO NAVY TARDIS AOP LOUNGE PANTS | $22.99 |
| NOV131681 | DOCTOR WHO SPIRIT TARDIS DRESS LG | $32.99 |
| NOV131680 | DOCTOR WHO SPIRIT TARDIS DRESS MED | $32.99 |
| NOV131679 | DOCTOR WHO SPIRIT TARDIS DRESS SM | $32.99 |
| NOV131682 | DOCTOR WHO SPIRIT TARDIS DRESS XL | $32.99 |
| NOV131764 | DOCTOR WHO TARDIS & DALEK CREW SOCKS 2PK (O/A) | $16.00 |
| NOV131725 | DOCTOR WHO TARDIS RUFFLE OVER KNEE WMNS SOCKS (O/A) | $15.00 |
| NOV131705 | DOCTOR WHO WHOVIAN DALEK JRS HOODIE LG | $52.00 |
| NOV131704 | DOCTOR WHO WHOVIAN DALEK JRS HOODIE MED | $52.00 |
| NOV131703 | DOCTOR WHO WHOVIAN DALEK JRS HOODIE SM | $52.00 |
| NOV131706 | DOCTOR WHO WHOVIAN DALEK JRS HOODIE XL | $52.00 |
| NOV131740 | DOCTOR WHO WHOVIAN DALEK ZIP HOODIE LG | $52.00 |
| NOV131739 | DOCTOR WHO WHOVIAN DALEK ZIP HOODIE MED | $52.00 |
| NOV131738 | DOCTOR WHO WHOVIAN DALEK ZIP HOODIE SM | $52.00 |
| NOV131741 | DOCTOR WHO WHOVIAN DALEK ZIP HOODIE XL | $52.00 |
| NOV131742 | DOCTOR WHO WHOVIAN DALEK ZIP HOODIE XXL | $56.00 |
| NOV131745 | DR WHO TEAM DALEK GRAY TRIBLEND T/S LG | $18.99 |
| NOV131744 | DR WHO TEAM DALEK GRAY TRIBLEND T/S MED | $18.99 |
| NOV131743 | DR WHO TEAM DALEK GRAY TRIBLEND T/S SM | $18.99 |
| NOV131746 | DR WHO TEAM DALEK GRAY TRIBLEND T/S XL | $18.99 |
| NOV131747 | DR WHO TEAM DALEK GRAY TRIBLEND T/S XXL | $20.99 |
| NOV131787 | DR WHO VITRUVIAN DALEK TAN T/S LG | $18.99 |
| NOV131786 | DR WHO VITRUVIAN DALEK TAN T/S MED | $18.99 |
| NOV131785 | DR WHO VITRUVIAN DALEK TAN T/S SM | $18.99 |
| NOV131788 | DR WHO VITRUVIAN DALEK TAN T/S XL | $18.99 |
| NOV131789 | DR WHO VITRUVIAN DALEK TAN T/S XXL | $20.99 |
| NOV131782 | DW DALEK DRIP HEATHER T/S LG | $19.99 |
| NOV131781 | DW DALEK DRIP HEATHER T/S MED | $19.99 |
| NOV131780 | DW DALEK DRIP HEATHER T/S SM | $19.99 |
| NOV131783 | DW DALEK DRIP HEATHER T/S XL | $19.99 |
| NOV131784 | DW DALEK DRIP HEATHER T/S XXL | $19.99 |
| NOV131693 | DW THE GIRL WHO WAITED BLUE JRS T/S LG | $19.99 |
| NOV131692 | DW THE GIRL WHO WAITED BLUE JRS T/S MED | $19.99 |
| NOV131691 | DW THE GIRL WHO WAITED BLUE JRS T/S SM | $19.99 |
| NOV131694 | DW THE GIRL WHO WAITED BLUE JRS T/S XL | $19.99 |
| NOV131575 | DOCTOR WHO 8 BIT PX TURQUOISE JRS T/S LG | $20.99 |
| NOV131574 | DOCTOR WHO 8 BIT PX TURQUOISE JRS T/S MED | $20.99 |
| NOV131573 | DOCTOR WHO 8 BIT PX TURQUOISE JRS T/S SM | $20.99 |
| NOV131576 | DOCTOR WHO 8 BIT PX TURQUOISE JRS T/S XL | $20.99 |
| NOV131570 | DOCTOR WHO 8 BIT PX TURQUOISE T/S LG | $20.99 |
| NOV131569 | DOCTOR WHO 8 BIT PX TURQUOISE T/S MED | $20.99 |
| NOV131568 | DOCTOR WHO 8 BIT PX TURQUOISE T/S SM | $20.99 |
| NOV131571 | DOCTOR WHO 8 BIT PX TURQUOISE T/S XL | $20.99 |
| NOV131572 | DOCTOR WHO 8 BIT PX TURQUOISE T/S XXL | $22.99 |
DVDs

| | | |
| --- | --- | --- |
| ITEM CODE | TITLE | PRICE |
| NOV132584 | DOCTOR WHO THE DOCTORS REVISITED 9-11 DVD | PI |
| NOV132585 | DOCTOR WHO THE TENTH PLANET DVD | PI |