Sneak Peek: It Came! HC
Nov 04, 2013
Fans of B-movie hilarity all over the world have fallen for this love-letter to low-budget SF cinema. Titan pulled out all the stops to show comic shops just how cool their new project was from writer/artist Dan Boultwood. They even hosted a contest giving stores a chance to have an ad for their store placed in the series iteself (the store that won was the Newbury Comics chain, and their ad appeared in issue #4).
Now that the series concluded, Titan Comics' It Came! HC can be ordered for those wanting a hardcover collected edition. A must-read for fans of Mystery Science Theater 3000, this is a gorgeously-illustrated, deeply-funny adventure story about Dr. Boy Brett and his lady assistant Doris Night as they hurry to London in pursuit of the monstrous robot GRURK, now smashing a wave of destruction through the capital.
In this hardcover edition, fans are given bonus character sketches, movie posters, in-universe interviews – and an all-new 'trailer' story for upcoming dinosaurrific follow-up, Lost: Land of the Lost exclusive to this volume.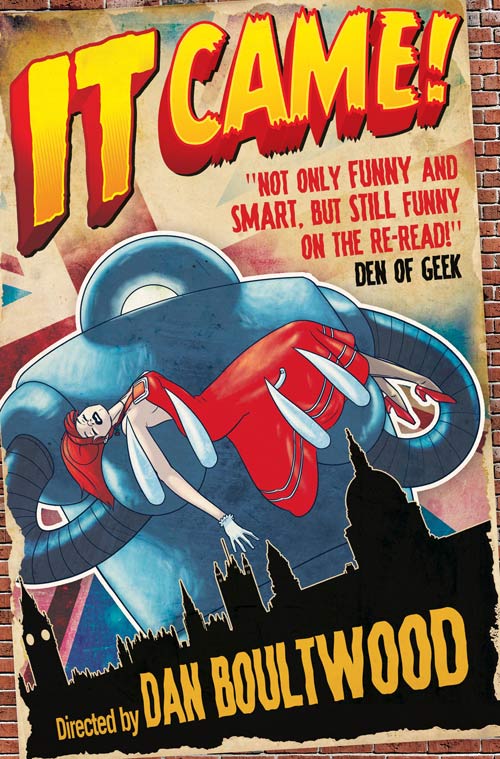 It Came! HC
Titan Comics

(W/A/Cover) Dan Boultwood

LIGHTS! CAMERA! GIANT RAMPAGING ROBOT! Fans of B-movie hilarity all over the world have fallen for this love-letter to low-budget SF cinema! Now this charming comedy adventure is collected in a deluxe hardcover, with all-new special features from 'director' Dan Boultwood and the cast and crew of Pinetree Studios! Enormous alien robot GRURK lays waste to the bucolic 1950s English countryside. When the British Army proves ineffective, only pipe-chomping space scientist Dr. Boy Brett and his assistant Doris Night (a lady) stand a chance of stopping it from sapping what remains of the British Blitz Spirit! How can they possibly prevail against this alien intelligence?! And could DORIS hold the key to beating this invasion? Keep your upper lips stiff, your ties immaculately knotted, and your notions of gender equality dialed back sixty years - for the sake of the planet! PLUS: Character sketches, movie posters, in-universe interviews - and an all-new 'trailer' story for upcoming dinosaurrific follow-up, Lost Land of the Lost, exclusive to this volume!

Item Code: NOV131238
Price: $19.99
PREVIEWS Page #338
In Shops 3/12/2014