The Strangest Gift of All: Mike Wolfer Brings Back Gravel
Nov 01, 2013
In 1999 Avatar Press published a 3-issue mini-series by Warren Ellis called Strange Kiss. It was savage, to say the least. But horror fans were in love, as Ellis had been unchained and the pages of the book consequently dripped with evil and terror.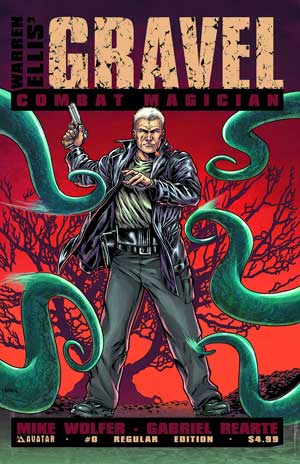 Fast forward over a period of years, and more books starring the "hero" of the book were subsequently released, with titles such as Stranger Kisses and Strange Killings. And still the public cried for more, more, more!
Enter Mike Wolfer, a veteran writer and artist who frequently cooks up nightmares under the Avatar Press banner, and who was nice enough to chat with us at New York Comic Con to announce that he had taken the reins from Warren Ellis to produce an ongoing series called Gravel: Combat Magician (NOV130814), the first issue which is a Featured Item in the November 2013 edition of the PREVIEWS catalog.
"The previous series we did — that was just called Gravel — it delved into his occult world," Mike explains. "All of the previous stories we had seen before were little vignettes of him just kicking ass and doing horrible things to people. We really didn't know who he was or what motivated him."
And therein lies the task of Mike Wolfer in keeping fans coming back to Gravel: Combat Magician on a monthly basis.
Check out the above YouTube video for the full interview with Mike at the show, and take a look at the previous Gravel books that have been published which are available for immediate ordering and shipping to your local comic shop retailer! All titles are for Mature Readers.
| | | |
| --- | --- | --- |
| ITEM CODE | TITLE | PRICE |
| STAR12541 | WARREN ELLIS STRANGE KISS TP | $8.95 |
| STAR14717 | WARREN ELLIS STRANGER KISSES TP | $9.95 |
| SEP032087 | WARREN ELLIS STRANGE KILLINGS BODY ORCHARD TP | $16.95 |
| MAY042360 | WARREN ELLIS STRANGE KILLINGS STRONG MED TP | $9.99 |
| STAR17794 | WARREN ELLIS STRANGE KILLINGS TP | $9.95 |
| FEB094088 | GRAVEL HC VOL 01 BLOODY LIARS | $32.99 |
| OCT090717 | GRAVEL HC VOL 02 THE MAJOR SEVEN | $27.99 |
| SEP100804 | GRAVEL HC VOL 03 LAST KING OF ENGLAND | $27.99 |
| JUN083715 | GRAVEL NEVER A DULL DAY SGN HC | $89.99 |
| FEB094087 | GRAVEL TP VOL 01 BLOODY LIARS | $24.99 |
| OCT090716 | GRAVEL TP VOL 02 THE MAJOR SEVEN | $19.99 |
| SEP100803 | GRAVEL TP VOL 03 LAST KING OF ENGLAND | $19.99 |