Indie Edge October 2013: J. Michael Straczynski
Sep 13, 2013
This month's featured creator is…
J. MICHAEL STRACZYNSKI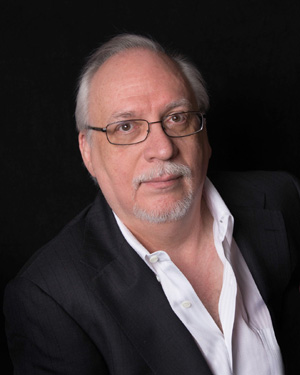 J. Michael Straczynski has written nearly three hundred comics (among them The Amazing Spider-Man and Thor) and another three hundred produced television episodes (also creating Babylon 5 along the way), worked on five produced movies (Changeling, Thor, Ninja Assassin, Underworld: Awakening, and World War Z), and picked up dozens of awards, including the Eisner, the Hugo (twice), the Inkpot Award, the Ray Bradbury Award from the Science Fiction and Fantasy Writers of America, the Saturn Award, and two Emmys for B5, and was just presented with the Icon Award at this year's San Diego Comic-Con.
J. Michael Straczynski, what are your favorite projects you've contributed to over the past decade?
That depends on how you define project, meaning in or out of Comics. In Film, it's definitely Changeling, the movie I wrote that Clint Eastwood directed, with the Thor movie coming in second. In comics, it's the Superman: Earth One (FEB130226) books, because I'm a massive Superman geek and the chance to sort of reinvent that character and that world has been one of the high points of my career. I'm also ridiculously proud of how well Silver Surfer: Requiem came out.
What are you currently working on?
A bunch of stuff! We launched Studio JMS last July, and we're deep in the writing and prep stages for our first TV series, Sense8, which I co-created and am writing alongside the Wachowskis (The Matrix, Cloud Atlas). I also have a couple of other series in development. In May we re-launched the Joe's Comics imprint via Image, so I'm writing three monthly titles for that — Ten Grand, Sidekick, and Protectors, Inc. (SEP130489), and planning out the next three new titles for 2014. I'm also doing two twelve-issue maxi-series, one for Dark Horse — Terminator: The Final Battle (solicited in this issue, Page 36!) — which is very exciting for me because I've been a Jim Cameron/Terminator fan from the day I saw the first film; and The Twilight Zone for Dynamite, which is also very exciting. Other than that, it's pretty quiet.
Terminator: The Final Battle #1 (See Page 36!)
Ten Grand Vol. 1 TP (SEP130560)
Sidekick #1 (JUN130425)
Protectors, Inc. #1 (SEP130489)
What fun indie comics are you reading
I enjoy Mice Templar (JAN130503), and (obviously) The Walking Dead (APR130482), THUNDER Agents (AUG110252) if only for the nostalgia value, Abe Sapien (JAN120075), the Dr. Solar (JUN100018) and Vault of Horror (SEP130078) archives from Dark Horse, and Shadowman (FEB131168) from Valiant. I just picked up a bunch of indie graphics titles to add to the reading pile. The stack of comics beside my couch is so high that it threatens to engulf the house at any moment. I desperately need to catch up, but given deadlines I probably won't have a chance to do that until fall 2014!
Are you following PREVIEWSWorld on Twitter yet? Follow @PREVIEWSworld